Another week down, and that brings with it another round of boot spots! With today being transfer deadline day, kick off one of the best days of football off the pitch with a good old Instep boot spotting article. With everything from new releases to boot switches and custom boots in our boot spotting today, check out the boot spots that will have the football boot world talking this week!
Diego Costa (Chelsea) – adidas F50 adiZero TRX
Man this bloke has a short temper hey? Well, actually, maybe Costa didn't stamp Emre Can to hurt him, because he might have done it to show the Liverpool midfielder his new F50s. Yes, the Spaniard has made the rather canny switch to the leather whiteout F50 adiZero, despite wearing the synthetic version of the boot for the seasons of at. It could be because he is carrying a foot injury, and the padded nature of the leather F50 might be a little more forgiving on his injury, but we will wait and see what the striker wears when he comes back from injury.
Neymar (Barcelona) – Nike Hypervenom Phantom
From his own gold pair of boots to a silver pair, Neymar was awarded another trademark colourway to call his own last week, a boot which he scored a handy brace for his side in during the crazy midweek Copa del Rey game against Atletico Madrid. With Cristiano Ronaldo being the only other footballer to currently have the honor of being bestowed with a pair of boots to call their own, it is surely a sign of highly regarded Neymar is within the Nike ranks.
Arda Turan (Atletico Madrid) – Nike Magista Opus (Custom)
So you know how I said the Barcelona vs Atletico game was pretty crazy? Well, Arda Turan threw his boot at the linesman during the game. As you do right? How he did not get a red infuriated the referee in me, but had he managed to connect with the linesman, he would have been hurt by some pretty interesting studs. Arda Turan has rather interestingly customised his Magistas with the Nike Interact soleplate, a soleplate that Nike stopped producing years ago. With quite a few players known to be fond of that very outsole, it makes us wonder about what is so good about it…
Callum McManaman (West Brom) – adidas Messi 10.1
Signture boots made for a player in mind? Pfftttt, some players really do not care if they probably come across as 'wannabes' hey? Callum McManaman wore the signature boots of a certain Leo Messi, a boot which Messi is still wearing despite it technically being a 5th generation F50 adiZero. It is a bit of a left-field boot choice from McManaman, but certainly an interesting one either way.
Alex Song (West Ham) – Puma King Top 98 Di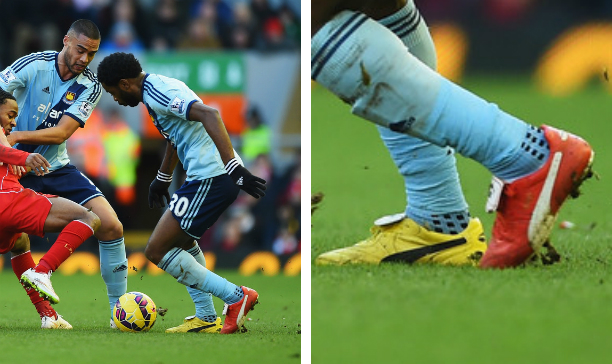 Alex Song changes his boots once again! Okay, so maybe this is not a brand new boot from the Cameroonian, but we always like to keep tabs on what boots Song is wearing. He has made the return back to Puma King Top 98 Di after a short period in the Pantafola D'Oro Lazzarini. The boots were originally made famous by his uncle, but it also sees Song carry on the trend of solid K-Leather boots.
Lucas Biglia (Lazio) – adidas F50 adiZero TRX
So we have only seen one colourway of the sixth-generation F50 adiZero released so far…which is rather strange for a brand new boot no? But never fear, there are other F50 adiZero colourways in the pipeline, and a black colourway would probably be a conservative route for adidas to take. Except the black boot they have lined up has been finished off with a wicked ghost pattern, the result of which has been leaked by Lucas Biglia. The eye-catching colourway will be made available by adidas soon, but it brings an interesting twist to your standard black boots.
Ben Foster (West Brom) – adidas Predator Instinct Accelerator
Goalkeepers are a rarity in our boot spotting articles, with most keepers normally going for mainstream boots. So imagine our surprise when we snapped up Ben Foster in the 2014 Predator Accelerator remake; one of the most wanted football boots of 2014. Foster has been a fan of the garden variety Predator Instinct this season, but it seems he has been in touch with some very solid contacts to be able to get his hands on the sold out boot.
That is it for our boot spotting today, what was your favourite spot this week? I'll catch you guys in three weeks time, as I'll be taking a quick break from writing. See you guys soon!