Things are great in the football world, and I am not just talking about Leicester either. Things are getting spicy in the European leagues, and while we only have a handful of games left, we have the EUROs just around the corner: things seriously could not get better. But to recap it all, let's march straight into the boot spotting. Boot switches and custom boots are included in our bounty this week, check out below what caught our eye this week.
Gianluigi Buffon (Juventus) – Puma evoPOWER 1.3 Tricks (Custom)
Is this technically a 'Tricks' boot anymore? Probably not. It seems the yellow and pink evoPOWER 1.3 boot was too much for 38 year old Gianluigi Buffon, as it seems Puma have made up a special version of the new evoPOWER colourway such that the left boot is also yellow. It seems Puma were not willing to do the same thing for his gloves though, as his evoPOWER Grip 2.3 RC gloves still feature the same pink backing on the left glove as what has been made available to the general public.
Benoit Assou-Ekotto (St-Etienne) – adidas Predator adiPower
The man said that he would rather stay independent rather than let himself be bought out by boot companies, and he is sticking to his word based on what we saw the former Tottenham full back in this weekend. Assou-Ekotto wore the lovely retro Predator adiPower in the original Blue/Yellow/Black launch colourway. The last Predator to feature the traditional 'Predator' element in the outsole, the adiPower has a special place in many a boot fan's heart.
David Perkins (Wigan Athletic) – New Balance Visaro (Custom)
I am not too sure how Perkins got his hands on these, but damn do they look good. Perkins was spotted in a lovely whiteout Visaro, which have been finished off with a light blue soleplate that matches up nicely with his Wigan Athletic kit. While NB have released an all whiteout version of the Visaro (and the current Visaro colourway is essentially a whiteout with a volt outsole and laces), the nice spot of blue from the outsole of Perkins' boots are a winner in our boots.
Asa Hall (Cheltenham Town) – adidas X15.1 Womens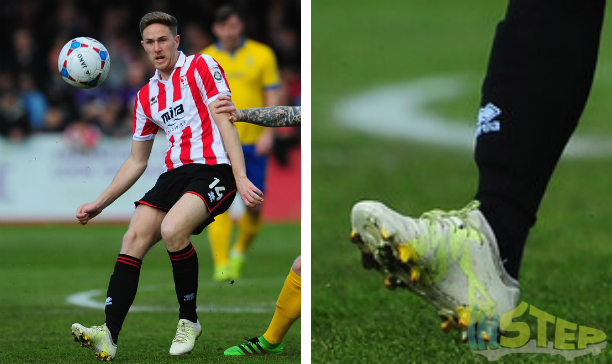 From one whiteout boot to another, but there is something a little different about Hall's boots. Hall has picked up a women's version of the adidas X15.1: the White/Frozen Yellow X15.1 that was worn dueing the 2015 Women's World Cup. The boots are ridiculously clean and sleek, and we think that pop of yellow just makes the boot stand out just enough to not be your run of the mill whiteout boot. Cannot blame Hall for wearing them really…
Sebastian Holmén (Dynamo Moscow) – Nike Tiempo Legend VI (Custom)
Even though the Tiempo Legend VI may be a heritage boot at it's absolute core, it is possible to make a boot that has tradition in it's heart a modern and flashy boot. Sebastian Holmén has done just that when it comes to his custom Tiempo VIs, which have been finished off in a brilliant Light Blue/White colourway. The boots kinda remind me of the Cyan/White/Pink F50 adiZero (well, a little bit), but it makes you think: we do not see too many light blue boots these days…
Olly May (Luton Town) – adidas Gloro 16.1
For some players, something like the Tiempo IV might still be a little too futuristic and modern. Which is why the Gloro (the modern day retake of the Copa Mundial) still makes a worthy appearance on pitches around the world. Olly May showed off the new Gloro 16.1, which loses the foldover tongue found on the Gloro 15.1 and Copa Mundial. It is still a classy boot, but probably looks more like the old adiPure then it does the Copa Mundial.
Alan Sheehan (Luton Town) – adidas ACE15.1 Leather and X15.1
We see it once every so often, and we always ask the same question: would it not feel weird having one boot on one foot and a different boot on the other? The contrast between Sheehan's two boots are pretty stark too: the synthetic X15.1 would provide a pretty minimal feel for the ball while the ACE15.1 Leather on the other foot would be a much more padded feel for the ball. I guess it is what works for Sheehan, but hey these sort of spots are always pretty cool when they happen!
That is it for our boot spotting today, what was your favourite spot this week? Share your thoughts in the comments section below.