21 games of EPL in the space of a week, with 10 more on Wednesday before a full weekend of fixtures, sure it was a quiet week in the boot world, but you cannot knock the amount of football we have been seeing! While the major European leagues are off on their winter break, the EPL is starting to get that little bit more serious. Title contenders are weighing each other up, European spots are being battled for while other teams attempt to alleviate the fear of relegation. But we do not worry about all of that right now, and we are here with our final boot spotting of 2013, and what a marvellous year it has been for boot spots. But in true Instep fashion, we finish it all off with a bang…
Steven Pienaar (Everton) – Puma evoSPEED 1.2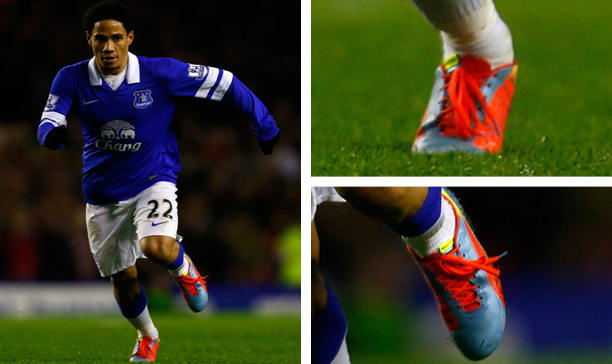 After the many releases leading up to Christmas, it is rather perplexing that Puma waited until the post-Christmas period to unveil their boots that will appear on the pitch at the start of 2014. However, it was worth the wait as Puma not only unveiled the Sharks Blue/Fluro Peach colourway onto their regular evoSPEED 1.2, but they also showed off the new evoSPEED 1.2 SL that takes the definition of the speed boot to the next level with its super lightweight design. However, Pienaar is satisfied with the normal evoSPEED 1.2, as he was amongst the first to show off the new colourway on a busy Boxing Day of football.
Ross McCormack (Leeds United) – Warrior Sports Gambler Pro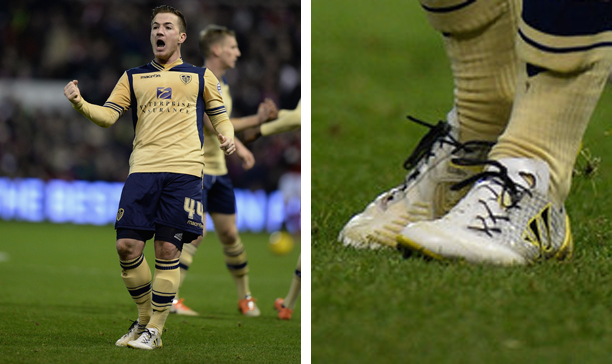 We have certainly seen quite a number of gorgeous colourways this year, but one colourway that made us sit upright was the White/Gold/Black Warrior Sports Gambler Pro, a big change up from the outlandish colourways we are used to seeing from Warrior Sports. Sadly, we have hardly seen the cracking colourway on the pitch in the EPL, with main men Marouane Fellaini and Craig Bellamy missing out with their respective injuries. However, Ross McCormack ensures the boot gets some sort of exposure in the UK, with the striker doing the rounds in the Championship with the classy colourway.
Jamie Vardy (Leicester City) – Nike Hypervenom Phantom (Custom)
While the boot designs are endless when it comes to custom boot services like NikeiD and miadidas, there are as many gorgeous designs created as there are, well, ugly colourways hanging around. But blimey, hasn't Jamie Vardy come up with an absolute pearler here? There is something about Vardy's boots that has made me fall absolutely head over heels in love with them, and he has taken a classy white background and added a moderate spread of blue to create a colourway that is certainly easy on the eye. Well, at least I think they are anyway!
Gonzalo Jara (Nottingham Forest) – adidas Copa Mundial
Okay, so maybe we saw a few too many limited edition releases this year, but it is the reinvigoration of a classic boot that will probably be in many lists as the one of the best limited edition releases of the year. There has been a small handful of stars who have given the white Copa Mundial a run on the pitch, and Gonzalo Jara is the latest we have seen showing off the limited edition boot. This is not the last colour update we will see for the Copa Mundial, with adidas expected to launch some Brazil-inspired colourways for the Mundial very soon. But in all honestly, they do not have the same class as the original and white Copa Mundials…
Joel Robles (Everton) – Nike Mercurial Vapor VII (Custom)
With all of the bright (and sometimes bordering the outrageous) colourways that speed boots appear in on the market in these days, you can never knock a minimalistic, classy whiteout speed boot. Sadly, whiteout Nike Mercurials are unheard of. But we are pretty sure if Nike considered releasing one, it would look a little bit like Joel Robles' awesome whiteout Mercurials. A clean white upper, some blue laces and detailing around the ankle to give the boot a pop of colour, class right there with just two colours.
Ruben Zadkovich (Newcastle Jets) – adidas Nitrocharge 1.0
While there was all the bravado surrounding the adidas Samba pack (as you do when there are two new boots released), adidas also quietly pushed out a set of black and white football boots for each of their four silos…they certainly kept it on the down low hey? The Nitrocharge 1.0 received it's first (kind of) blackout boot, with adidas dropping their tendency to highlight the Energysling in a different colour compared to the rest of the upper. Ruben Zadkovich is the first player we have seen parading the boot, a colour which we probably will not see too often in the professional leagues, but will undoubtedly be popular with semi-pros and amateurs alike.
Trevor Carson (Portsmouth) – Pantafola D'Oro Lazzarini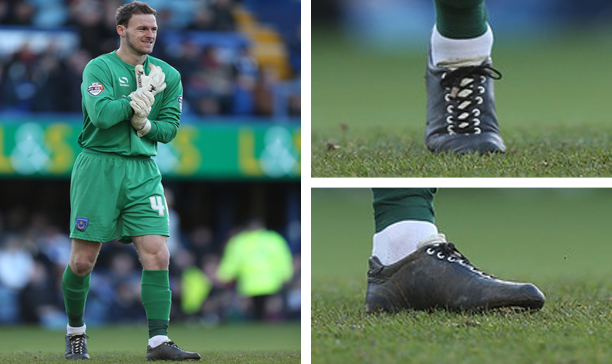 As much as we love our football boots that come with all the bells and whistles, we always seem to find ourselves giving the same amount of love to the boots that swear by pure kangaroo leather and nothing else. Pantafola D'Oro is one of the brands that carries a lot of respect just because they stick by old time principles back when football boots were first made in 1886 by the brand, and while they do make a few bright leather boots, the majority of their boots stick to classic colourway designs. Trevor Carson seems to be a fan of the assured design of Pantafola boots, a boot where you can see the quality and work that have gone into it.
Paulo Gazzaninga (Southampton) – Nike Mercurial Vapor IX
Ever since Benoit Assou-Ekotto wore a different pair of boots on either feet back in his Tottenham days, there is always a feeling of satisfaction whenever we surface another footballer copying what Benoit did 3 years ago. This time, it is Paulo Gazzaninga who has given the craze a go. Gazzaninga started the Boxing Day tie with Southampton with the Volt/Black/Citrus Vapor IX, but changed his right boot for the 'Stealth' pack Vapor, leaving Gazzaninga with two different boots on either foot. Strange? Yes. But we love seeing footballers doing it!
That is it for our boot spotting today and for this year. What was your favourite spot this week? Share your thoughts in the comments section below.