Yeah so maybe the Bundesliga has already crowned it's champion for the 2013/14 season, and Juventus are arguably romping away with the Serie A being 11 points from second place Roma, but blimey aren't things a little exciting when it comes to the EPL and La Liga? Yup, it is a great time to be a football fan, but sadly we have a few days respite until football hits our TV screens again. How do you get over the Monday blues? Well, a Instep boot spotting is certainly the place to start! We have your big boot switches, rare boots, customised boots, you know the drill don't you?
Lionel Messi (Barcelona) – adidas F50 adiZero TRX 370
Everyone loves a limited release boot, and even though it seems we are being overloaded with them these days…but the Lionel Messi F50 is a little bit special. Adidas crafted the boots to commemorate the little Argentine scoring 370 goals in all competitions for Barcelona, and he finally broke them out in Barca's midweek game against Celta Vigo. With nice little nods to Messi's record goal scoring tally touched on with a few little visual cues, it is a special boot for a special player. Notice how they are actually the past F50 adiZero? Maybe adidas thought he would break the record before the new F50 was released in December last year.
Bastian Schweinsteiger (Bayern Munich) – adidas F50 adiZero TRX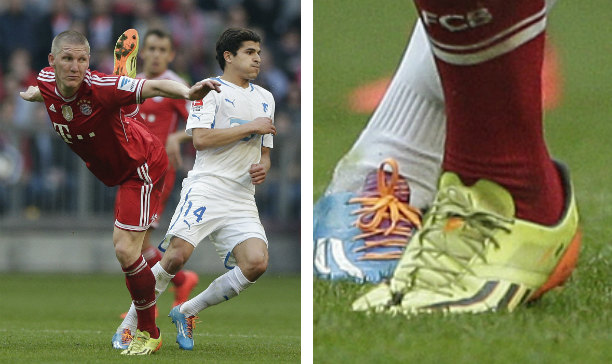 From the past F50 adiZero to the latest one, which is so recent that, well, Bastian Schweinsteiger prematurely brought them out a week before they are meant to hit the pitch. The Earth Pack of adidas boots was unveiled last week, becoming the latest pack that have received a Brazil-inspired touch up. One of those boots unveiled was the new Earth Glow/Green Zest/Black F50 adiZero, and it seems Bastian Schweinsteiger has actually had his F50s customised with a Goleo leather upper as opposed to the normal Taurus leather found on the leather F50 adiZero, identical to the quiet alteration Messi made to his own F50s.
Ross Barkley (Everton) – Nike Hypervenom Phantom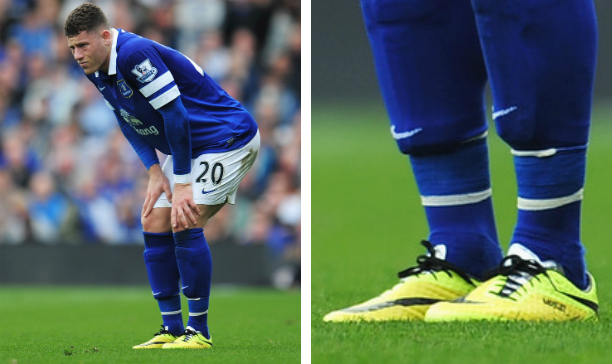 We do not see too many players switching in and out of boots this late into the season, but despite sticking to the Nike CTR360 Maestri III for so long, Ross Barkley has decided to trade in his boots for the Nike Hypervenom Phantom. Considering that the Hypervenom is for the attack minded player and the CTR360 for the play-maker (according to Nike), seeing the young English starlet in the Hypervenom would certainly please Nike.
Giuseppe Mascara (Pescara Calcio) – adidas Copa Mundial
We see the Copa Mundial a lot on pitches around the world, with the odd player wearing the special white Copa Mundial from last year, but this is the first time we have seen a player wearing a Copa Mundial from the Samba-inspired refresh of the legendary boot. Giuseppe Mascara is rocking the blue colourway (which is very reminiscent of the blue F50 adiZero TRX to us), and they match up with his Pescara Calcio kit very nicely! It truly is a pity that we do not see more players in the colourful range of Copas, but the blue Copa is arguably our pick of the lot!
Jonjo Shelvey (Swansea) – adidas Predator LZ II
You have got to love a customised boot spot, and after a brief stint in the Nike Tiempo Legend V, Jonjo Shelvey has made a return to the Predator he had been wearing for much of the season. Shelvey has gone for a very traditional-minded colourway with his customised LZs, a colourway that we feel would look right at home on the feet of former teammate Steven Gerrard. Man it is strange to think Gerrard is not wearing the Predator anymore…
Guelor Kanga (FC Rostov) – Nike Mercurial Vapor IX
Sure, it is meant to be a Ronaldo exclusive Mercurial Vapor IX colourway for Nike contracted players, but that does not stop everyone else to go out and grab their own gorgeous '10 Vapor IX now does it? Guelor Kanga has picked what we reckon is the best boot of the Nike Fast Forward series of Mercurials, and we just cannot wait for what Nike has in store for us with their World Cup range of boots. In a bonus spot, Pavel Mogilevets in the same photo is rocking the Earth Pack Predator LZ II, joining Bastian Schweinsteiger as players who have brought out the Earth Pack of adidas boots early.
Gareth Bale (Real Madrid) – adidas F50 adiZero TRX
Ever heard of a pair of boots losing a football game for a team? Well, it kinda happened to Gareth Bale this week. The Welsh winger stepped off the pitch to switch out of his adidas F50 Crazylight football boots into what is seemingly his trusty old pair of 3rd gen F50 adiZeros. But in the process, Sevilla scored the winner against Real Madrid down the right wing, the exact wing Bale would have been patrolling had he been on the pitch. It is certainly strange that Bale switched out of his Crazylights, perhaps making us think Bale is not happy with the boots…
Adam McDonnel (Ireland U17) – adidas Predator LZ SL
Huh….anyone else notice that the adidas Predator LZ SL is a bit more popular these days amongst the pros? While it seemed that no one used to wear the Predator LZ SL a few months ago, it seems we are spotting a player in the boots every few weeks these days. Ireland U17's Adam McDonnel is the latest player we have seen in the boots, albeit in the first generation Predator LZ SL. The boots actually match up quite nicely with his boots, the splashes of green with the laces and the 'dribble' Lethal Zone sees nice colour co-ordination with his Ireland kit.
That is it for our boot spotting today, what was your favourite spot this week? Share your thoughts in the comments section below.