Premier League, Champions League, domestic cup competitions, it is not a bad time to be a football fan hey? So to get you into another mammoth week of football, the Instep boot spotting is here to get you back into the swing of things! We sum up the week gone past from our usual boot spotting perspective. You know the drill people. We get the best boot switches, custom boots and retro boot spots from the week just past, scanning our eyes over photos from Europe, Asia and the Americas for only the best boot spots. Do not accept any substitutes, the Instep boot spotting is your only way to kick off your week!
Marvin Emnes (Swansea City) – Nike Hypervenom Phantom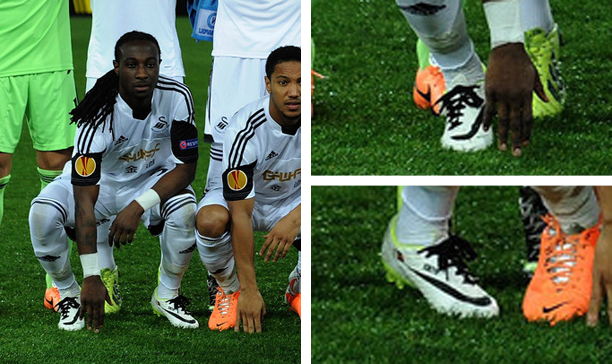 While we think the boots of the Nike Reflective Pack are absolute class, it seems the vast majority of European footballers do not share the same sentiment as us. With the vast majority of EPL players skipping the Nike Reflective Pack, it is worth pointing out when we do see an EPL player trying the boots out! Marvin Emnes made a rare start for Swansea in their midweek Europa League fixture, and he did so in the reflective Hypervenom Phantom. They look classy matched up with the Swansea home kit, and the green pop from the outsole keeps things nice and refreshing!
James Troisi (Melbourne Victory) – adidas F50 adiZero TRX
While adidas tried to capture the spirit of Brazil by launching the F50 adiZero in a blue colourway and an orange one, adidas kept it nice and simple with their second lineup of F50 colourways, launching blackout and whiteout models of the boot. You have got to love a simple colourway, and it seems James Troisi thinks so as well with the blackout F50. We have seen Troisi make an odd appearance in our boot spotting articles, the Melbourne Victory winger has been one of the few footballers rocking the Predator LZ SL throughout this season.
Steven Fletcher (Sunderland) – Umbro Geometra II
It cannot be denied that Umbro have certainly had a season that would be pushed towards the 'quiet' pile, but they have suddenly sprung into action with a massive batch of new colourways. In fact, Umbro pulled out all the stops with a massive 8 colourway launches in the space of a few days. One of those colourways was the new White/Cloisonne (ever heard of the colour cloisonne before? Yeah, same here), and Steven Fletcher is the first player we have seen showing off the new boots. Now, you guys know that we love a whiteout boot, so a whiteout boot with a nice pop of blue on the logo and the laces? We certainly cannot complain!
Paul Pogba (Juventus) – Nike CTR360 Maestri III (Custom)
From one white and blue boot to another! We mentioned earlier that the Nike Reflective pack has not been overly popular with the pros, and Juventus' Paul Pogba is one of few top European players bringing out the boots. However, we have noticed that Pogba has made an interesting little alteration to his boots. While the standard Reflective pack CTR comes with a black Nike tick, Pogba has covered his over with white tape, giving off the effect of a near-complete whiteout boot. Not showing the manufacturer logo on your boots is normally a sign of contractual issues, we wonder whether Pogba may be snagged by one of Nike's rivals anytime soon…
Max Lowe (England U17) – adidas Predator LZ II (Custom)
With some of the outrageous bright colourways we have seen lately (you guys should check out the upcoming 'Carnavale' range of adidas boots), we are starting to miss the solid, simple two colour boots. When we say simple two colour boots, we think of boots a bit like Max Lowe's custom Predator LZ IIs. Expect a few over-the-top boots to be released by adidas coming up to the World Cup, because to be fair, nothing would catch the eye of a spectator more than a bold pair of boots right?
Josh Mitchell (Newcastle Jets) – Nike Air Zoom Total 90 II
Now let's turn the dial back a bit and make things a little retro. Before the T90 Laser range, and long before the Hypervenom Phantom, there was the Air Zoom Total 90 II, which was released way back in 2002. While a young Wayne Rooney was doing the rounds in the boot, stars such as Paul Scholes, Roberto Carlos and Luis Figo were the stars of the show in the Air Zoom Total 90 II for Nike back in the day. Football boots have certainly come a long way since the Air Zoom Total 90 II was up and about, which is why it is a miracle Josh Mitchell still has his boots in fairly good condition! It is perhaps a boot Mitchell has saved for special occasions…
Shunsuke Nakamura (Yokohama F. Marinos) – adidas F50 adiZero TRX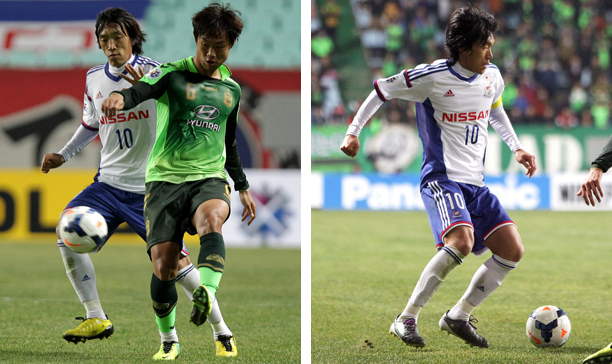 You have to love a classic being spotted on the pitch, then there are the sweet boots that have hit our eye too! Japanese legend Shunsuke Nakamura is still doing his thing in the J-League, and while he is in his mid-thirties now, Nakamura stuck to the original F50 adiZero. Well….he actually wore two different versions of the original F50. Not only did he wear the launch yellow colourway, he also switched into the Messi 'Charmeleon' colourway for half of his midweek game. It is hard to believe it has been four years since we first saw the adiZero, and I still remember being positively shocked by the lightness of the boot the first time I ever picked up the adiZero…
Jefferson Cuero (Santa Fe) – Nike Mercurial Vapor IX (Custom)
From the distance, it is pretty clear that there is something a little bit different about Jefferson Cuero's Nike Mercurial Vapor IXs, and a close up look at the boot certainly proves that! Cuero's boots seem to have a strange, hand painted design on the outstep of the boot. We can make out two faces and a patterned design of sorts, but not much more besides that. Cuero's boots could be the work of a local artist of sorts, but there is no denying Cuero's boots certainly look different!
That is it for our boot spotting today, what was your favourite spot this week? Share your thoughts in the comments section below!