Here we go again, another boot spotting to cap off another fantastic week of football! There were controversies in the Champions League, whilst the domestic leagues gave it's fair share of shocks as we get closer to the end of the season. There was plenty to see from a boot spotting perspective too, from new boots to boot switches, check out what caught our eye this week below!
Francesco Totti (Roma) – Nike Tiempo Legend V Premium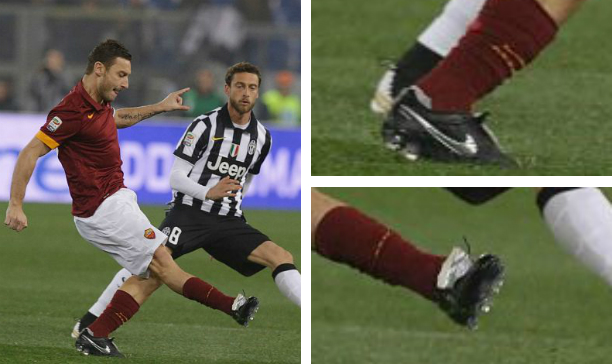 There are so many quality players in world football who just go about their business week in week out without getting the spotlight they probably deserve. Nike has made sure Totti gets that little bit more attention that he should have got years ago, with the evergreen midfielder having the Tiempo Legend V Premium made just how he likes it with the massive fold over tongue. It brings a lovely retro feel to the boot, and while it is limited to 3,000 pairs, it is a terrific way for Nike to kick off their limited edition boots for 2015.
Paul Pogba (Juventus) – Nike Magista Obra (Custom)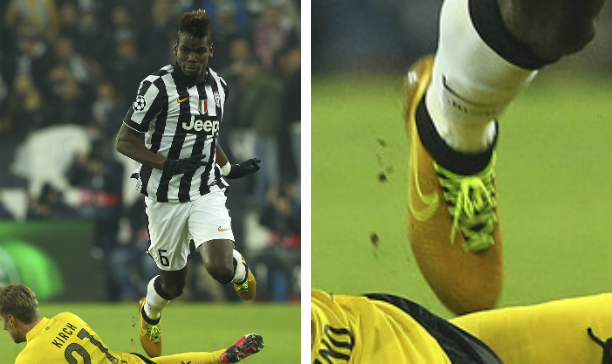 Pogba seems to love a new pair of boots hey? In what is pretty much becoming a weekly occurrence, the French young gun has once again dipped into his pocket to shell out for some new NikeiD Magista Obras. This time around, Pogba has opted for a gold number finished off with a few hits of green and a black Dynamic Fit collar, which kinda reminds us of the gold Hypervenoms given to Neymar last year. Considering this is Pogba's fourth NikeiD Magista, we wonder what the kid will come up with next time around.
Marouane Fellaini (Manchester United) – New Balance
New Balance has almost landed. The launch of the highly anticipated boot is getting ever closer, which in the past week or so seen several of their stars forming the so called #NBBlackoutSquad. These stars have been given special access to whiteout New Balance boots that feature a few hits of colour from the soleplate and laces. Marouane Fellaini is one of those players, as his custom made boots give us a little match up with his United kit.
Diego Costa (Chelsea) – adidas F50 adiZero TRX
The 'will he or won't he' situation hovering over Diego Costa's head seems to be getting that little bit more interesting by the week. The Spaniard has been chopping and changing between various boots from the F50 range, but this weekend he called on the Supernatural Pack F50 for Chelsea's game against Tottenham in the League Cup final. The big boy refuses to slip into the new F50, something that we are sure adidas will want to see changed as soon as possible.
Marcos Rojo (Manchester United) – Nike Mercurial Vapor Superfly IV
So the last time I checked, United are not in the Champions League. They have not been there for a few years. That has not stopped Marcis Rojo wearing a boot specifically out aside for Champions League players though. The United defender took to the pitch this weekend in the Mercurial offering from the Highlight Pack, the rather funky Volt/Hyper Pink/Black Superfly. Volt is such a polarizing colour, but it seems Nike have found a fan of the colourway in Rojo.
Jay Tabb (Ipswich Town) – Nike Premier
While football boots these days come with all the bells and whistles, sometimes it is a classic 6 stud leather boot that does the job. Jay Tabb seems to carry that sentiment when it came to his boots of choice for the East Anglia derby on Sunday, with Tabb being one of very few professionals going for the recently released 6 SG stud Nike Premier. The boot is the absolute definition of a no-nonsense boot, and what you see is what you get with the Premier.
Stewart Downing (West Ham) – adidas F50 adiZero TRX
There are plenty of stars who are loving the F50 adiZero at the moment, but nearly all of them seem to be settling from the red launch colourway that headlined the adidas 'Haters' advertising campaign. It is easy to forget adidas have launched three other colourways as well, one of those being the Black/Green colourway that Stewart Downing had picked up. Downing is the first player we have seen wearing the colourway, and it is good to see a player go against the grain a little like the West Ham winger has done.
That is it for our boot spotting today, what was your favourite spot this week? Share your thoughts in the comments section below.