The first boot spotting of 2016 is here! And 2016 has signalled a change in fortunes for some teams; United got back to winning ways just like Chelsea, while others will be hoping that what they saw this weekend is simply a one off to get the bad games out of the way (I am looking at you Liverpool). But this week also brought us a wonderful mix of boot spots. From boot debuts to custom boots and spots that are a little different, check out the boot spots that caught our eye this week.
Paul Pogba (Juventus) – adidas ACE PureControl 16.1
Football is back on continental Europe, and that means our pool of potential boot spots is back to its maximum capacity. The boots on the feet of superstar Paul Pogba has piqued interest however, the midfielder returned to training wearing the upcoming adidas ACE PureControl 16.1. While he did wear this early last month, he was also seen wearing the Puma evoSPEED SL whilst training in Dubai on a training camp. With the boot companies battling it out for the starlet of the French national team, it will be interesting to see what he will wear when he steps out for the EUROs in June.
Cristiano Ronaldo (Real Madrid) – Nike Mercurial Superfly IV CR7 324k (Custom)
Man, it has been so long since these were officially unveiled that I kinda forgot that Ronaldo was going to wear these one day…Ronaldo used this weekend's game against Valencia as the opportunity to wear the Superfly IV CR7 324k. And what a stunning boot it is, the combination of white and gold looks wonderful, and it is a pity Madrid wore their away kit on the day CR7 wore the boots. Ronaldo's boots feature his standard lower cut collar, but the boots will be officially made for sale on the 7th of January.
Jamie Vardy (Leicester) – Nike Hypervenom Phantom II
Here is another bloke who will be feeling the weight of a nation come June (well, I am pretty sure he will be in contention anyway). The man who came out of no where and stormed to the top of EPL Golden Boot has done it all in the Nike Hypervenom Phantom II. A true strikers boot it may be, but a switch may be on the cards for Vardy, judging by the blackout Hypervenom II he has been wearing this past week. It is a sign to the boot companies that he is willing to negotiate his footwear contract, so it will be interesting to see what Vardy ends up in.
Sergio Aguero (Manchester City) – Puma evoSPEED 1.3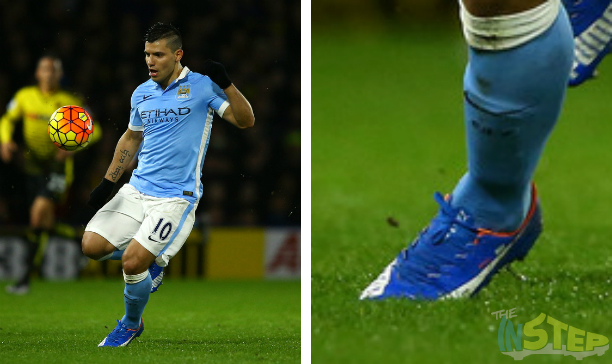 Did Puma release a new colourway (and a new pair of boots for that matter) two weeks ago? Yes they did, but it looks Sergio Aguero is not quite ready to make the switch yet. The Argentine stayed in his faithful Electric Blue Lemonade Puma evoSPEED 1.3, despite the evoSPEED SL-S now being available to the striker. Aguero did sing the praises of the SL-S model in the press release for the new boot, so it is kinda awkward that the star is yet to make the jump to the boot.
Mesut Ozil (Arsenal) – adidas ACE 15.1 (Custom)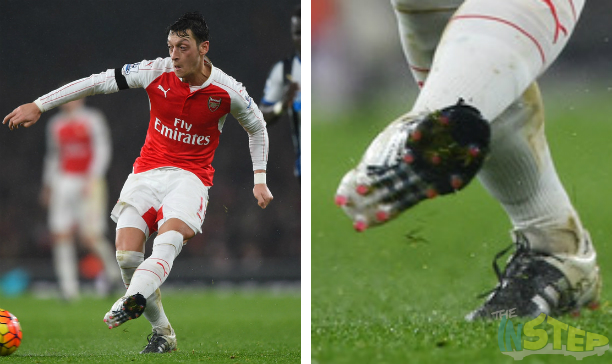 The man has been ripping it up in the Premier League this season, so we think it is okay that Ozil did not get an assist for Arsenal against Newcastle on Saturday. The king of assists has been dominating this season in the ACE 15.1, but a close inspection of the midfielder's boots reveals a major modification has been made to the German's boots. The outsole of Ozil's boots has been taken directly from the upcoming ACE 16.1, which is a long way from the unique FG/AG outsole of the normal release ACE 15.1. The pros have not taken too kindly to the unique stud configuration of the 15.1, which is disappointing given that us mere mortals perhaps appreciated having a boot that catered for normal grass and synthetic pitches.
Besart Berisha (Melbourne Victory) – adidas X 15.1 (Custom)
Nearly every player has been rocking the same Core Black X 15.1 colourway. Which is why we are thankful for Besart Berisha doing something a little different with his X 15.1s. The Albanian has blacked out the X-Cage on the outside of his boots, whilst keeping the X-Cage on the instep untouched. Compare this to the normal, untouched boots of team mates Daniel Georgevski and Connor Pain on the lower zoomed in photo, and it gives us an idea of the uniqueness of Berisha's boots. It is a unique little customisation that in all honesty, actually looks pretty good!
Jake Reeves (Wimbledon) – adidas Predator PowerSwerve TRX
Oh man, I HAD to put this boot spot in when I saw Jake Reeves in his adidas Predator PowerSwerve TRX. One of the all time classic Predator boots (and also, coincidentally, the last Predator to feature the fold over tongue), the boot was first released in 2007 and truly hits me in the feels for having every classic Predator element. I also owned the exact boot Reeves is wearing and I had one of my best ever seasons in the boot (this was before it turned out I was not very good and became a referee), so this was a true trip down memory lane for me. It is brilliant to see such a classic still hitting the pitches!
That is it for our boot spotting today, what was your favourite boot spot today? Share your thoughts in the comments section below.