Thought this week was quiet compared to two weeks ago where we saw three mammoth boot releases in one week? Yeah, the week we just had may pale in comparison to what we were spoiled with two weeks ago, but trust me when I say this is just the calm before the storm. What is the best way to get yourself pumped up for some big name releases? It is almost certainly a round of the best boot spots courtesy of the Instep! Week in week out, our boot spotting covers this week's best boot switches, customised and retro boot spots. There was even a sneaky peek at an unreleased colourway this week. Check it all out now…
Vasilis Tosiridis (Roma) – adidas Predator LZ II
Don't you just love it when the pros give us a sneak glimpse at a future colourway? Vasilis Torisidis has given us a little look in at the next Predator LZ II colourway, and the boot definitely follows in the footsteps of the bold Predator LZ II colourways before it. We were not expecting to see the boot hit the pitch for another few weeks, but we will start to see a flurry of new releases from the three stripes alongside the new F50 adiZero that is coming out in mid November. Is it a release worth looking forward to? You know it is!
Stephane Mbia (Sevilla FC) – Warrior Sports Gambler Pro K-Lite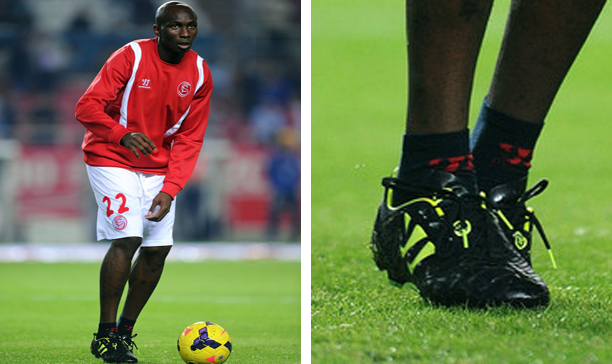 While a lot of the smaller companies have massive ambitions to break up the market dominated by Nike, adidas and Puma, nearly all of them ultimately fall short of their goal. However, Warrior Sports seems to be one company that has kept its ground in the boot market, and they added Sevilla onto their list of clubs wearing Warrior Sports apparel. Perhaps to ensure one of the Sevilla players is promoting Warrior boots, Stephane Mbia has been spotted in the Gambler Pro K-Lite, which looks a lot more toned down compared to the S-Lite.
Layvin Kurzawa (AS Monaco) – Nike Hypervenom Phantom (Custom)
Sometimes, we see a customised boot that we wish would be released as a general release colourway. Layvin Kurzawa's customised Hypervenom's is one of those boots that we think would be immensely popular if it were to be released to the general public. Maybe it is all wishful thinking on our behalf, but it seems Kurzawa designed the boot with his AS Monaco kit in mind. All in all, it is a lovely customised NikeiD creation by the Frenchman.
Matthew Davies (Perth Glory) – Nike CTR360 Maestri III (Custom)
You do not always have to wait for a company to release blackout boots, with several companies these days offering blackout boot services. It seems Matthew Davies has taken class to the next level when it comes to his blacked out CTR360 Maestri IIIs. Considering Davies was seen wearing the Black/Blue/Pink CTR360 Maestri only a few weeks ago, the blackout boot is perhaps a recent job done by the Perth Glory player. It is important to note that making any additions to a boot, including blacking them out, does void the warranty on the boots, so perhaps Davies would be better off buying the blackout CTR360…
Abdel Kader (Ghezzal Latina) – Puma V1.10 SL
Remember the SL range of boots? When Nike, adidas and Puma went at it to say they produced the lightest boot in the world? Puma eventually won that race with the V1.10 SL weighing in at 155 grams, but they eventually got blown out of the water with the F50 99g which came in below the 100 gram mark. Even so, when it comes to production boots, Puma still wins, and Abdel Kader is one of very few players still seen in the V1.10 SL model. The white and blue colourway screams flashy; you really cannot go wrong with white and blue speed boots.
Guido Marilungo (Atalanta B.C.) – Nike Tiempo Legend IV (Custom)
Colour co-ordination is a big plus in our books, which is why we are digging Guido Marilungo's customised Tiempo Legend IVs. His Black/Dark Blue Tiempos perfectly match his Atalanta home kit, but we do not normally see too many footballers who try to match colours like Marilungo has. The recently released Nike Vapor IX CR 'Galaxy' is another boot that would match up beautifully with the Atalanta home kit, perhaps we may see one of Marilungo's team mates try the boot out for themselves…
Gabriel Muresan (FC Tom Tomsk) – adidas adiPure II
While the adiPure range still goes for the classic heritage look that will never look out of place on the football pitch, there is a little part of us that misses the K-Leather adiPure. Readers from my days at Soccer Reviews will remember how much I loved the adiPure III (I had such a crazy season in those boots), but Gabriel Muresan has gone one better with the original launch colourway adiPure II. Adidas will be going for a much bolder look with the upcoming 11Pro II, but sometimes, you cannot beat the classics.
Vladimir Granat (FC Dinamo Moscow) – Nike Hypervenom Phantom (Custom)
While the Stealth Pack Hypervenom Phantom was a good looking boot, it was not really a 100% blacked out boot. Rather, the boot was released in a dark obsidian colourway that was black but not really the true definition of a blackout boot. Perhaps picking up on the flaw by the Nike boot department, Vladimir Granat has gone through the hassle of putting his launch colourway Hypervenom Phantoms through the blackout boot process. With Nike getting more adventurous with the next few Hypervenom Phantom colourways, it will be interesting to see what sort of reaction Nike will get with some of the bold colourways.
That is it for our boot spotting today, what was your favourite spot this week? Share your thoughts in the comments section below.