You guys….it's nearly here. We have had to settle for (kinda) sub-par pre-season competitions for the past few weeks, but in less than two weeks, we will suddenly have Premier League football back on our TV screens! So while the excitement mounts (unless you are a Southampton fan), we thought it was worth taking a time out and checking out the best this week had to offer when it came to boot spots. From boot switches to custom boots and everything in-between, check out what caught our eye in our weekly boot spotting article.
Zlatan Ibrahimovic (PSG) – Nike Mercurial Vapor X
Sure, it's the Superfly, right up there with the most iconic speed boots of all time, but is there a general feeling of discontent against it amongst the professionals? It seems like it, considering a high number of stars have forgone the Superfly in favor of the Vapor X, with the mighty Zlatan being the latest player we have snapped up in the Vapor. Considering the two main differences between the SF and Vapor is the Flyknit upper and the Dynamic Fit collar, we wonder which of the two is bothering players the most…
Gary Cahill (Chelsea) – adidas Predator Instinct
We are in the middle of celebrating 20 years of the iconic Predator range, and it is certainly fitting that there has been many stars rocking the Predator in the glorious Predator Red/black colourway. It is easy to forget that four other Predator colourways have been released this summer, with Gary Cahill being one of few players settling for the Light Blue/Dark Blue colourway. The blue Predator certainly suits Cahill's Chelsea kit better than the headline colourway, so we can see where Cahill is coming from by picking the blue Predator.
Seydou Keita (Roma) – Nike Hypervenom Phantom (Custom)
You know us well enough by now, if there is a player that has attempted a shoddy blackout boot job with a texta, we will pick up on it! It seems Seydou Keita got halfway through coloring in his Hypervenom Phantoms when he perhaps had a change of heart, leaving his boots looking more like they have just gone through a game on a very muddy pitch than the awesome blackout he probably had pictured in his head. Poor form son, poor form…
Joe Hart (Manchester City) – Nike Magista Obra (Custom)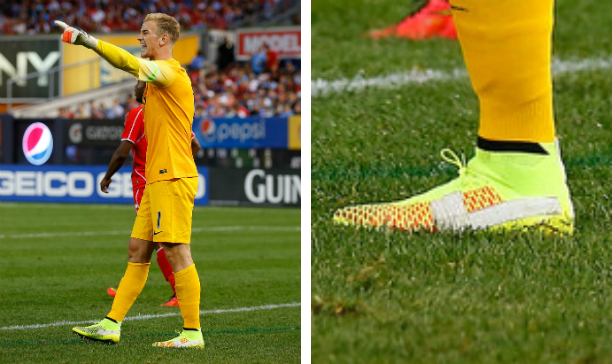 Look, I do not know about you guys, but I am going to go out on a limb and say that Joe Hart is wearing the Nike Magista Obra. I mean, I think that the tape on the side of the boot can throw me off the scent a little, but I think I can still just about make the boot out to be the Magista…okay who are we kidding, Joe Hart has probably made the Nike tick even more distinct by taping over the tick itself. But more importantly, it means that Umbro has perhaps lost another player now that Hart is wearing the Magista. Umbro is certainly struggling to hold onto it's players these days…
Edin Dzeko (Manchester City) – adidas F50 adiZero Messi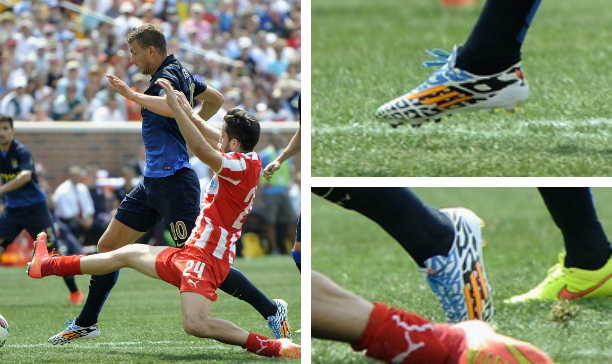 Pre-season is often the high time for boot switches, how many of us hit a new season and think 'you know what, I might try something different this year…'. That thought has perhaps gone through Dzeko's head recently, with the big target man trading in his Predators for the F50 adiZero. It is worth pointing out that Dzeko's has decided to go with the Messi edition F50, and it seems there are quite a few F50 wearers around who prefer the addition of blue on the F50 colourway compared to the stark black and white Battle Pack adiZeros.
Scott Coulson (Brisbane Strikers) – Nike Premier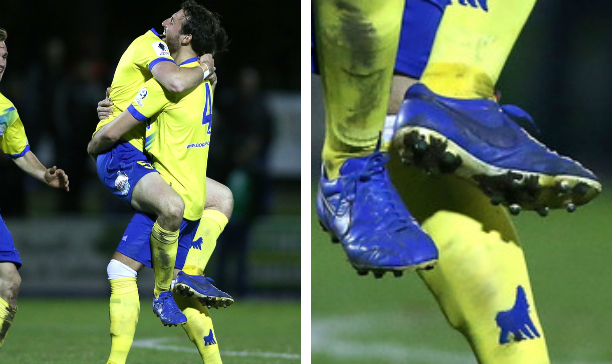 Amongst a sea of flashy football boots, it is sometimes the most simple boots that catch the eye, and we certainly feel that way about the Nike Tiempo Premier. It has been a successful 12 months for the Premier, asserting themselves as an affordable boot for those who want nothing more than your old school leather boots without any of the bells and whistles. Scott Coulson has picked up one of the three limited edition Premiers launched last year to commemorate the World Cup winning nations of Brazil, England and France, with Coulson's boots paying homage to the latter. Minimalistic, classy, what more could you want?
Josh Piddington (Broadmeadow) – adidas Predator Instinct (Custom)
Maybe I am being a little mean here, and maybe this is a reference that is way too obscure, but with his tattoos and beard, it kinda looks like Piddington fits the definition of a 'straya'…but we will not put that against him, because he is wearing an awesome pair of boots. Piddington has got his hands on a blackout pair of the Instinct, a far cry from the relatively bold Predator boots that have so far been released by adidas (bar, of course, the blackout and whiteout released yesterday). The pop of blue from the SL rubber zones certainly makes the boot a little different from your stock standard blackout boot, something we do not mind at all…
Jimmy Oates (Manly United) – Nike Hypervenom Phantom (Custom)
While we have seen a number of Hypervenom Phantom colourways released in the year and a bit the Hypervenom has been around for, a predominantly blue Hypervenom is not a boot we have seen yet from Nike. So Jimmy Oates took the matter into his own hands and put together his own NikeiD creation, a sharp blue and black number that certainly reminds us of the France Tiempo Premier colourway. Plus it matches up with his Manly United kit rather nicely too!
That is it for our boot spotting today, what was your favourite spot this week? Share your thoughts in the comments section below.