We may be in a new year, but there is one thing that will not change from last year to now, and that is your good old boot spotting courtesy of the Instep! With so many games of footie on telly, we have gone and done the usual business: scouring through the football world to find the best boot spots that the football world had to offer this week. From boot switches to custom boots and everything in between, check out what caught our eye this week…
Morgan Schneiderlin and Victor Wanyama (Southampton) – adidas Predator Instinct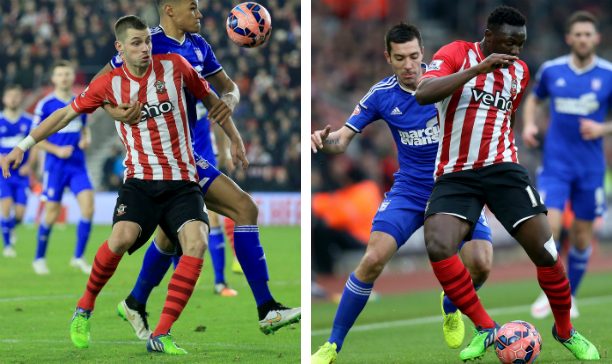 Schneiderlin and Wanyama are two blokes who probably see each other pretty often. After all, they are two of the players that anchor down Southampton's midfield. So because they are used to seeing each other that often, that seems to translate to wearing the same boots as each other. The pair have both strangely gone from wearing blackout Magista Opus boots (a blackout of the launch colourway for Schneiderlin and a blacked out version of the turquoise boot for Wanyama) to both wearing the latest Predator Instinct colourway in the exact same week. They could not quite get Southampton over the line though, as they drew at Ipswich in the FA Cup. Shoutout to John in the comments section from last week's spotting for the spot.
Nicolás Otamendi (Valencia) – Nike Mercurial Vapor Superfly IV (Custom)
Who would have thought that on the same day that Barcelona lost to Real Sociedad that Real Madrid would let a lead slip against Valencia? Nicolás Otamendi sealed a famous moment for Valencia with his match-winning header in the 65th minute, but it is what is on his feet that caught our eye. Otamendi has made a few adjustments to his Superfly IVs that seem to be from the recently released Shine Through Pack (given away by the green lining on the soleplate). First up, he has gone DIY on the boot itself by blacking it out, but it seems he then made his own alterations to the Dynamic Fit Collar, so much so that he has pretty much taken off the whole collar extension. He is pretty much left with a Vapor X, bar having all the features of the Superfly IV. That would be quite an interesting boot to use now that I think about it…
Nikola Petkovic (Sydney FC) – adidas F50 adiZero TRX Hunt
If you broke down all the boots that adidas release over the course of last year, I would estimate that 30% of their boots failed to get any real representation amongst the professionals. Example one of this phenomena? It has to be the Hunt Pack that adidas launched in the second half of 2014, a boot that until now we have seen on the feet of just two footballers. Sydney FC's Nikola Petkovic adds himself to that very small list of players in one of the Hunt Pack boots, this time in the F50 adiZero version of the pack.
Fernando Forestieri (Watford) – Nike Tiempo Legend V (Custom)
Blackout and whiteout boots? Nah, that seems to be a little too common for Fernando Forestieri. The Watford man has gone for an all-red look with his Nike Tiempo Legend Vs, a look that certainly turns heads when it is worn out on the pitch. While I may be a little cynical here, his boots certainly seem to take inspiration from the all-red Nike Premier that was launched last year in the lead-in to the World Cup, with the red Premier paying homage to England's World Cup victory in 1966. It would have been cheaper to get those over his customised effort too despite the slight variation in the quality of the leather…
Alvaro Negredo (Valencia) – Warrior Sports Superheat (Custom)
The re-branding of Warrior Sports to New Balance is getting closer and closer, but it seems not every Warrior Sports player is being afforded the luxury of being given access to a whiteout or blackout version of the yet-to-be-named New Balance boot (am I the only one super pumped for its release?). Alvaro Negredo was touted as a potential Warrior Sports signing during the pre-season as he wore whiteout versions of the Superheat prior to his move to Valencia, with Samir Nasri also wearing the same boots during that time. However, 6 months down the road and while Nasri has whiteout NB boots, Negredo is wearing the same Superheat boot. It will be interesting to see what Negredo wears once the boot is actually released.
David Dunn (Blackburn) – adidas F50 adiZero TRX (Custom)
We always love a nice bit of colour co-ordination on The Instep, and David Dunn has seemingly taken up that task when it comes to his customised pair of F50 adiZeros. While they seem to take inspiration from the launch colourway of the current generation F50, Dunn has changed the three stripes on the upper from white to black to make the boot that little bit different. It matches up pretty nicely with his Blackburn kit as well, so the intention behind the extra effort put in to get the boots on miadidas is clear to see.
Erik Paartalu (Melbourne City) – Mizuno Morelia Neo (Custom)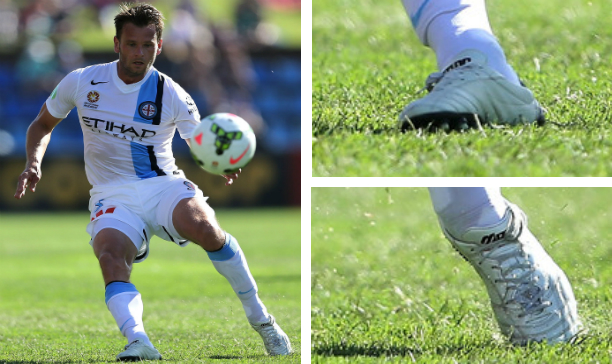 So players normally either black or whiteout their boots if they want to discreetly wear a pair of boots without giving away the brand of their boots. But Erik Paartalu has taken that one step further with his Morelia Neos, and he has taken away the Mizuno logo on the instep and outstep of his boots. It gives Paartalu's boots such a clean, minimalistic look that looks fantastic. I feel inspired to do it on my own pair of Neos now…
Kyle McFadzean (MK Dons) – Nike Magista Opus (Custom)
It may look like a normal customised boot job to you guys, but for some reason this one has really caught my eye. While Kyle McFadzean's customised Magista Opus boots perfectly match up with his MK Dons kit (right down to the trim of the jersey being the same as the colour of the underlying mesh layer), the combination of the white, red and black adds up to a brilliant NikeiD job. I do not know about you guys, but boy would I love Nike to release a Magista colourway just like this…
That is it for our boot spotting today, what was your favourite spot this week? Share your thoughts in the comments section below.