Man oh man, there is only one weekend of football left this season. The season has gone by way too fast, and my team is close to being relegated…fair to say I have not enjoyed the 2013/14 season THAT much. But, the upcoming World Cup does provide some solace (oh, and I'm an Australia fan, I don't think that is going to end too well either), plus there is some sweet boot launches coming up. If that is too long to wait, we are here with your weekly boot spotting fix, the best way to start up your Monday! New boots, custom boots, boot switches, you guys know what to expect, check it all out now!
Joe Hart (Manchester City) – Umbro UX-1
Before Nike released the Nike Superfly and Magsita, they pretty much tortured us with the suspense, the build-up, then finished it off with the announcement of the excruciatingly long period until the boot goes on sale. So it seems Umbro took a leaf out of Nike's book with their new UX-1, showing off a sneaky picture of the boot on their social media ahead of the likes of Joe Hart and Andy Carroll giving the boot their on-pitch debut. Umbro have not released too much on the boot, but know the boot is certainly geared towards protection, with the Amor-Tex material used on the upper being 10 times stronger than steel. Now that is pretty cool…
Cristiano Ronaldo (Real Madrid) – Nike Mercurial Vapor IX
So when a pair of boots have been crafted to your specifications, and have been limited to just 100 pairs, you would try give it as much wear as possible right? Yeah…not for Cristiano Ronaldo, the Real Madrid superstar has switched out of his special Vapor IX CR after just two games in them in favour for the 2010 'Fast Forward' Vapor. We had a soft spot for the Vapor IX CR, especially with the way it perfectly synced up with Ronaldo's Real Madrid home kit, so we are kinda disappointed to see the boots shelved so quickly. It will not be long until we see Ronaldo in the Superfly though…
David Vaughan (Nottingham Forest) – adidas adiPure 11Pro (Custom)
Based on what we have seen so far, it seems the adidas adiPure 11Pro II only comes in two distinct styles: your typical conservative colourways (the white and black releases) and the rather bright (the Samba and Carnavale releases). But what if I want something that is between those two extremes? David Vaughan has found a way around the problem, plus he has co-incidentally matched his Red/White adiPure 11Pros with his Nottingham Forest kit! Adidas have released red and white adiPures on two occasions in the past, and we really hope they do so with the 11Pro II if they look as classy as Vaughan's miadidas creation.
Andrea Pirlo (Juventus) – Nike Tiempo Legend V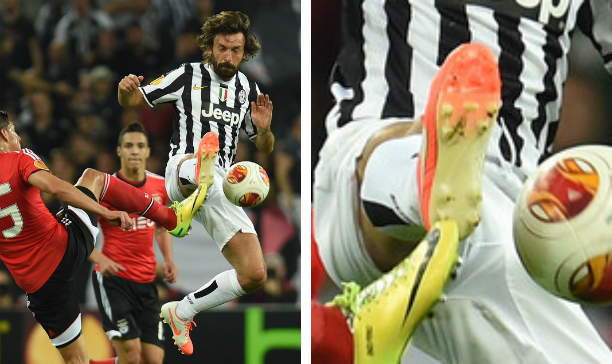 So we know that Andrea Pirlo has been wearing Nike Tiempo Legend Vs for a long time now, but for those with a keen set of eyes, you will see what exactly caught our eye with his boots. While Pirlo has been (to our knowledge) the only footballer who had his Tiempo Vs customised with a carbon fibre soleplate, Pirlo has now changed to the standard TPU soleplate for his new Tiempos. Maybe Nike told Pirlo that they need to save their carbon fibre stocks for the Superfly, or perhaps Pirlo changed his mind, but it is a rather sudden return to the normal Tiempo from Pirlo.
Fabinho Alves (Chapecoense) – adidas F50 adiZero TRX Messi
We always see companies experimenting with bold colour schemes that sometimes leave us thinking 'hmmmm, where did they come up with that design?'. The Messi F50 adiZero is arguably the one release this year that certainly left us bewildered with it's bold and colourful design. But surprisingly, there have been a number of players who have decided to go for the boots made with Messi in mind, with Fabinho Alves picking up the boots himself. Kinda ironic when you consider Alves is Brazilian himself…
Soloman Sambou (Fulham U18) – adidas Predator LZ (Custom)
Now…hmmm….that is some interesting customisation work there. While the magic texta has given us some interesting customisation jobs (think those awful attempted blackout jobs that always give the boot a purple gleam to it), Soloman Sambou has gone and coloured in the 'drive' and 'touch' sections of his Predator LZs, which kinda makes what looks like a target zone of sorts. I recall that when adidas were designing the LZ, they asked players like Xavi and Gerrard to grab a texta and colour in what sections of the boot they use for certain uses, perhaps they should have spoken to Soloman who would have asked them to extend the 'drive' zone!
Sardar Azmoun (Rubin Kazan) – Nike Mercurial Vapor IX
You cannot knock Nike getting in on the Brazil vibe with their boots, but like adidas, Nike released the Brazil focused Tropical Vapor IX pack, taking inspiration from the tropical rain forests of the country. We have not seen any big name stars make their way out onto the pitch with the boots, but it has been left to the odd footballer who has the cash to splurge on boots from the limited edition pack. Sardar Azmoun is the latest player we have spotted in the boots, going with the blue Vapor IX, our definite favourite from the boot pack.
Thierry Ambrose (Manchester City U21) – adidas F50 adiZero TRX (Custom)
Class…that is the first thing that hit our head when we saw Thierry Ambrose's customised F50 adiZeros! A perfect match with his Manchester City kit, we feel like Ambrose's boots would be a big hit if adidas were to make them a regular release colourway! Well, maybe not with Manchester United fans, I guess adidas would just have to be selective about who they sell the boot too…
That is it for our boot spotting today, what was your favourite spot this week? Share your thoughts in the comments section below.