And so on a super weekend of football, we had some absolute blockbusters, stunning goals and the first high profile managerial sacking of the season. But of course, The Instep is here to sum up the week of football that was. And with boot spots from domestic and European football matches, we picked out only the best spots for our weekly spotting round up. Custom boots, boot switches, we have it all. Check out what caught our eye this week.
Luis Suarez (Barcelona) – adidas X15.1 Primeknit
There were plenty of new adidas boots out on the pitch this week. While a few of the stars became accustomed with their new boots two weeks ago, the week just past saw adidas players given the green light to wear the new Primeknit range of boots for the first time. The boots, which is the first time Primeknit has been used on a general release boot, was more or less universally rolled out to all adidas footballers. Luis Suarez was just one of the players snapped up in the new boots this week.
Romelu Lukaku (Everton) – Nike Hypervenom Phinish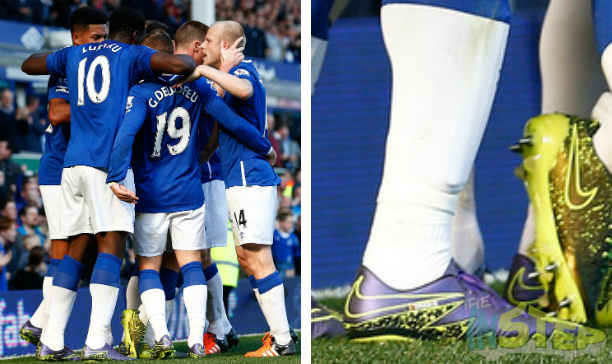 It was a bit of a 'will he or won't he' saga, but Romelu Lukaku has finally moved back to the new Hypervenom colourways, as he laced up in the Hyper Grape/Black/Volt Hypervenom Phinish for Everton's scintillating Merseyside derby. We think we have worked out why Lukaku made the original switch from the Hypervenom Phantom II. The man raised eyebrows by wearing the old Hypervenom Phantom and Vapor X in recent weeks before stepping into the Phinish, and we have a feeling that the Dynamic Fit Collar could have given the big striker grief, hence his move to the traditional low-cut boots. He joins a growing number of footballers who are ditching the Collar for traditional boots.
Michael Bradley (Toronto FC) – Puma evoSPEED 1.4
When we report a player making the boot switch, we normally see that player wear blackouts while they weigh up their new boot of choice. That did not happen with Michael Bradley, the USA midfielder made the quick switch from the Nike Magista Obra to the Puma evoSPEED 1.4 this weekend. Given the MLS gear rule where all players (unless contracted to another brand) must wear adidas, it indicates that Bradley has signed a contract with the Big Cat. A tidy little signing from Puma, there is a chance that he may be popping up in Puma advertisements sometime in the near future.
Jesus Navas (Manchester City) – New Balance Visaro (Custom)
New Balance are at it again with their cunning little games. Much like a few weeks ago with Tim Cahill, New Balance have gone a long way into customising the boots of Jesus Navas. While it looks like the winger is wearing the New Balance Furon, the trained eye will be able to tell that Navas is in fact wearing a Visaro disguised in the colours in the Furon. The round dimples on the upper are consistent with those seen on the Visaro, the prime indicator that Navas is wearing a Visaro that has been painted in the colours of the Furon.
Robin Van Persie (Fenerbahce) – adidas F50 adiZero TRX (Custom)
Man, it is always hard to work out what blackout boots are…Robin Van Persie was known to be very fickle when it came to his choice of boots while he was at United, at things have not changed while he has been at Fenerbahce. It seems the Dutchman has blacked out his already customised F50 adiZeros (which are technically a hybrid between the F50 and the Predator X), as the stitching on the upper of his boots seem to be consistent with the very same boots he wore in his final season at United. I guess Van Persie just is not into the boots on the market these days…
Reto Ziegler (FC Sion) – adidas F50 Messi Pibe de Barr10
It takes a brave man to wear the signature boot of a star player…or a man who just does not care. While so many players opt for the regular versions of boots, Reto Ziegler went for a left field choice in the adidas F50 Messi Pibe de Barr10. The boot pays homage to Messi's hometown of Rosario with a throwback to the graffiti murals found all over the town, but it is good to see the left back go for a more distinguished choice of boot.
Granit Xhaka (Borussia Mönchengladbach) – Under Armour Speedform
You can never knock a good colour co-ordination job, especially when the boots used are arguably the best looking boots on the market (at least I think they are anyway). The minimal black leather Speedform catches the eye in it's simplicity, especially when they have been teamed up with Borussia Mönchengladbach's classy black away kit. We take our hat off to Granit Xhaka, he has a cracking look going on there.
Mark Little (Bristol City) – adidas X15.1 (Custom)
While we are on about colour co-ordinated boot and kits, we may as well take a look at Mark Little. The defender has put in the extra mile to get his boots made up on miadidas to match up with his Bristol City home kit. It looks great as a whole package, but we cannot help but think that Little will be kicking himself that he could have saved up his cash and essentially bought the Primeknit X15.1 which more or less is the same bar a slightly different upper…
That is it for our boot spotting today, what was your favourite spot this week? Share your thoughts in the comments section below.