And here we are in 2014! The Instep is back with our first boot spotting article of 2014, and after our boot spotting being a massive success back in 2013, you can count on us to bring our awesome boot spotting into the new year. So, as we do, we guarantee to provide you with the first boot spotting on the net every Monday full of only the boot spots from around the world. But you guys have come to getting used to that already right? Onto the boot spots, and with the FA Cup hit our TV screens this weekend, and with it came a raft of unique boot spots. From retro boots to custom boots and a sneaky unreleased boot spot, check out what caught our eye this weekend!
Cesc Fabregas (Barcelona) – Puma evoPOWER 1 Camo
In the tail-end of 2013, we saw the launches of the adidas F50 adiZero, adiPure 11Pro and the Nike Tiempo Legend V. When you look at it like that, our hunger for new boots has certainly been satisfied! 2014 will be kicked off with the new Puma evoPOWER 1, and Puma have pulled out all the stops to make this a blockbuster of a release. It started with the eye-catching Balotelli 'Stampa' evoPOWER, now Puma have teased the new evoPOWER in a style we have come to expect from them with the distribution of the limited edition Camo print evoPOWER to a select number of Puma stars. Cesc Fabregas is one of those players given exclusive access to the boot, and we just cannot wait until the launch of the actual evoPOWER.
Adriano Correia (Barcelona) – Nike Hypervenom Phantom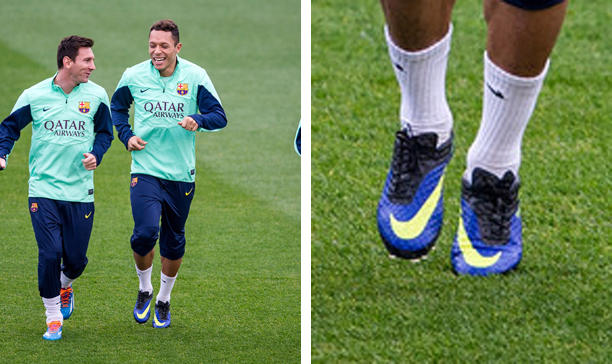 Not quite sure about the current batch of Nike Hypervenom Phantom colourways? Andriano Correia has given us a sneak preview of what to expect from the boot in 2014, as he trained in the unreleased Black/Blue/Yellow colourway that has been pencilled in for a late January/early February retail release. Robert Lewandowski has also been showing the boots off for Borussia Dortmund, so we expect the boot to be properly unveiled in the coming weeks. We also see Lionel Messi in the picture training for the first time with his Barcelona teammates, but it is his boots we are interested in. His leather F50s feature a different stitch pattern and a different placement of the three stripes compared to the normal leather F50. We will break down his boots in a special article later this week.
Adam Morgan (Yeovil Town) – Warrior Sports Superheat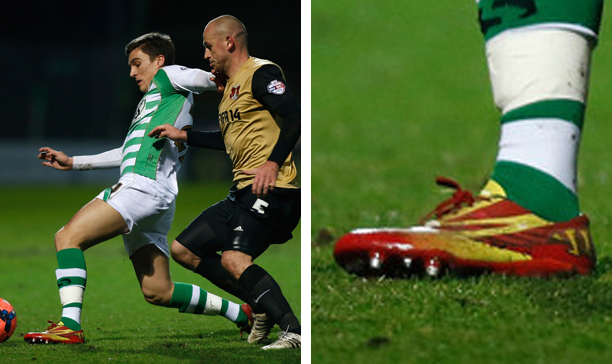 It is sad that the Warrior Sports Superheat has had next to no exposure on the big stage, as almost all of Warrior Sports' endorsers have snubbed the boot in favour for the more popular Gambler and Skreamer models. But, with the FA Cup always throwing up a few different boot spots with players from smaller teams, we have thankfully found at least one person rocking the new Superheat. Yeovil Town's Adam Morgan has elected to go for the Fiery Red/Chilli Pepper/Cyber Yellow (truly wishing they called the second colour 'hot chilli pepper', that would have been a colourway name and a half), and the boot certainly follows Warrior's ethos of bright, punchy boot colourways.
Chico Flores (Swansea) – Nike Mercurial Vapor IX (Custom)
Credit where it is due, Chico Flores is always reliable for a good old customised Mercurial Vapor boot spot! With the Swansea defender sporting a Black/White/Volt creation since the end of October, the start of the new year has seen Flores hit up NikeiD again for, well, a pretty awesome and simplistic White/Black that goes very nicely with Swansea's home kit. You can never knock a white and black pair of boots. They are classy, clean and super easy on the eye. Good effort Chico.
Daniel Lewis (Kidderminster Harriers) – Nike Air Zoom Total 90 III
So the Warrior Sports Superheat boot spot above is a pretty special boot spot thrown up thanks to the FA Cup, but a spotting of the Nike Air Zoom Total 90 III? Well is this not another typical FA Cup boot spot! We think it has been a long time between boot switches for Daniel Lewis, with the Nike Air Zoom Total 90 III dating back to 2004, which means the boots certainly fit the prerequisites for a 'retro' boot spot! I remember stars like Paulo Maldini, Wayne Rooney and Lionel Messi (true story) wearing these years ago…those were the days.
Liam Palmer (Sheffield Wednesday) – Nike Hypervenom Phantom (Custom)
Is it just me or have customised Hypervenom Phantoms become very, very popular? It seems to me that we see a player wearing customised Hypervenoms each week, and most of the customised boots are decked out in more low key colourways compared to what we have seen released from Nike so far. Look at Liam Palmer for example, with his White/Black/Red Hypervenom Phantoms. Maybe it is a sign that the Hypervenom colourways have been a little too bright for the tastes of some footballers. But never fear, we will see some more colourways that are not so bright on the eyes very soon. Actually, if you change the colour of the Nike tick on Palmer's boots, you actually get the same colourway that will be released in late March (shhhhh, that's a secret).
James McClean (Wigan) – adidas F50 adiZero TRX (Custom)
You have got to hand it to James McClean, he always keeps boot spotters on their toes! With spots from James McClean in the past 12 months including the limited edition Mercurial Vapor XV and a number of customised Vapors and Hypervenoms, the man certainly has a pretty sweet boot collection. Now McClean has kicked off 2014 rocking a customised pair of F50 adiZeros in a low profile Black/Warning colourway. Teammate Callum McManaman is also the first player we have seen showing off the blackout leather F50 adiZero. There seems to be quite a bit of love for black leather F50s down at Wigan…
Marcus Haber (Stevenage) – Nike Mercurial Vapor II
Oh man, here I was thinking that the Nike Air Zoom Total 90 III took me on a trip down memory lane, Marcus Haber's Mercurial Vapor IIs have made me feel more nostalgic than an early 2000s Nike commercial! Released back in 2004, way back in the days when the kings of Mercurial were Ronaldo de Lima and Thierry Henry and, well, Cristiano Ronaldo was not quite on the Mercurial radar like he is today. What we would do for a pair of Nike Mercurial Vapor IIs today…
That is it for our boot spotting today. What was your favourite spot this week? Share your thoughts in the comments section below.