Hitting Mondays may always be a little tough, but there is one thing that can kickstart your Monday and get you to power through your week, and that is a good old boot spotting courtesy of The Instep, your only source for the world's best boot spots. It is the usual for us, we go through all of the week's photos to bring you the biggest boot spots. From boot switches to custom boots to a few rare boots, check out what caught our eye this week!
David De Gea (Manchester United) – Puma evoSPEED 1.3
Sure, Angel Di Maria killed it for United against Everton, but it was the heroic efforts of David De Gea as the last line of defence that United need to credit the Spaniard for. I mean, how awesome was the save at the end from Bryan Oviedo? But in a strange twist, De Gea played out his mighty performance in the Puma evoSPEED 1.3, a change from the Tiempo he has been wearing for quite some time. If it turns out De Gea has signed up with Puma, he would be a solid addition to the Puma team, but it is interesting to recall that Hart wore Puma evoPOWERs for a week last month. Perhaps Puma want to make additions to their goalkeeper stocks…
Gareth Bale (Real Madrid) – adidas F50 adiZero TRX Yamamoto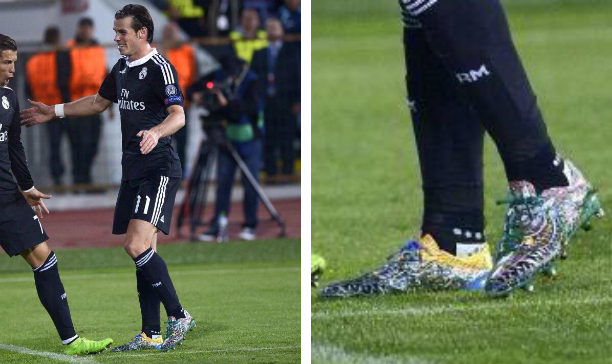 While they were unveiled with Real Madrid's eye-catching Yamamoto-designed away kit, we have not yet seen the bold Yamamoto F50 given actual game time until now. The midweek Champions League fixture against Ludogrets saw several Madrid players, including Gareth Bale, Karim Benzema and James Rodriguez, lace up in the Yamamoto F50. We are not too sure how long the Real Madrid players will wear the Yamamoto F50 for, but we do not expect it to be for too long as they are likely to be shifted to a rather big release that adidas will be unveiling very soon.
Carlos Tevez (Juventus) – Nike Tiempo Legend IV (Custom)
Is it high time for players to perhaps start switching boots? We saw Robin Van Persie step out onto Old Trafford in a blacked out pair of his F50 adiZeros, now Carlos Tevez has done the permanent marker job on his Nike Tiempo IVs. Tevez used to be a permanent stayer in the Nike commercials a few years back, but the spotlight has been slowly taken away from the Argentine over the past year. We would think Nike would still be keen to hold onto him, but we will keep an eye out for any further developments from the striker.
Kyle Naughton (Tottenham) – Under Armour Clutchfit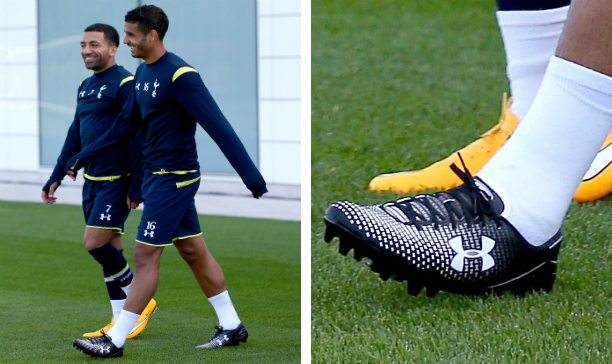 We do not hear too much from Under Armour, but if they pump out classy colourways like this, it will surely make the football world sit up and take notice. Kyle Naughton showed off the unreleased Clutchfit colourway during Tottenham's training session last week, and we are absolutely loving the simple black and white colourway. It also points to a potential switch to Under Armour by Naughton, who wore the Mizuno Morelia Neo last season and the Magista Opus during the pre-season for Spurs.
Sam Ricketts (Wolves) – adidas Predator Instinct (Custom)
We love a custom boot job as much as a controversial boot switch, but there are custom boot jobs that look alright and then there are custom boot jobs that are ridiculously awesome. I reckon we will be putting Sam Ricketts' attempt in the later group with his awesome Orange/Black Predator Instincts that feature a bold tribal pattern on them, similar to the pattern seen on the Battle Pack Predator Instinct. While they are edgy, we love that Sam Ricketts has gone for such a dramatic boot design with his customised Predators.
Marco Andreolli (Inter Milan) – adidas Predator Instinct (Custom)
Yeah….another player who has decided to do DIY with their football boots. Marco Andreolli joins a long list of players who seem to split when it comes to the boots they will be wearing on their feet, as the defender has rather slyly blacked out his Predator Instincts (distinguishable by the three adidas stripes visible on the soleplate). Considering Andreolli has worn everything from Predator LZs, Nike Tiempos, T90 Lasers and even the cheeky F50 Tunit, it seems Andreolli has never been able to settle with one football boot.
That is it for our boot spotting today, what was your favourite spot this week? Share your thoughts in the comments section below.