The…wait…is becoming…unbearable. With the constant morsels of news surrounding World Cup boot releases, the excitement is certainly gathering at the Instep HQ. Sadly, we cannot do anything about getting those releases out sooner, so we are sadly going to have to sit here and just watch the calendar as the days slowly tick over. Luckily, to keep us entertained, we had another solid week of EPL football and, of course, a good old boot spotting! The boot spotting gods were certainly smiling this week, with new releases, custom boots and retro boots aplenty. Check out what caught our eye this week!
Gareth Bale (Real Madrid) – adidas F50 adiZero TRX
It has not been plain sailing for Gareth Bale in the F50 adiZero Crazylight, the Real Madrid superstar has opted to change out of the world's lightest production boot to the point where it cost his side a crucial goal against Sevilla last week. Maybe the boot is pushing the boundaries a little too much for Bale, and he has now made his way into the regular F50 adiZero in the new Glow/Earth Green/Solar Zest colourway. Even though the cheeky Bastian Schweinsteiger debuted the Earth Pack F50 adiZero last week, the rest of the football boot world brought out their respective Earth Pack boots for the first time this week.
Jordan Smith (Coventry U21) – Nike Magista Obra (Custom)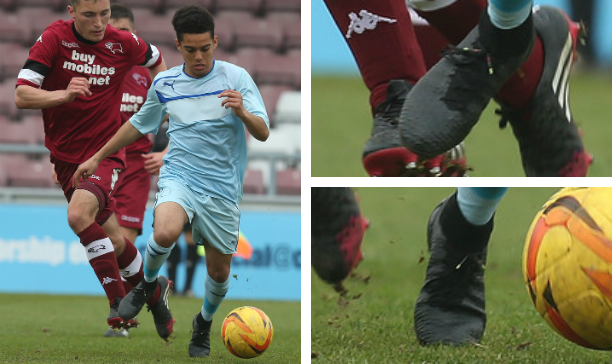 The Magista is not meant to be launched until May right? Huh, not sure how Jordan Smith has been able to get his hands on the world's most wanted boot this early. The Coventry U21 player has somehow latched onto a special blackout version of the Nike Magista Obra, which comes with the whole kit and caboodle (the whole external sock and all). The boot goes on pre-sale later this month, and well, I am counting down the days until I can get my boots from SoccerPro…
Juan Mata (Manchester United) – adidas Predator LZ II
Was the Samba pack Predator LZ II a bit flashy for your tastes? Yeah, me too. Which is why it is a nice, welcome change from adidas to revert to a more traditional (albeit potentially pedestrian) White/Earth Green/Solar Zest Predator LZ II colourway. Juan Mata wore the boots for the first time in Manchester United's easy win over Newcastle United. As nice as the new Predator LZ II colourway is, does anyone else feel it is awfully similar to the White/Red/Black colourway, with just a simple change in the colour of the 'dribble' and 'sweet spot' zones? Just saying…
Peguy Luyindula (New York Red Bulls) – Nike Mercurial Superfly III
While we are gearing up for the next Nike Mercurial Vapor launch here at the Instep, it is always nice to see a blast from the Nike Mercurial past on the pitch. Peguy Liyindula (definitely a copy+paste job when it came to me spelling that name) has held on to his Soft Grey/Flash Pink/Obsidian Superfly III, a boot that we rarely see on the pitch these days. The Superfly used to be the boot that pushed the boundaries for Nike, and expect much of the same when it comes to what Nike has in store for us with the Vapor we will see for the World Cup.
Steven Gerrard (Liverpool) – adidas Nitrocharge 1.0
You know, I have always seen Gerrard as the sort of guy who did not really like flashy boots. So you could imagine my shock that the Liverpool talisman started to wear the bright green Nitrocharge 1.0. It made me shout "that just is not your style, Stevie G!" So I think that Gerrard would be a bit more satisfied with the new Nitrocharge 1.0 colourway, a more toned down dark green. We do not see too many dark green boots, but we love the earthy feel of the boots (pun intended) which is nice and refreshing on the pitch.
Gabriel Paletta (Parma FC) – Nike CTR360 Maestri III
Limited to just 2,500 pairs, Gabriel Paletta has managed to get his hands on the final CTR360 Maestri III ever to go into production…the 'Lights Out' CTR360. Well, we think Gabriel Paletta is certainly counting his lucky stars to be able to get his hands on the boots, and he is certainly the envy of all the staff at the Instep. Nothing says class like a blackout, and Nike have taken a leaf out of adidas' book by sending off a boot with a final blackout colourway. And if you ask us, we would love to see Nike do it more often!
Hulk (Zenit St. Petersburg) – Mizuno Morelia Neo
So we are, what, 3 and a bit months or so away from the World Cup? If you are a football boot company, it is probably in your best interest to start marketing now in advance for the World Cup because, you know, the whole world is kinda watching. So it seems Mizuno is starting to get themselves ready for Brazil with a sneaky new colourway for the Morelia Neo which has been given to superstar Hulk before it's official unveiling. The sharp new Blue/Yellow colourway looks terrific on Hulk's feet, and we expect to hear an official word from Mizuno over the next few days.
Zhang Xizhe (Beijing Guoan) – adidas Predator LZ II
We have seen the Samba Pack, the Carnivale Pack, the Earth Pack, adidas loves a 'pack' of boots these days hey? Still, everyone loves a good pack of boots, but the Carnivale Pack came as quickly as it arrived, with many players skipping the boots during the international round of fixtures they made their appearance in. Luckily, Zhang Xizhe is ensuring the Predator version of the pack is getting some exposure, wearing them in Beijing Guoan's Asian Champions League tie against the Central Coast Mariners. Zhang Xizhe seems to be a bit of a Predator fan, we only saw him a few weeks ago in the Predator LZ SL II…
That is it for our boot spotting today, what was your favourite spot this week? Share your thoughts in the comments section below.