It is Monday, and that almost always means only one thing. It is that time of the week to cast our eye over the week of football that was and pick out only the best boot spots for you guys. We have a little bit of everything this week, a few new releases, rare boots and your odd spot, check out the boot spots that caught our eye this week.
Theo Walcott (Arsenal) – adidas X15.1 (Custom)
There were plenty of new boots hitting the pitch this week, as adidas launched a new colourway for their X15.1 and ACE15.1 boots. However, of the new X15.1 spots, Theo Walcott's is the one we wanted to touch on. While it looks like a standard X15.1 from the distance, a close inspection of the winger's boots (like the photo on his Instagram) reveals Theo's boots are heavily customised. While the toe of the boot is the standard X15.1, the back of the boot has been replaced with the Speedfoil construction from the old F50 adiZero. The X-Cage has also been ditched from Walcott's customised kicks, leaving us with a very interesting F50/X15.1 hybrid.
Wilfried Bony (Manchester City) – Nike Mercurial Vapor X (Custom)
You guys know the drill by now: blackout boots almost always mean someone is facing contract talks when it comes to the boots they are going to wear. It seems Wilfried Bony might be making the switch from the Nike Mercurial, having hit the pitch for Manchester City this week in a blacked out version of the Wolf Grey Vapor X. Bony could be a sharp pick up for someone like New Balance or Under Armour, but we will keep an eye out for any further developments.
Memphis Depay (Manchester United) – Under Armour Speedform
It was not just adidas that unveiled new boot colourways this week, Under Armour joined the party by not only unveiling the new Under Armour Clutchfit 2.0, but also an all-red Under Armour Speedform. It does not take a genius to work out this colourway was more or less made with Memphis Depay in mind, as the boots matches up wonderfully with the Manchester United home kit. The Dutchman gave the colourway it's on pitch debut this weekend in United's scoreless draw against West Ham.
Jamie Maclaren (Brisbane Roar) – Puma evoSPEED 1.4
It seems a lot of players repping the Puma evoSPEED have all been sticking with the same boot colourways. From the red launch colourway to the current electric blue lemonade colourway, you would be forgiven for thinking they are the only colourways Puma have pushed out. Which is why it is nice to see Jamie Maclaren drifting away from the pack and picking up the Total Eclipse/Lava Blast/White colourway. The boots are simple but look gorgeous on the eye, what more could you want?
James Rodriguez (Real Madrid) – adidas ACE 15.1
The first ACE 15.1 Primeknit was a massive success for adidas, so it is understandable that adidas have backed up the original with a new Core Black/White number, and boy is this colourway absolute class. The split between black and white could see the boot go down as one of the best looking boots of 2015, and James Rodriguez was one of a number of players who picked up the new boots this weekend.
Lucas Barrios (Palmeiras) – Nike Mercurial Vapor X (Custom)
While you have black and white boots like adidas' new releases, whiteout and blackout boots take classy boots to a whole new level. Lucas Barrios has gone above and beyond to create his own unique pair of boots, as he has given his Nike Mercurial Vapor Xs the whiteout treatment. Considering Nike only really push out blackout boots at the start of each season, it is unlikely we will see a whiteout release for the Mercurial Vapor X. Which is a pity, because Barrios really make them look good…
Ibragim Tsallagov (FC Krylia Sovetov Samara) – Nike Hypervenom Phantom (Custom)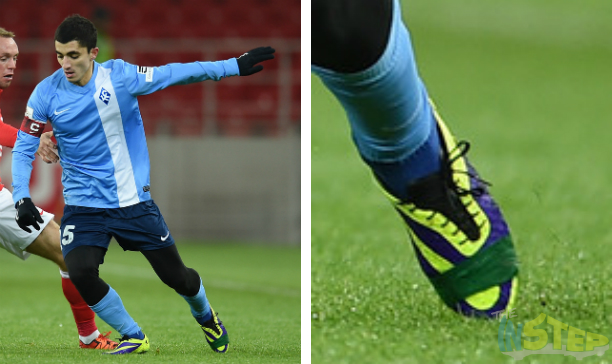 Ever had a pair of boots that you just want to keep reincarnating to get the absolute last wear out of them? We have a feeling Tsallagov is having one of those moments right now. The Russian has gone DIY on his Hypervenom Phantoms to try get another use out of them, with his left boot only being held together by masking tape. We think it is time for a new pair of Hypervenoms mate, the new ones are still a decent boot…
That is it for our boot spotting today, what was your favourite spot this week? Share your thoughts in the comments section below.