Monday only means one thing, it is boot spotting time! Getting your feed of the weekend's boot spotting is always easy thanks to our weekly round up of the week's hottest boot spots. As usual, we have a mixed bag of boot switches, custom boots and even a cheeky prototype boot spot. For all the best boot spots from the football world, check it all out below.
Diego Costa (Chelsea) – adidas X15+ Skeleton
Want to see adidas' next big release? You are looking right at them, the all new X15+ Skeleton is the next release from the Three Stripes, and they have been trialled by the likes of Costa, Suarez and Mueller during their respective training sessions. The new X15+ Skeleton features a new microfiber upper with a slightly heightened sock liner. The boots are also lighter than the current X15.1, with the Skeleton weighing in at 233 grams. Keep an eye out for them in the next month or so.
John Stones (Everton) – Nike Magista Opus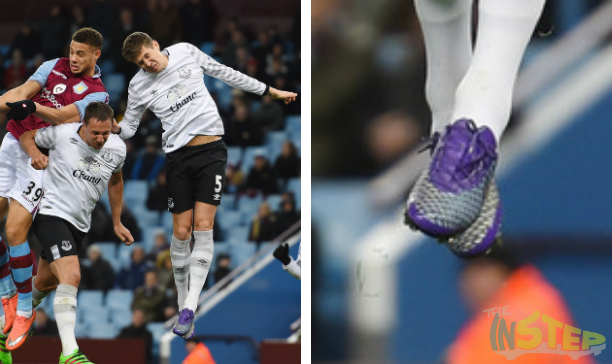 We are coming close to the end of the season, but it does not seem to be too late for John Stones to consider changing his boots. The English stalwart has seemingly made the switch to Nike from adidas, as he was spotted in the Magista Opus during Everton's midweek fixture against Aston Villa. Signing the youngster would be a shrewd move for any boot company, the defender is touted as one of England's most exciting prospects, and we would say it is a smart piece of work by Nike if they do secure Stones.
Memphis Depay (Manchester United) – Under Armour Speedform Tutti Frutti
In retrospect, I would say Depay is probably the athlete who appears most commonly in my boot spotting articles, as Under Armour are always pumping out new boots to the youngster. This time around, it was for Mother's Day, and with United playing on Sunday, it was fitting to see Depay in the new Tutti Frutti colourway. A cool colourway that is certainly different, but this is most likely a one off appearance in this colourway for Depay.
Ki Sung Yeung (Swansea) – Nike Hypervenom Phinish (Custom)
While Nike might be getting a hold of John Stones, they might be losing Ki Sung Yeung. The Korean midfielder has made the switch into a blackout Hypervenom Phinish, despite being a Magista Opus wearer this season. Blackout boots normally are the tell tale sign of a player who is out of contract and has effectively put himself up on the 'boot transfer market' (if there ever was one), and as one of the major footballers from South Korea, Nike would want to put their efforts into securing Ki's signature for the next few seasons.
Mark Ellies (Carlisle United) – Nike Tiempo Legend V (Custom)
Smart work with a blackout boot always a bit of kudos, which is why it is always good to throw them up in our boot spotting articles where applicable. Mark Ellies has done very well with his blackout Tiempo V boots, where it seems he has started off with the Green Strike Tiempo V launched last year by Nike and reworked it into his own blackout that still has that strong green soleplate lining the base of the boot. It is certainly a blackout boot that still has a bit of kick about it!
Benjamin Mendy (Olympique de Marseille) – Nike Mercurial Superfly IV (Custom)
Now these are a different pair of blackout boots. Benjamin Mendy has taken the recently released Bright Mango Superfly IV and, instead of blacking out the whole boot, he has only blacked out the majority of the boot bar the Dynamic Fit Collar and also the Flyknit tongue. The result is a blackout boot that still has that sharp Bright Mango kick of Flyknit. It could be because Mendy had some difficulty making the Flyknit black, but his boots look absolutely awesome!
Gilles Sunu (Angers SCO) – Nike Mercurial Superfly IV (Custom)
Altering the Nike Dynamic Fit collar has been seen numerous times since the concept was launched nearly 2 years ago, but very few players have altered the collar as dramatically as Gilles Sunu. The striker has cut off the whole collar from his Superfly IV boots, effectively leaving him with a SF IV that has the same shape as the Vapor X. Maybe Sunu wants a low collar Mercurial but is not a fan of the Vapor X upper, who knows…
That is it for our boot spotting today, what was your favourite spot this week? Share your thoughts in the comments section below.