We are nearly there now, the end of the season is nigh and that means the EUROs are just weeks away. But in the boot world, things are getting really exciting, with two big name boots being released in the coming weeks. Until then, the Instep is here with your weekly round up of boot spots. New boots, boot swaps, it is the usual in our spotting this week. Check it all out below.
Claudio Ranieri (Leicester City) – Pantafola D'Oro 'Championship'
I still have not got over Leicester winning the league, and Claudio is the one telling fans to keep dreaming…that should apply to everyone! But since the Italian has gone and achieved the impossible, Pantafola D'Oro put together a special one off boot for the gaffer in homage of what he has done. The boot, decked out in Leicester City blue, has 'Champions' on the tongue in a nice little gift from the Italian boot company. Although no further details have been released of the boot, they certainly look very nice.
Benoit Assou-Ekotto (Saint-Etienne) – adidas Predator adiPower
He made our boot spotting last week whilst wearing the iconic launch colourway of the adidas Predator adiPower, but Assou-Ekotto is back once again with another noteworthy Predator adiPower. The slime adiPower was another favourite amongst boot fans and the professionals, and Robin Van Persie during his epic season at United in 2012 rocking the slime adiPower all the way definitely comes to mind (albeit a custom version of it). We wonder how many of these retro Predators Assou-Ekotto has stacked away…
Gheorghe Grozav (FC Terek Grozny) – Nike Vapor Superfly IV (Custom)
The Nike Dynamic Fit Collar is arguably most polarizing piece of Nike technology since the SenseStud on the old Superfly II and III, and a number of players have made it clear that they are not fans of the unorthodox fit. Gheorghe Grozav has gone quite a way to make the Superfly IV exactly how he wants it, as he has cut off the whole collar off his boots, essentially making his boots a Vapor X with a Flyknit upper. Surely he should have just opted for the Vapor X rather than his custom SF IV?
Enrique Triverio (Toluca) – Under Armour Speedform Tutti Frutti
It was Mother's Day yesterday in a few countries (including Australia for me), and while Under Armour unveiled the Tutti Frutti Speedform to commemorate the UK Mother's Day back in March (it seems Mother's Day is different based on where you live) Enrique Triverio fittingly wore the boot on the weekend some parts of the world said thanks to mums around the world. Memphis Depay is the first and only player we saw in the boots back in March, so it is interesting to see that Triverio managed to get his hands on the limited edition boot as well.
Khalid Kaabi (Al Hilal) – Nike Hypervenom Phantom Womens
The Nike WWC pack launched last year was arguably one of the finest boot packs launched in 2015, the combination of green and blue looked absolutely stunning and there was a number of players that have been spotted in the boots. Fortunately, Nike were pretty generous in the sizing of the boot, and men with a US 10 foot and below can fit into the boots. It looks like Khalid Kaabi is one of those, as he was one of those that we spotted in the boots.
Jack Redshaw (Blackpool) – Nike Tiempo Legend V (Custom)
You can always rely on one or two spots a week where a player has co-ordinated their boots with their kit. Enter Jack Redshaw, the forward has gone for a simplistic White/Orange Tiempo Legend V that links up brilliantly with his Blackpool home kit. Thinking about it, there are not too many white and orange boots that are in the market that would match up with Redshaw's kit, so it is fair enough that Redshaw has opted for getting a customised boot.
Oliver Schroeder (SC Fortuna Köln) – Nike T90 Laser IV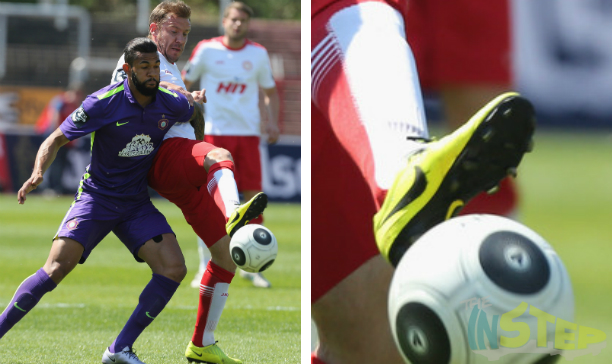 Ah the T90 Laser IV, that was such a top notch boot and one of the last few 'accuracy' boots that were on the market (the evoACCURACY boot is as close as we have got in the past few years). But of all the colourways the T90 Laser IV was released in, the volt colourway was one of the most iconic (and a favourite of Instep writer Andrew), so it is brilliant to see Schroeder wearing an old classic this weekend.
That is it for our boot spotting today, what was your favourite spot this week? Share your thoughts in the comments section below.