The European leagues may have gone on an international break, but that does not mean we take a week off! The internationals always throw out a few interesting boot spots from players who are not exactly household names, but adidas also released their latest range of colourways onto the Predator, F50 and Nitrocharge lines. Who wore what this weekend? Get the first and best lowdown of this week's boot spots with the Instep boot spotting!
Gareth Bale (Wales) – adidas F50 adiZero TRX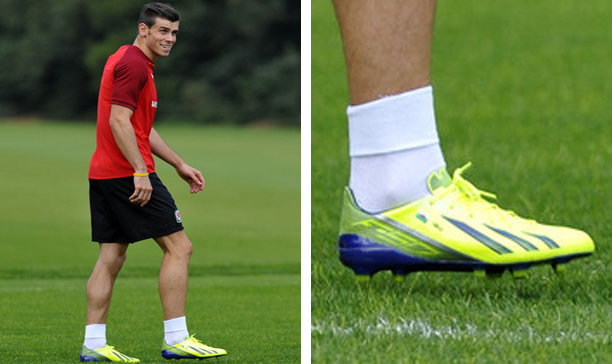 Got a new boot colourway that you want to promote? Sticking it onto the feet of the player during his official unveiling where he became the world's most expensive footballer is not a bad way of going about it. Gareth Bale became the first player to show off the new Electricity/Hero Ink/Silver F50 adiZero during his official welcoming ceremony at Real Madrid, and he was a number of stars to make a move into the new colourway. While the colourway does look a bit like the original launch colourway of the third generation adiZero, the boot has that little bit more punch thanks to the use of a brighter shade of yellow and the pop of purple.
Daniele De Rossi (Itay) – adidas Nitrocharge 1.0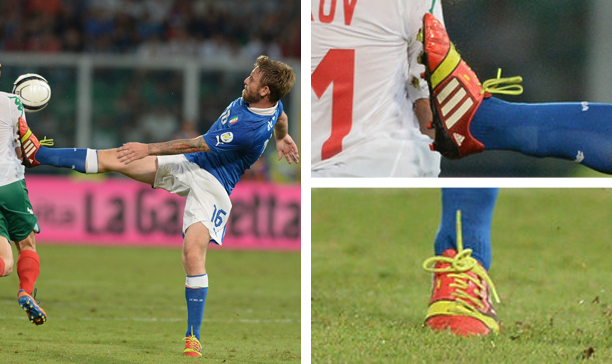 Adidas have so far stuck to some pretty safe colourways for the new Nitrocharge 1.0. While the original launch colourway would have been a perfect match with Italy's home kit, Daniele De Rossi has made the switch into the new Red/White/Electricity colourway. I personally thought the versatile nature of the Nitrocharge 1.0 would see the boot become a hit with the professionals, but it seems I have been proven wrong so far. But for those of you who have been considering the Nitrocharge 1.0, my fellow Instep writer Jeremy found the elasticity of the boot created by the Energysling meant it suited his wide feet, so it could be something worth checking out.
Robert Lewandowski (Poland) – Nike Hypervenom Phantom
While the Black/Orange launch colourway has been grabbing the attention of the football world, a few stars have now appeared in the alternative Black/Lime Green colourway. Lewandowski is a one of a number of headline athletes for the Hypervenom, and the striker joins Ibrahimovic in promoting the Black/Lime Green colurway.
Nani (Portugal) – adidas Predator LZ II
Adidas have not been holding back the punches with the new Predator LZ II. The new Blue/Infared Predator LZ II is yet another bold colourway on the updated Predator, and it won't be until very late this year/early next year that we see adidas come out with more subtle colourways. Several new stars moved into the new colourway this week, with Nani joining the likes of Ozil and Xavi in the new colourway.
Robbie Keane (Republic of Ireland) – Nike CTR360 Maestri III
The Nike Hypervenom Phantom was not going to be to every striker's tastes, and it seems Robbie Keane was not game enough to make the switch from the T90 Laser to the Hypervenom, instead opting for the more conservative CTR360 Maestri III. It seems Robbie Keane is not up to it like 39 year old Hypervenom wearer Kevin Phillips, even though I bet Phillips sometimes does consider how much different boots are today compared to when he first started playing…
Eugen Zasaviitchi (Moldova U21) – Mizuno Morelia Neo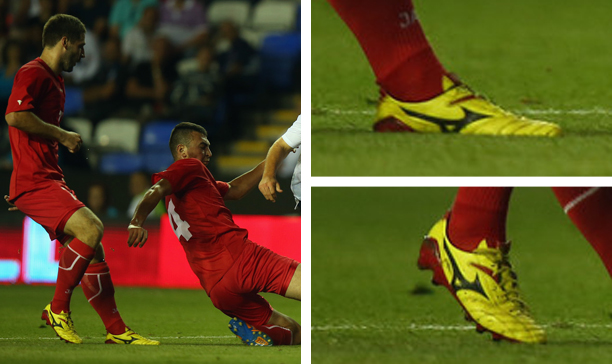 We are normally more likely to see an unreleased Mizuno Morelia Neo worn by an Asian player, but this is one boot spot that we have certainly had to mull over. It does seem that Eugen Zasaviitchi is wearing Mizuno Morelia Neos, with the stitching of the upper and the stud configuration giving us valid reasons to think so. This could be an unreleased Morelia Neo, considering that Mizuno do not offer a customization service like adidas and Nike, but it makes you wonder how Eugen got his hands on them…
Artur Ionita (Moldova) – Puma V1.06
Retro boot spots are normally reserved for Mercurial or Predator boot spots, but we are gladly willing to make an exception for Artur Ionita and his Puma V1.06. Puma's speed boots have certainly come a long way since the V1.06 (we have seen 4 new updates to the range since the V1.08), but it is rest to see Ionita has kept his boots in such good condition!
That is it for our boot spotting today, what was your favourite spot this week? Share your thoughts in the comments section below.