It's your lucky day! The entire world of footy has conspired to wear boots simply so that you could sit at your computer/phone/internet capable device and see what awesome boots they had on their feet at the weekend! Did you know that you were that special? Well, you are! In your honor, we've taken those homages to you and captured them here on our bootspotting so that you can enjoy your special party in one convenient location! So, blow out the candles on the "Yay for you!" cake that should be showing up at your door any second now, and get started on reading this week's bootspotting of glory! Could Monday get any better? I submit that it cannot!
Nike Mercurial SuperFly V
Carli Lloyd (USWNT)

---
While we applauded Nike's (overdue) initiative to create a pack of boots specifically for the women's side of the game, the Swoosh is now making us second guess our praise. Not because there shouldn't be boots tailored to the women's market…but, in a purely selfish way, we really wish that the last two women's packs from Nike were available in our sizes! Nike has taken the colorway choices for the last two men's launches and given the women's boots similar colors, but crafted in a much softer tone. The Radiation Flare pack for the women was a showstopper, and the Motion Blur is no different. Many women's teams this weekend had the boots on full display…just rubbing our noses in it (I kid…I kid). It was also interesting to see players on the USWNT sporting New Balance and Under Armour, but the Swoosh certainly dominates for the USWNT at the moment (and, we don't mind).
Adidas Messi 16+ PureAgility
Davide Calabria (AC Milan)

---
First off, it's quite rare to see a player opt for the actual PureAgility version of the Messi…we've actually tested the 16.1 and 16+, and the 16.1 is a much more comfortable boot to play in. Secondly, we really don't see how a gold/copper and black boot really fits in with Turbocharge. We love the black/bronze on the Copa 17.1, but we just aren't seeing how the Messi signature boot fits in with this current colorway launch. Calabria definitely shows that the boot looks good and stand out on the pitch (it really goes well with anything that has AC Milan's gold piping on their kits), but it seems like adidas might have been ready to make a Ballon D'Or celebrating Messi boot and just went ahead with the concept…minus any type of celebration. We'd still rock a pair…
New Balance Furon 2 (Hydra)
Jesus Navas (Manchester City)

---
If you're plugged into the boot world, you know that New Balance began this week by launching a Visaro with a color changing upper on display (reacting to pressure on the upper). However, it could never be as eye-catching as the Furon Hyrdra that Navas was rocking. Chrome on chrome on chrome (with a dash of lime), these boots had a few color changing bits of their own (when exposed to water). New Balance has started to offering special edition boots in a step that makes us think that the American brand is really looking to solidify itself within the marketplace. Although some might see these as a special piece to add to their collection, our time with the new Furon would ensure that we would have to rock these out on the pitch a few times before putting them on the mantle. Navas obviously felt the same…
Puma EvoPower Vigor
Marc Bartra (Borussia Dortmund)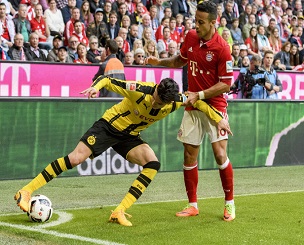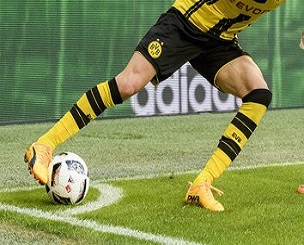 ---
It's almost not even worth calling the newest evoPower underrated or underappreciated. Constantly a top option on the market and constantly overlooked by players all over the world, the Vigor is an incredible boot option. With one of the softest synthetic uppers in the market (not surprising given Puma's SL series), and the type of padding that allows us to definitely recognize this as an evoPower…it's a winning combination that will probably enter 2017 and exit 2017 as a top three boot, but with very few giving it a proper chance to become their next on-feet option. Bartra can salvage some small positive from his encounter with Bayern knowing that his evoPower will still feel amazing when BVB try to bounce back from their recent defeat.
adidas ACE 17+ PureControl
Paul Pogba (Manchester United)

---
Pogba could quit playing footy tomorrow, and we would forever associate the Frenchman with the 17+. However, despite being the face of a brand, boot, and (when Zlatan isn't being mentioned) club, Pogba is still working out the kinks with his new/old club. Manchester United are certainly going to be one of the more interesting stories going into the summer, and that's true no matter what the rest of the season holds for them. Placing all your chips on Zlatan is (somehow) still a safe bet, but for how much longer? Big money seems like it will have to be spent, no matter which European tournament United stumble into. If United somehow miss out on Champions League football (again), then I think we finally have a great way to sum up their season: Fellaini was given a contract extension…and made the captain at the weekend. If that isn't a statement that's worthy of attaching to a failed season (IF, it turns out to be one), then I don't know what is.
Nike Mercurial SuperFly V EA Sports
U16 Girls Federal Cup

---
Saving the best for last this week. While I really wish I could give credit to the young lady absolutely rocking these beautiful boots, the interweb let me down a bit this week as I was unable to get anything more than the tournament that these girls were playing in. Still, mad props to anybody that was able to snag the EA Sports SuperFly, bigger props to anyone that had the guts to actually wear them and play in them, and even BIGGER props to this lady for sporting the EA Sports SuperFly with skills at a U16 level that would probably make most of us here at Instep HQ break down and cry as she flew past us. Time to initiate the slow clap…
That does it for our spotting here this week! We hope that your spring has kicked into full gear and that this Monday simply flies by! Let us know if there were any spots that we missed, any spots that we totally shanked into row z, or even any spots that you absolutely loved. Let us know in the comments how we can help start your week off with the best spotting possible…or, just tell us how your weekend of footy was. Don't be shy!