The Premier League is BAAAAAAAAAAAAAAAAAAAAAAAAAAAAAAAAAAAAAAAAAAAAAAAAAAAAAAAAAAAAACK!!!!!!!!!!!!!!!! Chelsea offered us up our first major flub from one of the big clubs, Liverpool were…well, Liverpool, City and United look like they might battle it out for the top, and Arsenal decided to mix a season full of emotions into 90 some odd minutes (minus the whole "finishing well below their early season target" thing). The best part? THIS WAS JUST THE FIRST WEEKEND! So, let's dive into the spots that we were able to find, and start daydreaming about the fantastic soccer that is only a short work-week away. VAMOS!!!
Nike Mercurial Vapor XI
Isco (Real Madrid)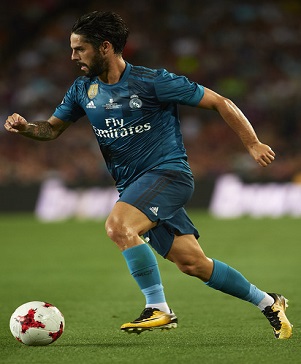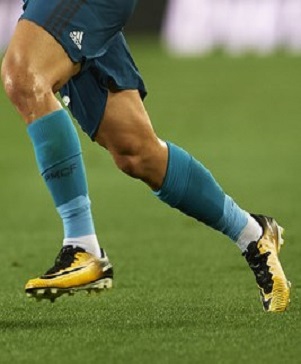 ---
Part one of "The things that needed to happen in order for Coutinho to definitely go to Barcelona" occurred during the Barca/Real Madrid game. Madrid laid down a massive marker that will have Barcelona heading back to the transfer market knowing that they need some big pieces to close the gap. Isco has always been an undervalued gem for quite some time, but it seems like the current set-up at Madrid might allow the playmaker to finally fulfill the potential that many fans (and FIFA players) have long seen.
Adidas Copa 17.1
Frank Stark (FC Rielasingen Arlen)

---
If you look closely at this picture, you can see the Copa sitting next to a boot that utilized the color that is emblazoned on the newest Copa! The newest Copa colorway feels like a boot that will haunt my dreams (cuz I snagged one) and my nightmares (cuz I missed out on snagging one). It might not be something that adidas would want to use to sell the revolution, but they seem to have a knack for launching some good boots right after the entire public has talked about a boot being a bad idea. The new Copa is worth your time…
Puma EvoPower Vigor Graphic
Cesc Fabregas (Chelsea)

---
The evoTouch is definitely dead. It was short-lived and, yet, magnificent. Fabregas has now moved into the evoPower…a boot that he began his time in (in terms of his Puma days), but a boot that doesn't seem to fit him as well as the Puma ONE might. Chelsea might not have had the best start to the season (could someone have guessed a more frustrating opening day for Chelsea?), but Cesc's boots are absolutely gorgeous. Dear Puma…
Nike HyperVenom Phantom II
Romelu Lukaku (Manchester United)

---
Here's some quick thoughts. First, if Man U can keep up any semblance of this weekend's performance, their season could end with silverware. Second, Lukaku will not be in these old boots next week. After scoring two, and heading up the Man U attack, brands will be making some big money offers to get their newest boots on the Belgians feet. Third, depending on how superstitious Lukaku is, point number two might not be true…
adidas Nemeziz 17.1
Mikel Merino (Newcastle United)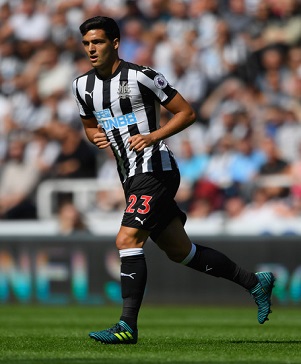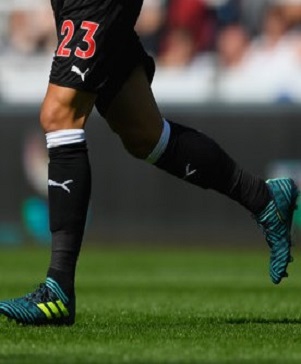 ---
If there's anybody that would be a good judge of stripes, it's a Newcastle player. While I think the launch Nemeziz would have been a fantastic option (does anyone outside of high school sports do "team footwear" anymore?), the Ocean storm Nemeziz is one of my absolute favorite boots on the market right now. It would take something very special to make sure that the two adidas boots out there using the adidas version of "volt" wouldn't be at the top of my list, and this boot is certainly special.
Adidas X 17+ PureSpeed
Origi (Liverpool)

---
Part two of "The things that needed to happen in order for Coutinho to definitely go to Barcelona" definitely happened to Liverpool on Saturday. Although Origi showed off that he is an adidas man, the talking point will be focused around Liverpool making the exact same mistakes this season as they did last season. The player/coach/shaman that can fix Liverpool's woes from set-pieces must exist…SOMEWHERE!!!
Puma ONE 17.1
Kun Aguero (Manchester City)

---
In other news, Aguero is still scoring. Manchester City easily has the deepest bench in the Premier League, and Hunter can rest easy knowing that City's squad has the best chance at juggling tournaments and the Premier League of anybody out there. Perhaps the scariest part is how much of their squad is comprised of young players…City is built for the present and the future.
Nike Tiempo Legend VII
Asmir Begovic (Bournemouth)

---
Trusox is going to have to start to offer more colorways for their socks…Begovic's pairing looks terrible. Now, we are fairly certain that the ex-Chelsea shot stopper is rocking a pair of the newest Tiempo that he blacked out. However, it appears to have a really aggressive heel stud that the Tiempo VII doesn't have…and it's a bit tough to decipher. Can somebody confirm or deny that this is a Tiempo VII?
The world of bootspotting has come to a close for another week. Perhaps it's the non-stop How I Met Your Mother episodes that I've been shotgunning throughout the making of this spotting, but it's always sad to see it go. Let us know what spots we nailed, what spots we missed out on, and what result from the weekend sent your head spinning…? We went a bit heavy on the "big three" of the boot world this week, so look out next week when we avoid stripes, swooshes, and cats (for the most part).