Hey guys, I tell you what…let's have around three weeks of incredible footy, incredible storylines, incredible transfers, and so much incredible incredible stuff…so let's have an international break to put a stop to all of it! Seriously though…give me an argument for why we need international breaks. Anyway, let's take a ride down the super highway of spottings and see what we had on show this weekend. This week, we take two heaping scoops of the Swoosh and the stripes and lock in for a spotting that's going to stick to your ribs. Dig in!
Lukaku (Manchester United)

---
There might not be a bigger brand free agent within the Premier League right now than United's main attacker. The big Belgian has been flip-flopping brands for some time, and his constant use of boots that were out-of-date definitely has us thinking that he doesn't have a contract with anybody. However, we can understand his love for the HyperVenom II after Nike updated the upper…it was an incredible boot, and Lukaku definitely wants to make his first few games for his new club count. Who will swoop in with enough dough to finally tie the striker down?
Anthony Grant (Peterborough United)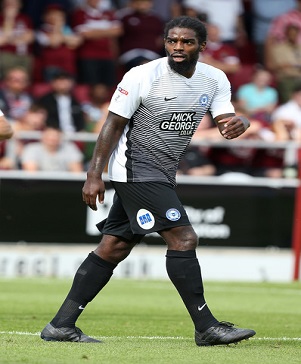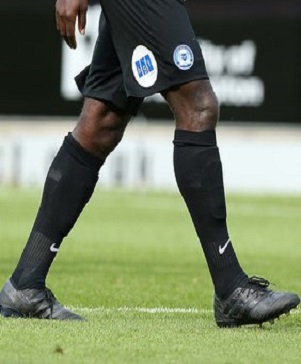 ---
Grant has certainly chosen one of the best looking boots currently out there. The Nemeziz is somehow still making stripes work for them (you can even see them a little bit on the blackout when you get close up), and it's an extremely impressive boot (I've already got two pairs). I'm still fairly anxious to see what the difference is between the 17+ version of the Nemeziz and the 17.1. The Nemeziz certainly shows that adidas still is trying to push forward…and we can't wait to see what their future boots look like.
Harry Kane (Tottenham)

---
Tottenham knows that they'll need Harry Kane to do more of the heavy lifting if they are to find any semblance of success within their current campaign. Something tells me that if a certain young Englishman (not named Harry Kane) continues to be the brightest light in Tottenham's galaxy, he won't be playing at Wembley Stadium for much longer. Will Tottenham really watch their recent success fade that quickly? Look at what Arsenal had to persevere through after paying for the Emirates stadium in order to be successful…can Tottenham handle the same situation?
Yamil Asad (Atlanta United)

---
Asad's boot choice might only be a decent pairing with United's away kit, but it's dynamite with Atlanta United's home kit. The new addition to the MLS has a decent shot at making the playoffs in their first season, but they certainly have set an incredible foundation for the club to be successful for their first several years in the biggest league in the United States. The MLS might have some fairly strict rules about footwear, but Asad is definitely making the rules work for him.
Benjamin Mendy (Manchester City)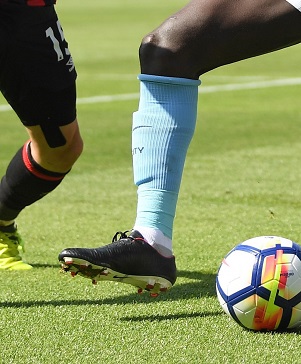 ---
Manchester City had an absolutely ridiculous match day. A last second winner and a sending off for Raheem Sterling means that the game winner for the last two fixtures will be in the stands for City's next few matches. It isn't like they're really hurting for goal scorers, so they should be fine. Mendy spent his time letting the masses know that his feet are available for the highest bidder, and it will be interesting to see who wants to put the City player on the books. My money is on Puma…for absolutely no reason at all.
Lionel Messi (Barcelona)

---
I'm sure that eventually Messi will actually wear a boot model that the public has access to. First off, has he even spent any time in the Messi styled Nemeziz that got released recently, and you can clearly tell that his Ocean Storm Nemeziz has been heavily modified from the original form. CR7's collar is only lowered a bit, but Messi's boots aren't even close to the actual retail model. Still…if there was ever any player that we'd let get away with it, it's Messi. Play on golden prince…play on…
Alexis Sanchez (Arsenal)

---
Are we looking at the image of how we'll remember Sanchez's time at Arsenal? The number of players that could leave for absolutely nothing next summer for Arsenal is only mounting. Wenger's biggest item on his plate might not be any particular finish on the table, but just getting his players to sign on the dotted line. A bad season is one thing…losing three or four of your absolute best players in one go could be club altering. Would you cash in or hope that these contract issues turn a corner? I know what Hunter would tell Arsenal to do…but he's a bit biased.
Nike Magista Obra ID
Alecia Robinson (Utah State)

---
It seems to be a simple rule of thumb when it comes to these spottings: the ladies know how to craft a showstopper. Here in the States, the MLS is heading towards its climax and college soccer is just getting underway. College soccer is this crazy whirlwind of soccer that is unlike any other…it's disjointedly fast, subbing is a different ball game, and the build up play is either non-existent or rather pointless. However, Robinson has found the beauty within the beast by absolutely rocking a gorgeous pair of Nike ID Obras. We aren't too familiar with Utah State's past record in the world of footy, but their footwear game leads me to think that they're incredible.
We hope that the spotting is up to par for you on this fine Monday and that it's gotten your week off to the right start. The weekend of footy that we were treated to (unless you're an Arsenal fan) was amazing. We can only hope that this is the beginning of an incredible journey (that hopefully ends with a last minute winner on the last game of the season), and the early warning signs are there that there are definitely going to be goals…lots and lots of goals. What spots did we get, what spots did we miss, and what is your opinion on club sandwiches?