As it is the giving season, we figured that we would go ahead and just give away another fantastic boot spotting on this gloriously chilly Monday morning! The world does feel like it's returning to normal as we prepare to round the 25th of December. Liverpool is slowly letting the hope out of the balloon that is their title chance, City and Chelsea continue to make money work (and work well), United is trying to decide whether they're going to be top four or top ten, and Arsenal is (of course) in fourth. Sometimes, despite the wild finishes and great goals, some things always turn out the same. Have holly jolly everyone!
Luis Suarez (Barcelona)

---
Adidas must love every single moment that Suarez and Messi make magic together. Considering the level that these two perform at, it's something that occurs fairly often. It's surprising that Suarez and Messi both opt for adidas boots that don't actually hold top spot in their catalog, which must be an odd situation for the three stripes. For Messi, we actually prefer the 16.1 ourselves, but Suarez choosing the 16.1 over the adidas X PureChaos makes almost zero sense (although, it could be that Suarez is enjoying the PureChaos upper without the lace cover…who knows). To think Barcelona is out of the running for several trophies this year…that would be an assumption teams can make at their own peril.
Mizuno Wave Ignitus IV
Maya Yoshida (Southampton)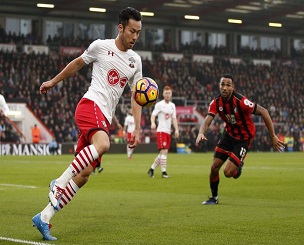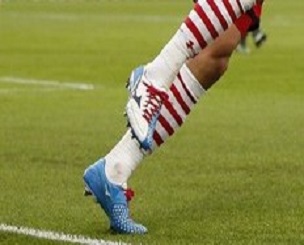 ---
The Ignitus is a boot that sits high atop boot nerd wishlists everywhere. The fabled sword of Mizuno is a showstopper that somehow combines a ridiculous amount of tech on the upper for a seamless boot that impresses with every iteration. We can't say that the newest colorway for this boot immediately won us over, but everything we've ever had from Mizuno wins us over with amazing comfort…and we're sure that this boot would be the same. Yoshida might have been on to a winner here if it wasn't for the blue…but, we'll forgive him. Keep rocking those Mizunos!
Mario Gomez (Wolfsburg)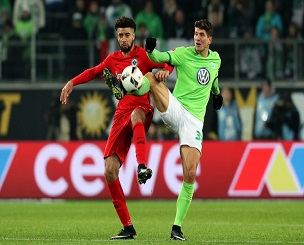 ---
Did you guys realize that Gomez was back attacking defenses in Germany? The player that had me convinced he would be an icon at Bayern and with the German national team for years, and all it took was an injury and some guy by the name of Lewandowski to send Gomez packing. Lewy might be the new face of the Hypervenom, but Gomez looks like he's enjoying the newest version of Nike's boot. We're anxious to see what the future holds for the boot as there are whispers that 2017 has an update in store. Gomez will probably make the shift, and we'll be anxious to see if he can challenge king Hypervenom through the rest of the season.
Hector Bellerin (Arsenal)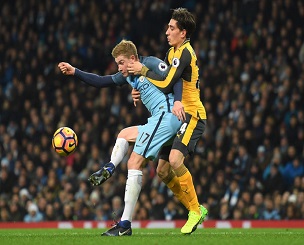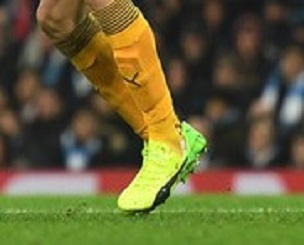 ---
Arsenal might not be enjoying life right now, but Bellerin slipped into the new Puma evoSpeed and they looked amazing. The upcoming year has potential for Puma to push their impressive line-up with some serious force, especially as it felt they were holding themselves back in 2016. The evoTouch is amazing, the evoPower is the last power boot existing in the big three, and the evoSpeed offers the light touch players came to crave during the speed boot race. However, Puma felt oddly quiet with their new toys…perhaps it was just overshadowed by the big wins we saw from Nike and adidas, but we look for the big cat to try and stake their claim in 2017. Other brands are just waiting for a stumble from the big three…and sub-par 2017 is something Puma can ill afford.
Jonathan Viera (UD Las Palmas)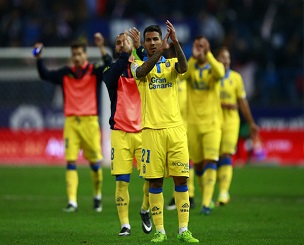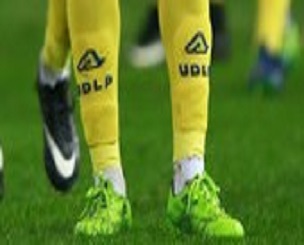 ---
This is a spot that took me quite a bit of time to finally settle on what the heck Viera was rocking on the pitch. I'm going with the green upper variation of the last F50 iteration. Perhaps the shortest lived adidas boot of all-time, the stop-gap boot was fairly well received and disappeared from pitches once adidas moved to their new revolution. Viera does not seem ready to move on from the legendary adidas speed boot silo, and his boots certainly make a statement. While we enjoyed the F50, it doesn't really sit atop our boots of dead adidas boots that we wish could be revived…still, kudos to Viera. We'll be anxious to see how much life he gets out of these boots and when, if ever, he moves on.
Nike HyperVenom Phantom II Neymar x Jordan
Michael Arroyo (Club America)

---
The Club World Cup might be the oddest club competition in existence. Do clubs really value it? Is it a piece of silverware that you'd hold over your bitter rivals? Do you know how many you club has every competed in? Still, Arroyo rocked the Jordan x Neymar edition as he attempted to get his club further in the CWC, and it they looked great on pitch. The boot now sits in a rather odd head-space for me. Neymar didn't wear the Hypervenom in the first place, now isn't wearing the Hypervenom at all, and this boot was a signature model for the Brazilian. It is still a great looking boot, and I definitely welcome Jordan's presence in the beautiful game, but this boot just doesn't do it for me.
Bavid Blacha (Wehen Wiesbaden 05 II)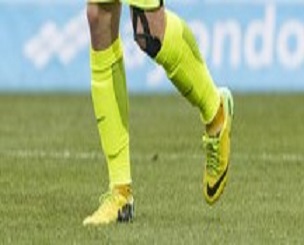 ---
One of the best ways to find yourself in the bootspotting is to create an absolute dynamite combination with your boots and your kit. Blacha's boots look like they were absolutely created for his get-up, and it was a no-brainer slipping Blacha into this week's spotting. Does it help that his boots were part of the fantastic Fast Forward collection that Nike gave us? Absolutely. Nike know how to make an homage to a classic moment from their history, and the Fast Forward collection certainly showed off their skill. I still have a pair stashed away (the 2010 World Cup version), and I will always be a fan.
Kendall Fletcher (Western Sydney Wanderers)

---
Is it really a surprise at this point that we've headed back to the W-League for the last spot? This league is the gift that keeps on giving to the spotting, and Fletcher locked her spot with this ridiculous backflip. We also love how this boot looks on feet, and they look fantastic upside down. So far, we've seen the CR7 Discovery, the Nike Premier, the adidas Gloro 15.1 AND 16.1, the Samba Copa Mundial, and a host of others (with so many, many more to come). Enjoy another fantastic round from the W-League, and start paying attention to some of the greatest boot collecting professionals on the planet.
The clock is ticking down towards Christmas, and we hope that this has been a good early present for you. Let us know which spots we found that were worthwhile and which ones weren't worth wasting the space on the page. Also, leave a comment for Drew telling him that it's not fair how Chelsea is already pulling away…he needs to be brought down a peg 😉