Welcome back to another round of spottings from the wondrous world of footy! Adidas continued to show off their new toys and the Red Limit pack, we saw WAY more from Nike's new pack than we were expecting, and the world finally saw one of the longest running boot sagas come to an end. We got to experience the hype of Barcelona/Real, saw some flashes of why we got hyped for Barcelona/Real, and, in the end, were left questioning, "Why do I still get so excited when it almost always ends like this…why?" Chelsea looks ready to give their fans an early Christmas present, Man City and Liverpool didn't start December how they'd like, and Mourinho is definitely going to have to do some serious work if he wants to be seen as a Moyes/LVG improvement. So, sit back, relax, go ahead and pour that first glass of eggnog, and enjoy!
Adidas ACE 17.1 Leather
Jeremy Menez (Bordeaux)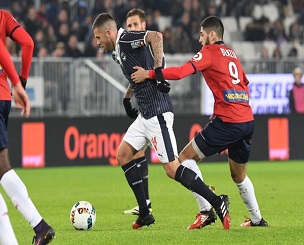 ---
First off, although the angle doesn't quite help tell the story, those Bordeaux kits are terrible. I can't decide whether it makes them look like waiters on a cruise or something else that feels incredibly tacky…what do you think? Anyway, Menez is now plying his trade in France, and his boot of choice is the new adidas ACE 17.1 Leather. A kangaroo leather forefoot, no collar, and the overall look of this boot actually makes it the boot that I'm MOST curious about. The 16.1 leather was one of the more disappointing releases from adidas, so I'd love to see this boot as a winner. On a more serious note, was it really that difficult a decision to choose the Red Limit colorways? Come on adidas…you HAD to know this would be well received, but you waited until now?!
Nike HyperVenom Phantom II
Romelu Lukaku (Everton)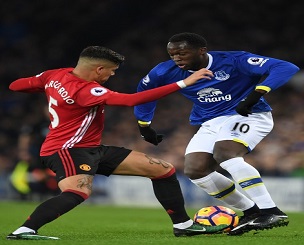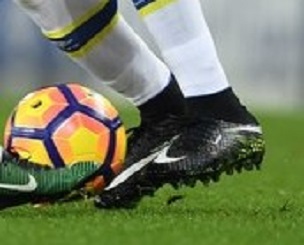 ---
Although we have one major boot story that has finally been resolved (that we'll be discussing later), Lukaku continues to leap from boot to boot with each fixture that crops up on the Everton schedule. While the internet (me included) was ready to claim how perfect Puma's EvoSpeed would be for Lukaku, the Belgian striker has slipped back into the HyperVenom Phantom. One idea that I'm starting to hope for is that Lukaku has decided that he's going to wear what he wants. Although boot contracts can be lucrative, we're fairly certain that the big striker wants for nothing. In all fairness, this could be the end of the story, but it's always fun when a high-profile player makes these kind of jumps…we don't know if we're ready for it to end just yet…
Puma EvoSpeed 1.5
Antoine Griezmann (Atletico Madrid)

---
Lukaku might not be sporting the evoSpeed any longer, and the main focus might have been on another fixture in La Liga, but Griezmann still feels like he and Aguero now carry the Puma flag. The reason why we included this spot is more to just point out how short a shelf-life Puma is going to be giving their "Derby Fever" boots. It makes sense, considering that each boot is personalized for a specific fixture, but if I was going to look for the advertisement that letting a player wear my boot typically brings…it doesn't quite work so well. Puma must have thought this through since we've got quite a few more rides on the "Derby Fever" train coming, but it hasn't quite hit the highs that we've been expecting.
Nike Magista Opus
Sebastian Llarson (Sunderland)

---
I realize that Sebastian Llarson is wearing the newest colorway of the Magista, but the reason this spot catches my eye is because of how amazingly this boot looks next to the Leicester kit. I mean…just look! It's a perfect match! Llarson was a player that I always expected to eventually sneak onto a 6-10th place finishing team at some point. Seeing him at Sunderland shows A) that might happen if Sunderland gets relegated and B) this is why I write predominantly about boots and not scouting players. Still, I just can't get over those boots with that kit…I might have to make that combo happen…
Nike Mercurial Vapor XI
Neymar (Barcelona)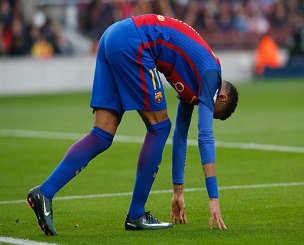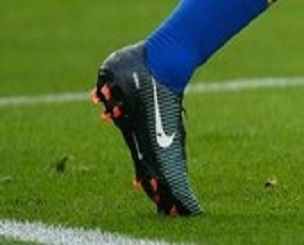 ---
At what point will we stop giving the Clasico hype? Although it certainly has a ridiculous level of talent on one pitch and it has the capacity to be a high-flying fixture, it just feels like it always descends into finger pointing and two squads terrified of letting the other team's superstars have any freedom on the ball. Still, Neymar has finally shrugged off the HyperVenom and is now wearing his beloved Vapor for everyone to see. How do you fill Ronaldo's shoes? Shift your up-and-coming biggest star into the Mercurial silo. Now that we can finally put Neymar's boot shenanigans behind us, who becomes the face of the HyperVenom? And, when did Nike become accepting of having one of their biggest stars wearing a "second-tier" boot?
Adidas ACE 16+ PURECONTROL
Dele Alli (Tottenham)

---
So, correct me if I'm wrong, but it felt like adidas was grooming Dele to become a major face for the talented youth that use the ACE series…but, he is not rocking the ACE 17 PURECONTROL. Sure, the boot world is the best at making mountains out of molehills, but this might have the first few inklings of a player that either loves his current boots (to be fair, the ACE 16+ was the boot that scored THAT goal and really propelled Dele Alli onto everyone's radar), or doesn't like the newest option from adidas. We're all still scratching our heads about the Pro version and the retail version of the newest ACE, so this only adds more confusion…what's the deal!?
Adidas X 16.1
Nathan Redmond (Southampton)

---
Although I've mentioned it before, Redmond is part of that squad of players that I take special interest in BECAUSE I used to buy them on FIFA before anyone really knew who they were. If you bought Gareth Bale on FIFA when he was listed as a LB, congrats…you were helping put the wheels on the future bandwagon. Still, despite his ridiculous speed for his age long ago on FIFA, Redmond has yet to reach the heights that my virtual world implied that he would one day obtain. No matter how different he is from the player I used in countless FIFA career mode games, his boot choice showcases just how strong the Red Limit Pack is in sheer terms of cosmetics. If adidas don't recycle these colors again in a few years, somebody needs to get fired…this pack is gorgeous.
adidas Copa Mundial Samba
Tameka Butt (Brisbane Roar)

---
That's right folks, we're heading back down under! Seriously, if you're a boot fan in any capacity, you need to sift through match photos from these games. The boots are incredible, and Tameka's Copas are simply fantastic. When they launched, purists might have felt a slight disturbance in the force, but it's OK for the Copa to get dressed up every once in a while. Still a boot that drives me nuts simply from the sizing (If I wear a 10 in EVERYTHING, then why does the 9 I ordered still feel like it has enough room for me to justify an 8.5…WHY!?!?!), but a boot that will forever hold a place in the hearts of boot fans. Tameka might not have known it, but she has merely continued to justify my inclusion of this league in the spotting for another week…judging by the boots we've found so far, the streak may live for quite some time.
December is definitely here and the footy for all of us that aren't getting paid to play is starting to head indoors. It's time to lace up your turfs boots and indoor shoes, brace for impact from that one guy that derives immense pleasure from slamming you into the wall, and continue to understand that just because you flew past one guy with grey hair, doesn't mean the next one won't make you look like a fool. Make sure you're getting your Christmas shopping taken care of, and enjoy another week with some spots fresh in your head.