Super Bowl weekend might have seen the focus shift between Falcons and Patriots, but there was still plenty of footy action on show throughout the weekend. The Radiation Flare pack started to glow across pitches, adidas continued to blue blast the globe, and Puma continues to show that they've grown very attached to "Gecko Green." The Premier League continues to be crazy, La Liga continues to be chocked full of goals, and boots continue to be incredible! We hope that this boot spotting brings a little bit of joy to your week…especially if you root for a certain Atlanta franchise…Game ON!
Eden Hazard (Chelsea)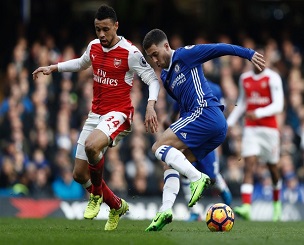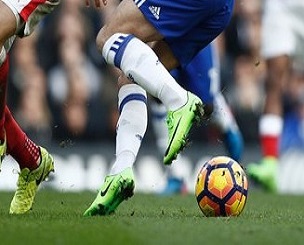 ---
This guy…this freaking guy…spends the bulk of last season lulling us all into a false sense of security, and then decides this season
is his time to return to his awesome days? What's with that!? Sure, my colleague Drew gets to laugh it up as his team rolls smoothly on towards the title, but maybe Hazard will just be too amazing for other teams to not offer Chelsea a blank check for his services. The Mercurial man took his hazardous skills and slipped into the equally hazardous new Radiation Flare Nike Mercurial Vapor…blinding his opponents before he steals their lunch money and skips away with their dignity.
Artem Fedetsky (SV Darmstadt 98)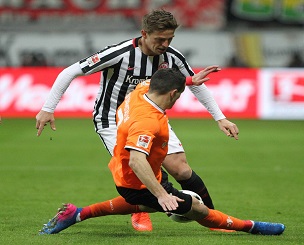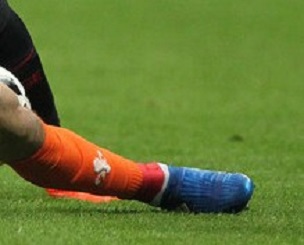 ---
The Blue Blast PureChaos has definitely gotten the smallest amount of focus since the launch of the newest ACE and the fact that Messi wears the Messi. The lace cover helps the boot flow towards the pink heel in a very smooth manner, and the light use of pink by adidas lets the entire collection feel like it isn't too loud. Which, considering the brightness of the pink, is a fairly impressive feat. Fedetsky's PureChaos is a boot that we think would fit with nearly any sensibility. In fact, it would probably look like a blueberry without the accent color…nobody wants to wear a blueberry…
Gianluigi Donnarumma (AC Milan)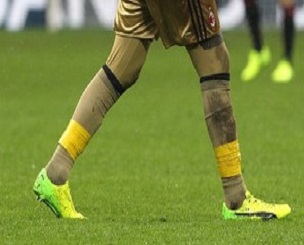 ---
So, I'd like to know how many people said that Gianluigi Buffon was a "once-in-a-lifetime" talent…and then see how many of those people would eat those words now that Donnarumma feels like the perfect heir to the throne. At an age that most goalkeepers only have when they've been heavily edited on FIFA, Donnarumma is already finding success at the highest levels. Puma might not have Buffon on the books for much longer, but Donnarumma could be a cornerstone for the big cat for years to come.
Leroy Fer (Swandea City)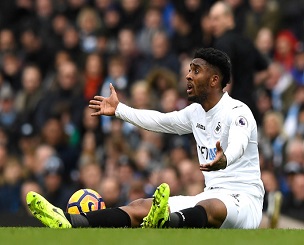 ---
MY EYES!!! Leroy Fer didn't mind the fact that his cleats could be considered a form of weaponry in the wrong hands. Heck, we love the Tiempo Legend enough to probably agree with him (plus the fact that we secretly love volt…on anything), and the boots would be a nice option that goes against the typical Legend color options. Fer wasn't having a great day at the office, so it will be interesting to see how long he sticks with his new retina-searing toys. As an attacker, it's got to be tough with those boots if you want to ghost into space…nobody is "ghosting" with those…nobody…
Lionel Messi (Barcelona)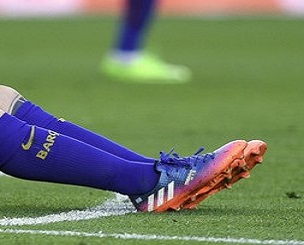 ---
Sure, the boots look like they could have chosen their color choice before Messi was even born, and Messi might still be opting for the second tier version of his own silo…but we love 'em. As Barcelona's attack continues to remind us that they have Messi, Neymar, and Suarez all on the pitch at the same time (AT THE SAME TIME), it doesn't hurt that Messi continues to do Messi-esque things. The Messi/Ronaldo debate may continue to be neck-and-neck with every single game that they play, but Messi does have a few years on Ronaldo…perhaps that's where he'll truly separate himself…perhaps…
Ross Barkley (Everton)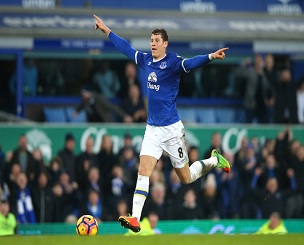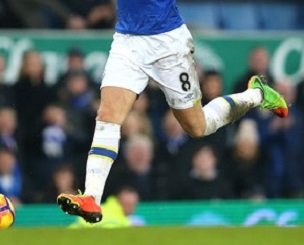 ---
If I was playing against Barkley when he celebrated before scoring, you can rest assured that I would have been receiving a red card during the next passage of play and that the English attacking midfielder wouldn't have walked without a limp for quite some time. However, watching it live…it was amazing! Lukaku is everything that Everton paid for, Barkley feels like he's swinging out of a mega-slump, and the current horror show on the other side of Liverpool has to have everyone at Goodison wearing massive smiles nearly constantly. Plus, check out the low-cut HyperVenom Phantom III…and see if the world opts for a boot that's identical to its collared brother…
Puma EvoPower Vigor
Michael Bradley (USMNT)

---
It was super odd when Bradley was announced as an athlete that would wear the evoSpeed SL. There wasn't anything about Bradley that ever suggested he would be an evoSpeed player…but an evoPower is a boot that fits well with Captain America's playing style. He may have only gotten a short cameo in Chattanooga, but this feels like a great match for the player. Toronto FC will be hoping that their wealth of talent can bring home the MLS title this season and Bradley will be right in the middle of it. If the USMNT could only surround him with some creative players…get on that US Soccer…
Pele Sports Trinity 3E
Jodry Buijs (Sydney FC)

---
First off, we might be a bit off on the boot. The upper has been heavily customized and I don't recall a Trinity with any orange studs, but it's the only boot with that particular stud pattern and shape (especially the three studs in the heel). A brand that felt like it was making huge strides in the market with quality boots, impressive tech, and even a nice bevy of lifestyle wear to round it out…and, then, everything came crashing down. We're not entirely sure what happened to Pele Sports, especially since EA Sports added a boot that they'd never even produced into their game before the brand faded off into the sunset, but we miss them.
Gabriela Gutierrez (SC Huelva)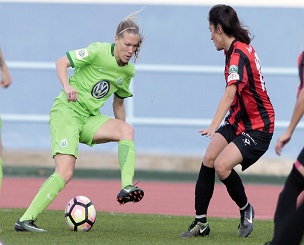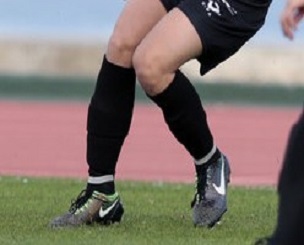 ---
I feel totally safe in saying that, judging by the last few months doing the spotting, women's leagues have the best spots. We've seen everything from the W-League down in Australia, and now Gabriela is rocking the Black History Month Magista in the women's Bundesliga. With news that this year will not see another BHM footy release from Nike, it has us nostalgic for the previous options we've gotten from the Swoosh. Gutierrez's pair was an impressive release, and it would be tough to decide which BHM footy release stands atop the pile (It's the black/white/gold BHM SuperFly…definitely). If you're looking for spots, the ladies at the top of the footy world know how to deliver.
The spots feel better as I craft them in a sleep deprived stupor in the early morning hours of Monday, but we hope that you got some enjoyment out of them. Let us know which spots you enjoyed, which spots were subpar, and which spots we missed…we know you're aching to get some of the inner internet troll out…it helps ease your case of the Mondays. Later!