GRAB YOUR TORCH AND PITCHFORK! No, we aren't hunting down Shrek (not a shot at a newly minted Everton striker)…we're merely rousing up a rowdy mob to burn and pillage our way through another fantastic boot spotting. Tournaments are starting to run a bit wild, transfers are flying through at the speed of light, and my Netflix account is showing obvious signs of jealousy to how much footy I'm able to imbibe during these summer months. Now, take a relaxing sip of some chilled beverage, sit back, and enjoy the boots and banter!
Thomas Mueller (Bayern Munich)

---
Mr. Mueller might still be the most underrated player on the entirety of the planet. The guy is probably one World Cup cycle away from starting to mix it up with certain records that would make him a part of footy history forever. Always an integral part to nearly all of Bayern's success over the last several years, it will be interesting to see what type of player Mueller becomes around the months leading up to the stage that he seems to thrive on the most. It's slightly surprising to see Mueller in a 17.1 version of the X…and we have always felt that his role with the three stripes is severely understated. Perhaps another big showing in Russia will knock him up the totem pole a bit…
Kevon Lambert (Jamaica)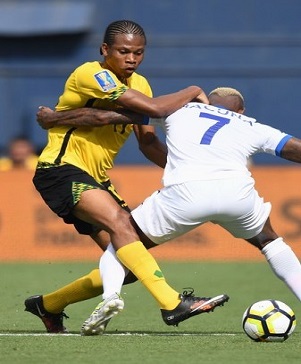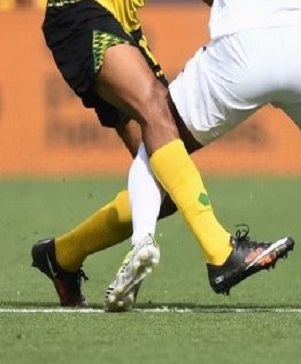 ---
Ronaldo's presence isn't defined by his actual ability to walk out onto a pitch. Like his Argentinian counterpart, there will always be plenty of representatives for CR7 and Messi zipping about pitches where neither player is actually located. Lambert is enjoying a boot that I still think, along with the CR7 Galaxy, shows that brands are capable of creating extremely unique colorways and are still waiting until they think the market is ready for boots that aren't mainly just colored blocks. Lambert has chosen a fantastic look, and we're anxious to see what types of colorways Nike offers CR7 before they're ready to put him out to pasture.
Ciro Immobile (Lazio)

---
Although I'm sure Hunter is knee deep in his review for the NEMEZIZ 17+, I can assure you from my time in the boot that he is definitely going to enjoy the newest toy from adidas. Immobile has always felt like one of those players that is on the cusp of becoming a worldwide phenom and household name. Of course, his name (when you don't pronounce it with any type of Italian inflection) is still one of my favorite footy names…mainly because I consider myself to be rather immobile at times during my amateur career. No matter how unfortunate the name is, he's making quite a good choice for his boots…quite good…
Adidas MESSI 16.1 Custom
Josue Quijano (Nicaragua)

---
The MESSI 16.1 is still one of my fave underrated boots of the last adidas cycle. Quijano has taken his boots and given them a touch of customization with some bright yellow laces. I was confused that adidas never connected this red/white colorway to one of the very first Messi F50 colorways (the F50 colored like a candy cane), but it never really felt like adidas was putting much behind the MESSI silo outside of having the man himself wear them. I wonder if the brands tell their sponsored players that they aren't allowed to modify the boots they are given in any way or if some players actually get that ability written into their contracts. It would definitely help you get through those occasional drab weeks in between full colorway updates…get back to me adidas…I'm curious.
Johnny Marajo (Martinique) and Bismarck Montiel (Nicaragua)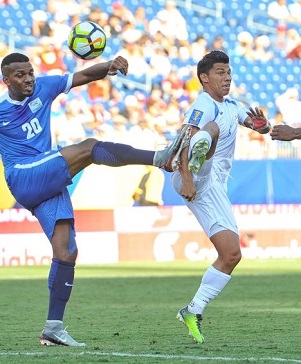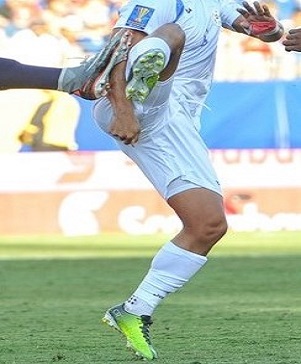 ---
This fixture was absolutely chocked full of incredible spots. Luckily, Marajo and Montiel decided to clash their boots in a way that let us capture them in one image. The Air Max homage boots, outside of Sergio Ramos enjoying the Tiempo version, really felt like they never got their time in the sun. Considering how good every version looked, it was sad that they didn't get the attention that they should have. As for another CR7 Vapor getting its day in the sun, I really think that the Vapor for every CR7 colorway ends up like a lot of boots on this spotting…underappreciated and almost forgotten. Considering the main man doesn't even sniff the Vapor, it's not too surprising…but still disappointing.
Marlone (Atletico MG)

---
I'm going to say it…the HyperVenom III, ever since the launch colorway (perhaps not counting the launch colorway…I can't decide), has been the best colorway of each Nike colorway pack since its release. While the new Nike pack is a really top notch look, the Venom's extreme cut between the two colors really makes it absolutely pop. If you haven't yet had a chance to give the new HyperVenom a proper run-out, especially the non DF version, then you are making a massive mistake. I really hope that Nike doesn't let me down on the next colorway pack now that I've put my neck on the line for the HyperVenom…although, that would fit my typical luck.
Mizuno Morelia Neo
Rodrigo (Ponte Preta)

---
Apparently the biggest failure I made about not becoming a star in the South American soccer world was not chopping my name down to just having one…none of this first name/last name/middle name crap. Although there are probably bigger reasons as to why I'm not a big footy star, I'm going to chalk the name thing up as the biggest one. Rodrigo is sporting a boot that will always hold a special place in my heart. Definitely a boot that every enthusiast wishes they had in their arsenal, and one that anyone hoping to become an expert has to experience at least once…the Morelia Neo is a show stopper. Hey Mizuno, think you feel like updating my old pair? I'd never say no to a second pair!
New Balance Visaro 2.0
Jan Carlos Vargas (Panama)

---
The Gold Cup means that it is time to get your hopes up/dashed by the USMNT right before we get ready for the World Cup and can either be mildly surprised by a quick exit/round of 16 success from within the confines of Russia. Outside of that, the boots on show for the Cup are always fun to see. Zusi somehow being on the pitch and enjoying the Copa 17.1…the USMNT being the only team to have all their players running around in brand new boots…it's all just so endearing to a tournament that gets every nation's best shot (I'm really struggling to make it seem like it's that great…help me). Vargas has found himself a home in the newest New Balance boot, and it's surprising to me that NB hasn't yet made some inroads with a player on the USMNT. Perhaps that's something on the horizon?
We hope that this boot spotting has gotten your warm July week off to the start that it deserves. The last week certainly held some amazing moves on the transfer market and I can't wait to see what other moves we get before the end of the summer. It does hurt the brain a little bit that one of these clubs couldn't send me a check for 1/100th of some of these transfers…I'm sure that they could even write it off as a charitable donation. Come on guys!