Welcome in folks! We've traversed the various pitches and anywhere else a footy boot can be found and wrapped all the best spots together in this week's spotting! From some indoor tournaments in Europe all the way to some guy standing next to Cristiano Ronaldo, we found the best that the boot world had on offer. Puma's new toy is hitting the ground running, adidas is whipping up their Dust Storm, and Nike seems to be content to float a few NikeID choices out there. So, sit back, count how many hours you have left until your work week is over, and enjoy the spotting! Game on!
Puma ONE
Joseph Ondoa (Puma ONE)

---
We're still struggling a bit with the idea of Puma completely leaving the evoSpeed silo in the past. For us, this feels like a modern evolution of the evoTouch, so it doesn't feel like we really left it too far behind. Considering that Puma has been the king of speed for the last few years, it's going to be interesting to see whether they choose to release SL versions of the ONE, or if we'll only have the standard version. It wouldn't surprise us if we see a few special versions once the new club season kicks off, especially since Puma never shies away from some crazy one-off releases. Now that they're down to only two silos, they might have fewer canvases to paint on but we doubt that the one-off fun will stop.
Nike Mercurial SuperFly V NikeID
Alexis Sanchez (Chile)

---
We looked at the custom Magista boots that the Chilean players were wearing last week, so it only felt natural to take a gander at the custom NikeID SuperFly that Alexis Sanchez is using. Sanchez will probably be enjoying the Confederation's Cup simply because it keeps the focus off of his transfer status to a minimum for as long as the tournament drags on. Arsenal's summer is truly an intriguing one as they face the first summer of player recruitment where they can't use Champions League footy as a draw. Perhaps Wenger's biggest test will be retaining his top players during the summer and also finding a way to make his squad seem capable of getting back into the top four…it's going to be fun to watch.
Adidas Nemeziz 17.1
Erik (Palmeiras)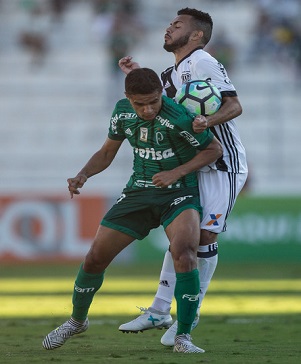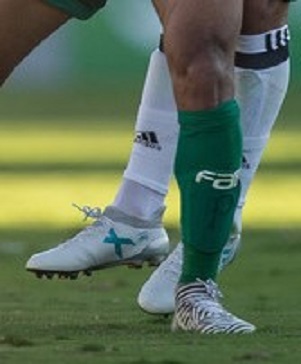 ---
The more I look at it, the more the adidas Nemeziz looks like a product that could be its own standalone brand. However, adidas has to be enjoying the on-pitch support for the boot, the general positive consensus of the online review community, and Nike's newest boot pack not getting any on-pitch support. We have enjoyed our time in the boot and think adidas is finding impressive lockdown away from being able to make laces a thing of the past. The only real negative is that the launch Nemeziz doesn't quite blend with the rest of the Dust Storm pack. Looking at it next to the 17+ PureSpeed in the background of this photo, you'd never know that these were part of the same collection…unless, of course, you were a bit of a boot nerd yourself (which we totally support).
Under Armour Spotlight
Richard Neudecker (St. Pauli)

---
It's always interesting to see when a brand sneaks uncomfortably close to using McDonald's colorways for their boots. Adidas once got way too close for comfort, but Under Armour seemed to have safely navigated the dangerous McWaters by using a neon yellow and black to offset the red/yellow combo. With the success of the recent ClutchFit, it feels like the Spotlight has, well, fallen a bit out of the spotlight. However, if pictures of players testing the next version are to be trusted, Under Armour is going to make sure that the boot lives up to its name with some extreme changes. We certainly loved the original, and can't wait to see what the American brand does with the boot in the future.
Nike Mercurial Vapor XI
Eljif Elmas (Macedonia)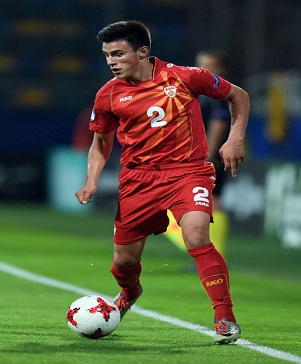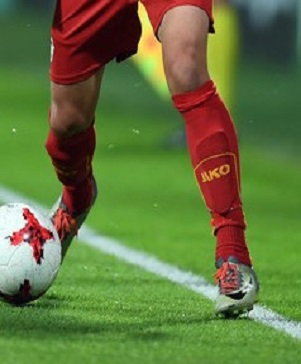 ---
The Elite pack from Nike is one of my favorite colorways of the last several years. I wasn't a fan of only letting the players that Nike considered to be their eleven best wear it, so I enjoyed whenever a player outside of the "chosen few" decided to sport the Elite colorway. It looks like Elmas has further customized his boots with some red laces to match his Macedonia kit…or, we're at least hopeful that's what he's doing…because the elite pack and red do not blend well at all (for us). What are your thoughts? Does it ruin the colorway, or is it exactly what the boots needed?
Umbro Medusae
Pepe (Portugal)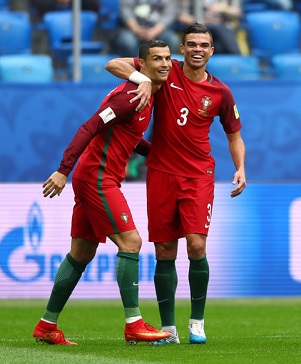 ---
Over the last few weeks, Pepe has been sporting some blackout boots in training that have us thinking Umbro will be updating their Medusae silo very soon. However, the Portuguese defender seems to have slipped back into his blue/white Medusae for his fixtures with Portugal. Still one of the most underrated boots on the market, it's lightweight build and supremely supple leather make for a wondrous ride. It's a boot with a wealth of fans here at The Instep, and we hope that the updated version offers a similar level of quality and enjoyment. Keep an eye out to see if the Double Diamond makes some major moves before the new club season gets started, with the Medusae at the top of the list.
Adidas ACE 17.1
Diego (Flamengo)

---
As I've mentioned in other spottings, there are a quite a few players that hold a special spot in my heart simply because of experiences that I've had with them on the FIFA video game. Diego was once an insta-purchase for me when playing FIFA (right along with buying a very young left back named Gareth Bale), and it was sad to watch him bounce from club to club in Europe without ever finding a place where he felt appreciated. Now plying his trade in Brazil, it looks like Diego enjoys the laced version of the ACE, and he is definitely showcasing that the Dust Storm ACE (while somewhat plain in terms of color choices) is a good looking boot.
Adidas X 17.1 (Custom)
Alfie Mawson (England)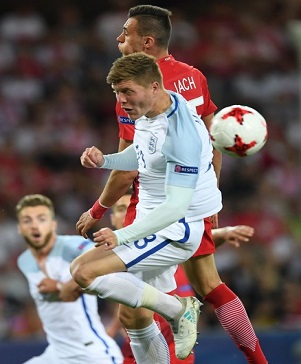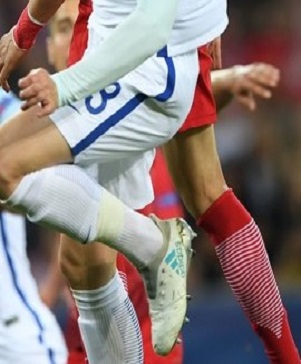 ---
We were getting everything prepped to showcase Swift from England sproting the new adidas Glitch colorway, and then Mr. Mawson caught our eye. It appears that Mawson wants the feel and fit of the X silo without the laces. It's an interesting move considering the other options that exist within the adidas world. The laceless ACE, Glitch, or even not putting laces in your X 17+ would make more sense. Still, Mawson might see adidas move forward with the laceless X that's available for indoor use and soon find it as an FG option. Kudos on a quality spot you've provided Mawson…we appreciate it.
Puma EvoSpeed SL II Leather
Victor Jode Anino (CD Tenerife)

---
One of the biggest casualties of the move for Puma to two silos has to be the leather version of the evoSpeed, be it the SL or the standard version. We're really hoping to get the ONE in for testing soon, and we hope that it can fill the void in our hearts left by the leather SL. Anino has held onto his leather SL and we hope that they hold up as well as ours have. The leather on these was super soft and you avoided the "ten day" warning sticker that was placed on the synthetic version. If Puma takes the ONE and offers any type of feel similar to the SL, then it's definitely going to be a serious winner.
Nike SuperFly V CR7 Indoor
Roberta Bergamotta (Italy)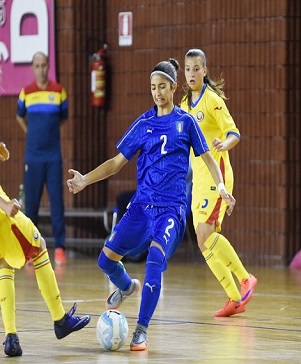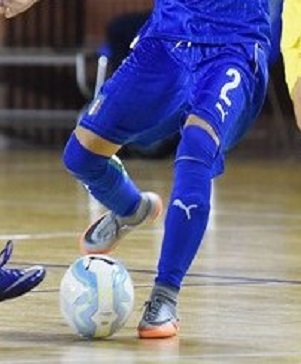 ---
There was a futsal tournament for U-17 European teams going on this week, and it provided some great looks at the best indoor options that are available. The ladies from Italy ended up winning the tournament, but Bergamotta's CR7 homage was probably the star of the show. It's always fun to see how different the boot landscape is for the indoor and short-sided version of the game. Brands like Munich, asics, and others stand right alongside Nike to dominate the footwear. It was odd to see a game of footy without adidas and Puma really showcasing themselves, but that just shows how much emphasis Nike has put in this area of the world's game.
We hope that your week has gotten the right start with the spotting, and that there's something here for you to enjoy. Leave us a comment and let us know which spottings you enjoyed, what spotting you didn't like, and which of these boots you'll be rocking for your next season! See you next week!