Could this week have provided us with more ammunition to say that ours is truly the greatest sport on the face of the planet? The Barcelona comeback and subsequent stumble in the league…the Cinderella stories of the FA Cup…the goal scoring prowess of Dortmund and Bayern in the Bundesliga…the French league finally feeling like a league and not just a long PSG coronation…Sergio Ramos scoring (of course)…and the MLS continuing to work its way forward. It's Christmastime for fans of footy, and we can't wait for the next fixture to hit the airwaves! Until that moment, let's take a ride down memory lane and see what spots were on show over the weekend! Game on!
Under Armour Spotlight
Memphis Depay (Olympique Lyonnais)

---
Depay hasn't taken very long to shirk off the memories of Manchester United, although the Red Devils might make good use of the clause they wrote into Depay's transfer if he continues to perform at this level. Scoring from the half line is a great way to get everyone's attention, and it seems that Depay is rocking the black/white Spotlight to great effect. A gorgeous boot, there's no doubt Under Armour will be hoping that a player they invested in so heavily can bring his game back to the fore. It's no Clutchfit 3.0, but it'll certainly do!
Bradley Wood (Lincoln City)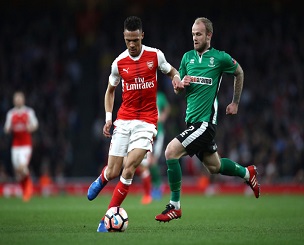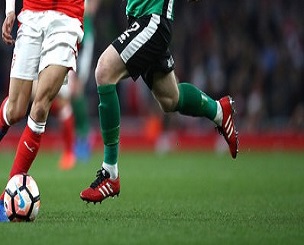 ---
Whenever lower league opposition gets their day in the spotlight, it always results in some fantastic boots on show. We've even broken our usual rule of only using one spotting from each match as Arsenal vs Lincoln was filled to the brim with great spots. The first spot of note from the fixture has to be Wood rocking the red Gloro 16.1. While it might have looked a bit better with the Arsenal kit, we don't care. The Gloro has long been one of the most underrated boots on the market, and it might fall even farther down the pecking order with the new Copa being present…still, Wood definitely gets a nod for rocking a boot that we'd be proud to enjoy ourselves.
Adidas ACE PureControl 17+ Camo/Unknown
Alan Power (Lincoln City)/Aaron Ramsey (Arsenal)

---
A double spot from the same fixture! Ramsey is walking an odd line with his New Balance future…posting NB related posts to his social media one day, but then wearing black out boots during all of his major fixtures. What can this mean for the Welsh star? We're sure the next few weeks will tell, but it's a very intriguing situation. On the other hand, Alan Power rocking the camo adida ACE might be the better look of the two. We wish that these boots were getting more time on the major pitches, but we'll settle for just drooling over them from afar. Any clue what Ramsey is wearing? New Balance prototype or a different brand's boot? Inquiring minds want to know…
Amath Ndiaye Diedhio (CF Tenerife)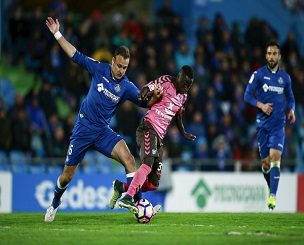 ---
We wonder if Nike has ever considered running a campaign similar to what Messi has done with the Messi signature boots. We're sure that it would be rather successful, and it would only serve to put more CR7 SuperFlys out into the world. However, we think that Ronaldo might not be as interested in the idea of sharing the spotlight of his boot with others. Still, Diedhio is rocking the CR7 colorway that we think would have made a great standard colorway. We can't be certain, but it seems that the CR7 branding has been removed or, at the very least, covered up. I wonder why that's happened…
Harry Kane (Tottenham)

---
The weekend was definitely fraught with positives AND negatives for Tottenham. Second in the table, still alive in the FA Cup (in impressive fashion), and looking to end the season by truly stamping themselves as one of England's present and future elite. A knock will have the Spurs faithful crossing their fingers as they await news on their star striker, but a wealth of scorers this weekend show that Tottenham certainly has more than one option at their disposal. What role will this play in Tottenham's season? No matter what it does, it is odd that Kane and some of the other HyperVenom players didn't move into the newest colorway…perhaps it was only meant for Strike Night…
Valerie Koopmann (Walddoerfer SV)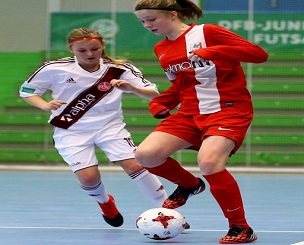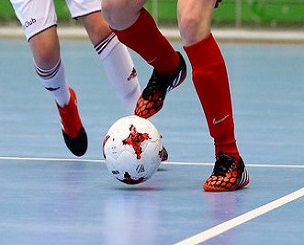 ---
As we mentioned in the opening part of the spotting, there are different types of footy going on constantly. Koopmann is taking part in the Junior B German Futsal Championship. While the number of interesting indoor boots on show as incredible, Koopmann's launch color Instinct was our pick of the bunch. The Predator still holds sway in the boot world and will long be capable of bringing adidas success. It will be interesting to see what boots Nike and adidas draw out of the vault from time to time, but it's tough to imagine any boot getting as much praise as a relaunched Predator. Well chosen Koopmann…rock them until the soles fall off.
Joma Champion Max 601
Marta Torrejon (Spain)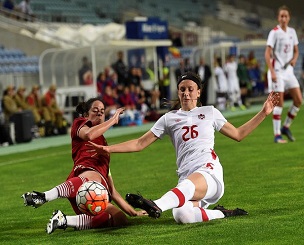 ---
Joma is a brand that has always lived on the periphery of the big dogs, but has never made big strides to joining the members at the top of the heap. The Champion Max reminds us of early the original adidas X, and it's definitely an intriguing boot. Torrejon rocked her pair as Spain continues to get their women's team in to the top ranks of international football. With the recent USWNT slide (how much longer will Jill Ellis be around?), the window is certainly there for other teams to find themselves at the top of the heap. One team's misfortune is another team's gift…
New Balance Visaro 2.0
Miles Robinson (Minnesota United)

---
There's just so much to talk about with this spot. The newest Visaro hasn't wowed fans in the same way that we saw with the original, but New Balance does finally see themselves with two decent boots on the market instead of simply one. Still, it does look great on the pitch and Robinson must havea deal with the American brand if the MLS is letting him wear the Visaro over an adidas boot. Another thing we wanted to mention is how the MLS obviously didn't have a winter version of their match ball created, although the ball that had to be used in this fixture does look fantastic against the snow. Our last thought is what kind of season will Minnesota look to have? Two big losses, and one at the hands of the other new expansion team…can they right the ship, or will they become that one team that everybody loves to play? (I've been on one of those teams before)
We hope that our spotting gives you a bit of enjoyment on this Monday morning. It might be a bit harder if you're a Minnesota United fan, but we're still hopeful that we can help wash away some of those Monday blues. Here's hoping that Chelsea/United turns into a barn burner with twenty goals, random odd injuries that are just humorous and not actually bad enough to alter a player's career/season/evening, and Mourinho poking someone in the eye (maybe himself? I dunno…). Happy trails! See you next week!