Gooooooooooooooood day to you good sir/madame! Welcome to our humble shop of fantastic spots and oddball descriptions that fall underneath the images. We hope that we can provide you with top-notch service that can aid you as you recover from your weekend and plow headlong into your week. If you're looking for a shoulder to cry on (as an Arsenal fan), we can provide that. If you're looking for a moment to start celebrating your title victory (as a Chelsea fan), it feels pretty dang safe to go ahead and start the party. No matter who you root for, it's Monday…it's the spotting…and it's time to get started. WE RIDE!
Aymen Abdennour (Valencia)

---
We just keep waiting on it to make sense. We really enjoyed the X 15.1…the leather and synthetic both got high marks on our reviews, but nobody at Instep HQ walked away from the X with their lives changed. However, we've seen an unprecedented number of players stick with one of the original members of the revolution. I can't wait to see how long this boot lingers on major European pitches, but every new fixture adds to the mystique of this boot. Half of the beauty of an old spot is how players haven't given in to one of the dozens of quality options that have hit the market since their boot was launched. Is there another boot that's had this kind of hold at the top 2 years after it's "died"…?
Marouane Fellaini (Manchester United)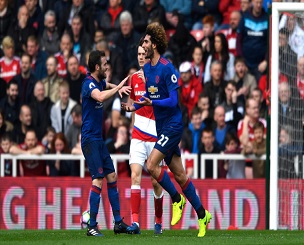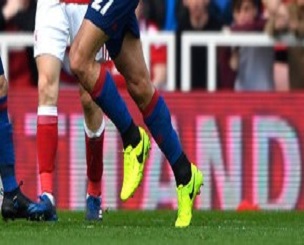 ---
Odd times for New Balance right now. The recently launched Hydra Furon 2.0 is an awesome boot in terms of tech and colorway, but the sponsored players on the books for NB are currently fluctuating at an unprecedented rate. Fellaini was one of the first members to join Warrior, but he isn't alone in making us wonder where NB is looking for their newest players. Aaron Ramsey constantly wearing blackouts, Visaro wearers using an extremely customized upper, and other NB players flirting with blackouts regularly…clear this up for us NB…what's happening?
Andrew Nabbout (Newcastle Jets)

---
Ask any fan of boot spottings…Australia always delivers on the goods. Nabbout is rocking the camo adidas X during his A-League fixture, and this is a boot that causes a weird conflict for me. In launch pictures and in hand, these boots look incredible and I find the colorway impressive. When I see players wearing them on major pitches, it's kind of tough to really distinguish the boot. Nike's Radiation Flare can be seen from space…Puma is sticking with crazy bright boots…even Umbro let someone go crazy with an orange highlighter…this definitely explains why adidas didn't let all their players wear this release. Although, adidas could use any color for this design, and I think the boot would look really good.
Panteleimon Panourgias (Braunschweig)

---
Find yourself wandering into a small, youth player oriented tournament, and you will certainly be leaving with some quality spots. Outside of having a name that the kit-man probably didn't enjoy seeing on the team sheet, Panourgias is rocking a boot that occupies some fantastic space in the hallowed halls of boots gone by. The NitroCharge 1.0 was unable to pick up any massive fan traction, but won over a host of players that gave the boot a chance. The Battle Pack colorway also struggled to win folks over, especially as it didn't really translate well on TV during the World Cup games (it didn't help that Nike was going super bright for the tournament). However, we give Panourgias serious props for his boot selection…
Adam Smith (Northampton Town)

---
The lower you go in the supposed "League Stature" of the world, the better the spots tend to be. Dropping down to League One, we find Adam Smith rocking the grape Hypervenom II. Where to start…first: the upper update that came late in the Venom II's life was a much better boot. Second: the HyperVenom III is a vastly superior boot, and would be an easy upgrade for Smith to choose. Perhaps the stiffer upper gives him more protection as a keeper and also a nice ping for all his long kicks. Either way, I can't fault Smith for sticking with something he enjoys. You rock the grape…
Moussa Dembele (Celtic)

---
Part of me wants to admit to you that Dembele could have been wearing snow boots in this picture and I might have still included it…his face just makes me giggle. I can't tell if he's just super excited or if he surprised that the ball ended up there. Either way, Dembele is certainly going to be a hot commodity with his PureChaos this summer. Celtic will fight hard to keep the breakout player, but the current market means that somebody is going to be more than willing to overpay. Where do you think Dembele will end up? Will he justify his transfer or will Dembele end up as a bust? Adidas will be hoping that he's the future…and so will some team that's going to be about $60 million dollars poorer in June…
Adidas AdiPure 11Pro
Marcel Mehlem (Karlsruhe)

---
The 11Pro line of adiPure boots will always be a conundrum for us here. The first 11Pro was panned by any and all, the second 11Pro was super short-lived, and the third (and last ever adiPure/11Pro) version was given high praise and made many think that the adiPure line was on its way back to greatness. Mehlem is rocking the quiet option from when the third 11Pro was launched, and it's a boot that deserved a much longer lifespan than it ever received. While we were never in love with the double stripe down the middle of the boot, we still felt this was a boot that signaled good things for adidas…we never would have guessed that it was a boot that came right before adidas wiped the slate clean to begin their "revolution."
Dries Mertens (Napoli)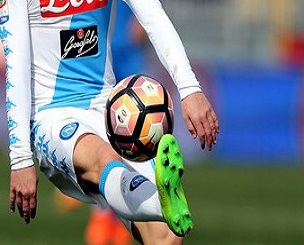 ---
Once again, much like Dembele, it wouldn't have mattered if Mertens was rocking ice blocks on his feet…this face is just fantastic. Did he just break every bone in his leg? Pull every muscle? Rip his ACL, BCL, CCL, DCL, and MCL? Unless there's a hidden figure just below the picture shoving studs into his calf, I have no clue what might have caused this. Maybe Mertens just loves the feel of the ball at his feet so much that he's overcome with joy. I just know that I need to know…I really need to know…
So ends another week of spotting goodness. Sure, we stayed within the realm of the two big guns, went a little three stripe heavy, and chose two pictures mainly because of what the players looked like within them…but it's still a dang good spotting. We hope we take a chunk of that "Monday feeling," out of your day and help you have a fantastic start to your work week. Hit us up in the comments to let us know…well…just anything you'd really like to share. Also, avoid making faces like Mertens in public…people tend to frown on people that make that face…unless you're making it during our spotting…that's acceptable.