Happy Memorial Day! We can't overstate our appreciate for the men and women that have fought, or are currently fighting, for our country. As you enjoy your day off and some fantastic wares fresh off the grill, we've pieced together a spotting that should help you push your long weekend into the enjoyment stratosphere. We've found a few boots we couldn't identify ourselves, a few superstitious half-time boot-swappers, some timeless classics, and some new wheels to give you a bit of everything to kick off your Monday. Guess what folks…summer is here, and the spotting is in…let's go!
Diego Costa (Chelsea)

---
The first half saw Diego Costa rocking his white/gold X 16+ PureChaos, but it wasn't a surprise to see him slip into his extremely reliable X15 SL's for the second half. We've long wondered about why professionals have such a love affair with all the X 15.1 versions, and Costa took quite some time before he gave the 16+ a try. Considering how the Premier League season ended, you would think that Costa thought his new(er) boots had a bit of luck in them. The season ended in the oddest way, with nearly every top six team getting some slice of the pie that would allow them to see the season as a success. It's now a question of which club will look back on 2016-17 with the most fondness…outside of Chelsea, of course.
Henrikh Mkhitaryan (Manchester United)

---
---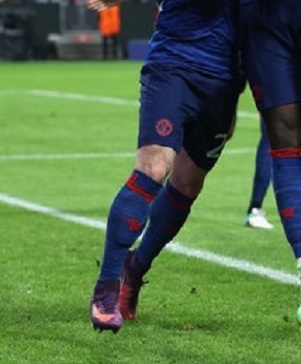 ---
Costa isn't the only player that was switching up boots on the fly. Mkhitaryan wasn't staring down the same result as Costa, but he still felt that his footwear wasn't quite getting the job done. A quick change into a different pair of SuperFly saw the game clinching goal fly into the back of the net, and Manchester United end the season with a trophy and entry into the Champions League. As we mentioned with Costa, nearly every team in the top six found a way to end the season in a manner to keep their managers and boards off the hot seat. Mourinho would have been hard pressed to spin anything positively if he had lost the Europa League final. Somehow, even Arsene Wenger laid claim to something that might keep him in his job…she's a crazy game folks.
Adidas F50 adiZero mixed with Unknown
Tomoya Makino (Urawa Red Diamonds)

---
This spotting is the first of a host of unknown spots that we stumbled upon this week. We're hoping that the good viewers of the spotting will help us out, but Makino's non-F50 boot is tough for us. It appears to have an F50 tongue with some orange accents, but there never was a white/orange F50 in that style. He has worn this combo once before, so it isn't being dictated by a durability issue (it might have started as that)…but Makino certainly has created an intriguing combo. Any idea what the mysterious white boot might happen to be?
Uros Djurdjevic (Partizan)

---
Now, I know we promised some unknown spots in the next few pics, but we're fairly certain that we've nailed this one down. Djurdjevic has been enjoying these boots for a few weeks, and you can clearly see the adidas style collar from several of the angles. However, we have been wrong before, so we'd definitely appreciate some back-up on this boot. The thing that gives us a little doubt is how the upper of the boot doesn't have the odd slashes and textures we see on a typical X 16.1. It also shows some definite folding and creasing of an upper that we wish we had experienced on the X 16.1. Perhaps this is an X 17.1 in disguise? Help us out!
Unknown (Puma?)
Alexander Meier (Frankfurt)

---
So, the one humorous item here is how we tried to not make Meier appear squished in the photo, but he's just so dang tall! I tried to crop it and shift it for a while, but his incredible height and my inability to cut out his visage in good conscience left him looking like that. Outside of that, Meier is sporting a head scratcher. While appearing to have the Puma FormStripe on the side, the stripe has some slight differences to the iconic Puma logo that makes us think this isn't something from the big cat. However, Meier is a Puma guy…so we're truly left chasing our tail here. Is Meier enjoying a disguised boot from Puma? A classic boot from Puma? Or something else entirely…please end our misery on this one…we need answers.
Lionel Messi (Barcelona)

---
With the recently released Nemeziz making a few rounds this weekend, we thought we'd go ahead and join the crowd by showing off the face of the new line. Sporting a pair that has opted for a text of "MEZZI" instead of "NEMEZIZ," the Argentine attacker is, again, showing his propensity for a laced version of his boots. It will be interesting to see if the 17.1 follows the path of the last Messi boot, with the laced version being superior to the laceless option…and we will definitely keep you posted as we get up close and personal with the newest toys from the three stripes. Which option would you want to see show up in the mail? Laced or laceless? Either way, it's an incredibly interesting boot.
Roberto Firmino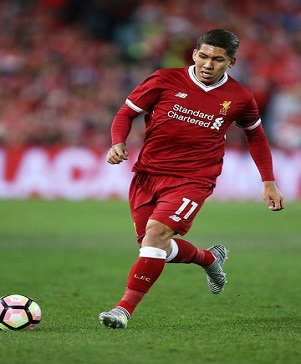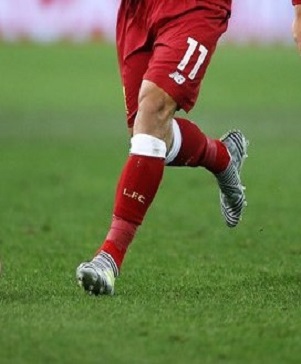 ---
Adidas seems to have settled on a secondary face to the Nemeziz line. Liverpool's Brazilian attacker appears to have the potential for an impressive career ahead of him, so it isn't surprising to see adidas taking advantage of Firmino as a key asset. However, to be fair, it's a bit surprising to see adidas going all in on Firmino at this stage. When adidas last bet big on a Liverpool man, Luis Suarez was obviously on the path to superstardom. While Firmino is looking like a big Anfield win, the crystal ball of world footy still hasn't quite decided where Firmino's path leads. What do you think? Too much too soon, or a smart move from the German giants? Either way, good job Bobby!
Steven Gerrard (Liverpool)

---
It's my spotting…Stevie G gets a pass any time he chooses to lace up boots from here until eternity. My continued displeasure with EA Sports not letting me edit Gerrard's age during the last few FIFA games has now reached a head as Gerrard's retirement means, even if EA heeds my wishes, it would be fairly fruitless. An 18 year old Gerrard paired with any modern squad is extremely fun, but my FIFA catalog doesn't go back far enough to tickle that fancy anymore. Even without that, Gerrard choosing to put his leather ACE back in the locker room while enjoying his signature model of Instinct makes this even better. Nike's success with the Totti Tiempo (both versions) has to have adidas kicking themselves for letting Gerrard fade into the distance without doing something similar (I'd have bought a dozen).
It's time for me to part ways with you after another smattering of quality spots. I hope that your Memorial day is filled with fun, family, a hearty appreciation for the holiday, and your favorite food fresh off the grill. On top of that, a nice helping of boot spotting. Hit us up in the comments to let us know what spots we nailed, what spots we missed, and what in the world some of those unknown boots are…help us out!