Promotion! Relegation! Celebration! More soccer related words that end in "-ation" in order to continue the rhyme! This weekend was a vast smorgasbord of fantastic footy action as leagues around Europe being to wind down. Germany? Done. Spain? Barca are pushing Madrid to the wire. France? Zlatan doesn't play there anymore. Italy? Winner rhymes with "Schmu-vay." England? Nothing changed, but everything changed! It's time to make sure that your popcorn is stocked, your comfy chair is still more comfy than smelly (come on man…probably time to say goodbye), and that the cable guy has everything taken care of…the next few weeks are going to be dynamite! Until we can lock down trophy winners, Champions League spots, and teams waving goodbye to the top-tier life, let's dive into a spotting! Away we go!
Under Armour ClutchFit 3.0
Fraser Forster (Southampton)

---
Forster climbs into the spotting for two very strong reasons. First, Under Armour was sticking with fairly basic colorways for their amazing ClutchFit 3.0, but the AquaFlage colorway definitely throws that book out the window. If blue is your color, or if you happen to only like Picasso during a certain hue-specific time in his work, then these will certainly fit the bill (plus, the ClutchFit 3.0 is a no-brainer…trust us on this one). The second reason that Forster makes his way into the spotting is his clean sheet against Liverpool at the weekend. Milner had been perfect from the spot all season, but the penalty call was incredibly unlucky for Southampton (speaking as a Liverpool fan)…it was certainly a situation of "ball don't lie," but Forster's massive frame certainly helped as the penalty came to nothing. Seriously though…Forster is huge…
Klaas Jan Huntelaar (Schalke)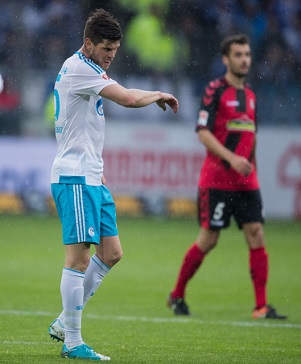 ---
Nike might not have realized when they slapped the blue/white sectioned paint job on the HyperVenom that their newest colorway creation would match a bevvy of kits across the globe…however, we have definitely taken note of some of the fantastic combos that this boot has created. It's a bit harder for the pink of the Mercurial, the yellow of the Magista, and the mint green of the Tiempo to really set off a kit, but brands might start using this particular blue more often after seeing it work so stinkin' well. Huntelaar has opted for the lo-cut HyperVenom (our personal favorite here at Instep HQ), and it absolutely shines with his Shalke kit. Your squad purchasing light blue kits for the season? Have we got a boot for you!
George Moncur (Barnsley)

---
While you might think that the story of this picture is Newcastle climbing their way back into the Premier League (Rafa's back!), it's actually Moncur's boots that drew us in. Puma dropped this little ditty right before the European Championships in 2016, and it looks like Moncur has yet to move on from the insanely bright color combo. While it's usually tough to tell whether a player is using the SL, SL-S, or standard evoSpeed version from a photo, Moncur's boots have lasted over a year (at this point), leading us to feel fairly confident that these aren't the SL II. Still, perhaps Moncur has himself a little stash of the lightweight wonder. Our only qualm is his lace customization…it could certainly be better.
David Silva (Manchester City)

---
David Silva, for me, truly embodies the City revolution. When the Spaniard is no longer wearing the sky blue of City, it will truly usher in a new era for the club…at least in my mind. Silva has also been a quiet standard bearer for the three stripes as he continues his assault on the Premier League. How many more defenses will he unlock before the youth of City sees him head for greener (is there a greener pasture than City's checkbook?) pastures? Guardiola's boys feel likeliest to snag third, but they'll already be smiling after United's result puts their top four finish into serious question…still, the Red Devils are the only team with an alternate route in the cards…
Lotto Stadio 100
Cristian Zapata (AC Milan)

---
You would think that all brands would be aware of how much the general soccer populous loves when a brand goes minimalist…we also love it when they stick with simple black and white. There's a reason tuxedos never go out of style, and we never are upset when a brand gives us something that follows those simple guidelines. Zapata has found something that Lotto has been doing for years, but has quietly been overshadowed by laceless attempts and interesting boot creations: craft high quality leather options. Zapata has found a home in the leather Stadio 100, a boot that would be welcome anywhere…but, sadly, Lotto rarely makes a strong push outside of Europe. We'll just enjoy Zapata's boots from afar…
Marco Verratti (PSG)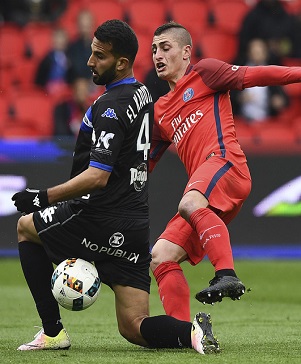 ---
While I feel bad for showcasing a blackout that hasn't been news for quite some time, it's truly amazing how long Verratti is staying within the confines of a blackout HyperVenom. If Verrati's contract with Puma wasn't finished, I imagine that the big cat would be forcing the Italian midfielder to continue wearing the EvoTouch Pro. Considering Verratti is still a big up-and-coming player in world soccer, it's also very surprising that Nike hasn't made a substantial move or that adidas hasn't tried to test the waters. Maybe the PSG midfielder simply hasn't gotten an offer that he feels is worth tying him down…no matter what it is, the goal that Verratti launched in this weekend was ridiculous…no ref should let that shot count, but it was quite a hit.
Raffaele Palladino (Genoa)

---
There adidas boots that got killed in order for the "revolution" to thrive still intrigue me. Palladino has stuck by the F50 V, a very good boot, despite the F50 only getting the limited edition (99g) treatment over the last few years. With a lifetime that is incredibly short, even by today's boot standards, it felt more like a stop-gap than a true release from adidas. The F50 V will probably end up being best known for the Tattoo edition that was released, but you have to wonder if anyone will remember the extremely impressive 11Pro that had only been recently launched that also got the ax. Neither boot is heavily collected in the current boot world, but I think that collectors might eventually come calling for the boots that fell prey to adidas marketing. Although, I once said Aaron Ramsey wouldn't amount to anything…so…yeah
We really were wanting to see if Giroud would be rocking his Derby Day evoPower Vigor again this weekend, but is seems that Wenger actually wanted to win…so, no Giroud. Still, we think our spotting is ready to stand the test of Monday and we hope it helps you get through to safer waters. Were there any spots that we didn't catch? Were there any spots that look like they've shown up somewhere else on the interwebs as a part of someone else's spotting (happens every stinkin' week)? Was someone rocking the limited champagne Mania relaunch? Were there any spots that you didn't like? Hit us up in the comments…we won't bite…but we might wax lyrical about boots gone by…you've been warned.