The leftovers are history, turkey is relegated back to being a meat that you only get if chicken and ham aren't an option, and people that are insane enough to brave Black Friday (or, that haven't figured out that the internet is a "thing" yet) can start healing their wounds. So, let's take a dive into this week's spots and see what we stumbled through. The Predator release certainly took the cake, but that doesn't mean that every other boot on the pitch was relegated to being meaningless. Prepare for meals that don't have days of leftovers left after the meal, strap in, and let's get going!
Adidas Predator 18+
Paul Pogba (Manchester United)

---
Unless you found yourself struggling to get internet service or decided that this was a great time to spend some quality nights under a rock, you're painfully aware that adidas decided to bring the Predator back to the fold. Their main face for the silo will definitely be United's Paul Pogba, and we will all be waiting to see if the French midfielder can provide this Pred with an iconic Predator moment. No matter what happens, there have certainly been some mixed opinions on the newest member of the Predator family…where do you stand?
Puma ONE 17.1
Sergio Aguero (Manchester City)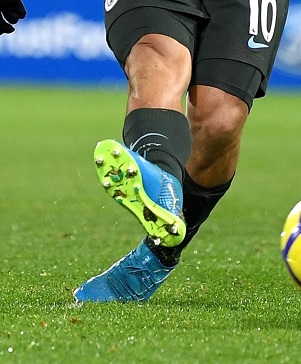 ---
It was very tough to get my head around lots of Puma's star attackers wearing a blackout Puma ONE. Despite the boot being incredible, an all black boot with a slight collar tends to always look a bit bulky. This switch to blue will be a welcome look for City's Aguero and any other Puma ONE player whose home kit is predominantly blue. It looks a bit odd with Puma's Arsenal players, but is a great match with Buffon's home GK kit. It reminds us of the original EvoSpeed Fresh, but it does have us wondering what other players we might soon see in the FUTURE…how will Puma split their athletes?
adidas Predator 18+
Renato Sanches (Swansea)

---
Sanches is another one of those odd transfer stories that, if you were just a soccer bystander, would seem like a reverse career arc. Considered one of the most promising players coming out of the last European Championships, Sanches now plies his trade for a Swansea side that, if we're being blunt, could best be remembered for being incredibly difficult to remember. It will be interesting to see if Sanches can use the upcoming World Cup to propel his career back onto the superstar path that it appeared to be on…
Nike Mercurial FlyKnit Ultra
Kevin Friend (Everton v Southampton Official)

---
While the Fire and Ice FlyKnit Ultras are currently the headline item from Nike, it was Kevin Friend's FlyKnit Ultra (complete with rainbow laces) that stole the show. Considering the Everton performance that Friend officiated, Everton fans will also be hoping that it's the only thing that ANYBODY remembers. While the rest of the refs were running around in Tiempos and Premiers, we love that Friend snagged a limited edition boot to suit his fancy (to be fair, it's a fantastic choice…I'm still lobbying for the next Vapor to essentially be the FlyKnit Ultra).
adidas Predator 18+
Aaron Ramsey (Arsenal)

---
To almost solidify his move from New Balance, Ramsey made the switch from the PureControl 17+ to the Predator 18+ over the weekend. With New Balance now in the rearview, it will be interesting to see if adidas decides to make Ramsey a part of their future plans. Considering we won't see him at the World Cup this summer, I would imagine that they won't make any moves before the next Premier League season in terms of Ramsey/adidas. Also, if you would have offered me a bet with almost any type of odds regarding Ramsey and Wilshere actually being in an Arsenal staring 11 in 2017, I would have taken it with as much money as I could scrap together…
Concave Volt+
Jenna McCormick (Adelaide United)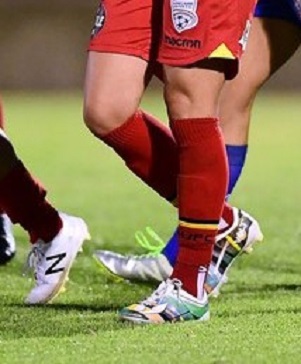 ---
Concave is a brand that is not afraid of anything. The ability to craft decent boots while still staying true to the technology that their brand is built around has been impressive. Add in that they regularly craft special edition packs by partnering with artists to create gorgeous and unique colorways, and you have a brand that truly deserves more attention than it may ever receive. McCormick's Volt+ is a great speed boot option, while still packing the wallop that only a Concave boot can muster…we're definitely on board.
adidas X 17.1
Karim Benzema (Real Madrid)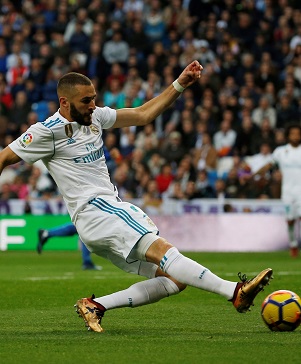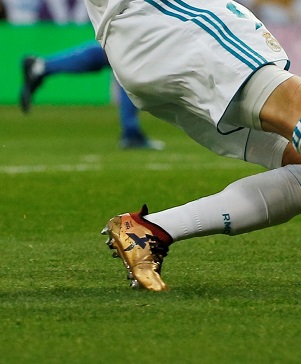 ---
While the Predator would have taken every headline available, adidas is also in the midst of moving forward with their newest colorway pack. We've seen training glimpses of the upcoming Nemeziz, head whispers of an upgraded Copa, and we have now seen the newest set-up for the X. It's interesting that, in a pack that adidas would have wanted the Predator to shine, the X certainly steals the spotlight with its bold look. It still doesn't add up that these players wear the 17.1 over the 17+…I'd bet all the money I didn't bet on Wilshere/Ramsey that their 17.1 feels like a 17+ with laces…(news flash: I don't gamble…because I'd be terrible)
Nike Mercurial Vapor VI
Stephen Hauschka (Buffalo Bills)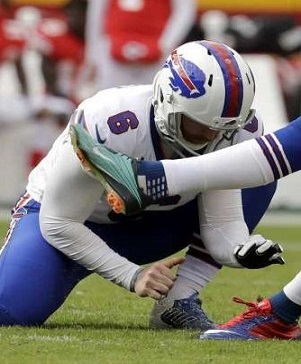 ---
Once again, we head into the world of American football to find our last boot spot. Stephen Hauschka continues to show that the Vapor VI is, hands down, the favored choice of kickers that were active while these boots were the major Nike option on the market. We also loved this spot because you can see that the Buffalo Bills punter (currently the holder for the field-goal in this picture) is sporting a pair of Copa 17.1. It will be interesting to see which footy boot players that are just entering the college or professional levels will choose as their primary weapon in the NFL…will there ever be something to hold sway like the Vapor VI appears to have?
That does it for this week's spotting! We hope that you've enjoyed our post-Thanksgiving festival of boots and that you had a fantastic Thanksgiving week. Perhaps this can help you get over your holiday week and brace for the sprint to Christmas. Let us know which spots you liked, which spots you hated, and why Michael Scott would have been fired as branch manager after his 6th or 7th harassment issue.