What a weekend! Right after stuffing our faces with every single piece of food that we could get our hands on, we got to dive straight into some fantastic footy! Barcelona just cannot get their act together, Madrid wore kits that made them look like they were taking part in a massive wet t-shirt contest, Juventus fell apart, Liverpool watched their title hopes get carted off the field, United continues to teeter somewhere between dumpster fire and just plain disappointing, and Seattle will finally be attending an MLS Final as more than spectators! Give thanks, think about how long until we get a few days off for Christmas, and let's dive in to the newest spotting.
Nike Mercurial SuperFly V
Alexis Sanchez (Arsenal)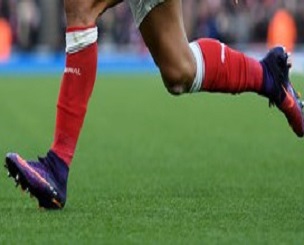 ---
While adidas certainly stole most of the headlines with their new Red Limit Pack, Nike's Floodlight Pack is still going strong. Despite launching a new boot pack themselves, the Floodlight Pack will be gracing pitches for another stretch of time before we see something else from Nike-sponsored athletes. Mercurial Superfly headliner Alexis Sanchez made sure that Arsenal kept step with the clubs above them and also that he is still the most dangerous thing on the red side of London. Although, if you're letting Theo Walcott score a header, then your defense might need a few minutes on the training ground. Do we think that Arsenal's already experienced their once-a-season injury explosion or if it's yet to come? Either way, does it make it easier for the life ahead if you're already sitting in fourth? Just a thought…
Adidas X PureChaos Red Limit
Mohamed Salah (Roma)

---
We love stumbling upon a picture that shows what happens when brands make a MASSIVE rollout with a new boot. As you can see, Salah is rocking the Red Limit adidas X Purechaos (which looks amazing) as he is being hounded by several players that are ALSO wearing the same boot colorway! Roma is currently wondering how they missed the window of Serie A where only Juventus had their ducks in a row. Now, Roma has to deal with a resurgent AC Milan, Juventus stumbling and still leading the pack, and even Inter Milan isn't mired in the muck that they once were. Did Roma miss their window to propel themselves into the picture of the top clubs in Europe? We think so…what absolutely rotten luck. If I wasn't a Liverpool fan, I'd feel some genuine remorse for them…I really would.
Nike HyperVenom Phinish II
Charlie Adam (Stoke City)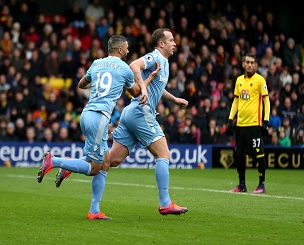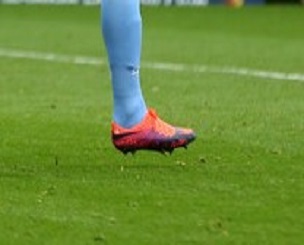 ---
There are just some players that make our stomach feel weird when we see them in certain types of boots. Adam should be in Predators…or, at the very least, something with three stripes on it. Seeing the midfielder rocking the HyperVenom just doesn't seem right, even if the end result is a goal and three points for his team. Adam might not fit into what Stoke were hoping to become once the season began (he doesn't quite give off the vibe of "free-flowing"), but he might be exactly what Stoke need going forward. Certainly one of the more interesting storylines of the season, Stoke still has a fantastic roster for FIFA, but no sign on whether it works well yet in the real world.
Adidas Messi 16.1 Red Limit
Lionel Messi (Barcelona)

---
The man might be the greatest player to ever grace the pitch, but he's currently not probably feeling like the world is at his feet. Ronaldo's season seems to be leading towards another Ballon D'Or (or whatever they're calling it these days), Barcelona is losing more and more traction in their league, and Messi's signature boot has a model that costs about $80 and isn't even worn by the man himself. Let's hope that somebody has arranged for something nice to be under Messi's tree once Christmas rolls around, because the footy world isn't currently giving little Lionel any presents. Here's hoping, for Messi's sake, that 2017 might hold something a bit better for the Argentinian attacker.
Puma EvoSpeed 1.5 (Mismatched)
Alessandro Schoepf (Schalke 04)

---
Puma might cling tightly to the idea of releasing mismatched boots every once in a while, but Schoepf has taken it to a totally different level! Mixing the original evoSPEED 1.5 Tricks with the newest 1.5 colorway, we get ourselves a match that only a mother could love. Perhaps Alessandro is using the SL II and has experienced a rip in one of his boots, needing to get a necessary replacement. The only other explanation that actually holds a little bit of water is that Schoepf is colorblind…otherwise, he's just gotten to the point where he doesn't even care! Still, despite hating the combination, we have respect for a player that feels confident enough to try and pull this off…
Adidas ACE 17.1 (Unreleased)
Kevin Doyle (Colorado Rapids)

---
The adidas ACE 17.1 and new PureControl might have gotten their first turn this week, but it seems that Doyle wanted to take advantage of his last game of the season (sorry Colorado) and showcase an upcoming colorway of the ACE. Seattle might be moving to their first MLS Final ever, but Doyle will be able to enjoy the fact that he was one of the first to give this boot a run-out on a major pitch. I kinda wish they would have added some bright yellow instead of pink as an homage to one of the original adiPower colorways, but I'm sure that some players and fans will enjoy this color combination. It might not hold the greatest memory for Doyle though…perhaps these boots won't be going on the shelf.
Puma EvoSpeed 1.5
Romelu Lukaku (Everton)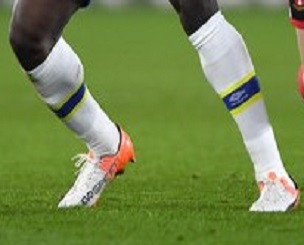 ---
Lukaku has finished his gambit through the big "three" of footy brands by making a run-out in Puma's premier speed silo. Previously spending some serious time in the swoosh and then dabbling in the adidas X, we have to wonder if this is merely a one-off or if Lukaku has finally found himself a brand that he can stick with. Considering Everton is an Umbro-sponsored club, we're a bit surprised that the newest Velocita hasn't made the rounds with the unsettled Belgian. With how quickly Lukaku has bounced around boots, we wouldn't be surprised if he is pictured in midweek running around with a completely different pair of boots during training. What brand would you settle on?
Nike Premier
Stella Rigon (Adelaide United)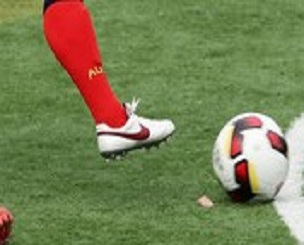 ---
That's right campers! We're heading back to the W-League for a fantastic spot! This game was absolutely rife with great boots on show (which means we might see another spot later from this same game), but we absolutely love the Nike Premier…and the special Tiempo homage versions that Nike released will always be a boot that we consider as a release that we missed out on snagging for ourselves. While it seemed that there were actually more CR7 signature models on display than standard Nike colorways (no joke, there really were), Rigon definitely knows how to pick 'em.
Puma EvoAccuracy
Georgia Campagnale (Adelaide United)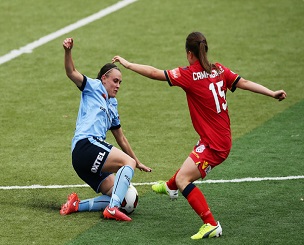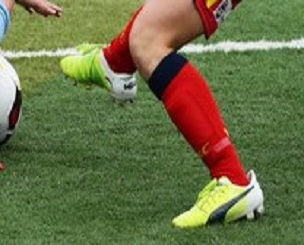 ---
We told you that we'd be coming back! Not only in the same game, but actually on the same team, we find a player rocking the extremely overlooked Puma evoAccuracy. A boot that Puma would have been banking on lasting a bit longer, heck lots of folks would have been banking on these boots lasting a bit longer, but it was still a fantastic release for those lucky enough to try a pair. We wonder whether Campagnale identifies more with the brand, the "MB45" on the back, or simply found herself a pair of boots that she enjoys. No matter what it is, we wish that Puma had let the evoAccuracy breathe a bit more…or, maybe, been a wee bit smarter in which player they chose to sport them.
Adidas X 16.1 Leather and Adidas ACE 17 PureControl
Ibrahimovic and Pogba (Manchester United)

---
Although there is really too much talent on that United squad to not end up eventually turn things around, times are definitely tough down around Old Trafford. While that might be the focus for most, there were some amazing boots on show in this game. The newest face of the Velocita 3 was rocking the Double Diamond, and adidas had a plethora of toys on show. De Gea and Ibra were rocking the leather 16.1, while Mata and Pogba were wearing the PureControl. The only thing missing for the three stripes would have been a moment to add to their Pogba highlight reel…sadly, it will be a few clips that they hope don't go viral. The biggest thing for us boot nerds is that Pogba and Mata's boots have some features that we aren't seeing on the PureControl that us mere mortals can get…what's the deal with that adidas?
Another week, another spotting, and another Monday that we hope was made a bit easier from our effort. Let us know what spots we missed, what spots we nailed, and what spots we should keep an eye out for next week. Hit us up in the comments!