"Yay! International qualifiers for a tournament that won't occur for almost two more years!" (said nobody…ever). Still, we got our fill of footy this week and, if it wasn't enough, discovered that our DVR has gotten a few too many recordings from weeks gone by (we almost had our episodes of Master Chef erased…). No matter how you feel about international soccer, there are a ton of great new releases that are getting a lot of time on major European pitches this week. How well does the German kit match the Stellar Pack? Let's just say that it's obvious where Adidas calls home. To get you through those international soccer blues, we've got another heaping hot serving of boot spotting, fresh from the frying pan. Careful…it's hot.
Bob Lewandowski (Poland)

---
Sure, his name might be Robert, but old Bobby Lewey is a striker that has become one of the most feared strikers in Europe. Poland is seen as a true power coming out of Europe for any international competition, and Bob, despite his prowess, is surrounded by a quality roster. Factor in his gorgeous Floodlight Nike HyperVenom II, and you have a recipe for results in the bag and great looks on the way. The HyperVenom II is a quality release that has only improved since Nike decided to update (or, depending on how you look at it, retrograde) the upper. Since the upper change, we've worn both…and we're big fans.
Puma evoPower 1.3
Aledksandr Kokko (Newcastle Jets)

---
While former Boot Spotter Jordon used to take us down under all the time, it's been a long time since we went to the biggest league in Australia. The Jets' Aledksandr Kokko is rocking the launch colorway of the Puma evoPower, which is something that we haven't seen in a long time. While it didn't quite draw attention the way a Puma camo boot does, it was still a strong launch color for the newest iteration of the evoPower silo. Always an underrated silo, it feels like everything that isn't the evoSpeed is getting a bit of a back seat from the big cat…maybe they'll push harder on the other boots in 2017, but, for now, I guess that means more for us!
Nike Magista Obra II
Andy Robertson (Scotland)

---
While we loved what we saw from the Floodlight Pack in last week's spotting, we didn't really give any love to the Tiempo and Magista silos in the newest pack. This week, we wanted to make sure that we found some good pics of Nike's heritage and control silos. Andy Robertson will love the newest Flyknit creation from Nike, a boot that we think is a major contender for boot of the year in 2016. The least amount of volt you can probably ever get on a Nike boot that's a standard release, and a green that will quickly become a favorite for many. A safe and fantastic choice for anybody looking for their first trip into a Dynamic Fit collar…snag one today!
Adidas ACE 16 PURECONTROL
Julian Draxler (Germany)

---
The Stellar Pack has gone over so well with fans that adidas might have put themselves into a bit of a predicament…how are they going to top this pack? A perfect amount of gold, a gorgeous soleplate, and a clean white upper to let all the accents on the boot shine come together to make the PURECONTROL a visual masterpiece. Draxler might not currently be the face of adidas for Germany, but he's long been seen as a potential superstar in the future. Will he fulfill his potential in the ACE or will he always look back on these moments as "the best it ever got"…? Either way, his boots looked a treat!
Maor Buzaglo (Israel)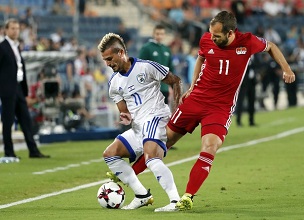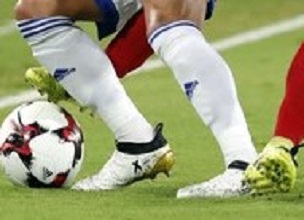 ---
We mentioned it last week, but we're really struggling to see how you could attribute any type of chaos to these boots. An immaculate colorway that only looks better because of how smoothly the lace cover ties everything together. Buzaglo is one of a wealth of players that have opted for the top-tier X model, and we found that this boot might be top of our adidas charts after we tested it! In fact, we're always surprised when anyone opts for the laced version of the X, as it's PURE counterpart is an obviously superior option. The adidas revolution is in good hands, and we think that it's a perfect label from this pack…"stellar."
Under Armour Spotlight
Jordan Silva (Mexico)

---
Mexico finds themselves prepping for World Cup qualification with one of the hottest striking commodities in Europe in the fold. If there was ever a window for El Tri to make a major impact, it could occur in Russia. Until then, we'll settle for a shot of Jordan Silva rocking the Under Armour Spotlight. While we would have loved to see Silva opt for the 20th Anniversary chrome version, we have liked every colorway we've seen of the Spotlight so far. A boot that continues to show UA's evolution with synthetics, it's always impressive when brands are able to convey the concept of "speed" without tossing the ounces out the window. The American brand chose a great name for their newest toy, because Under Armour is definitely ready for the Spotlight.
Gerard Pique (Spain)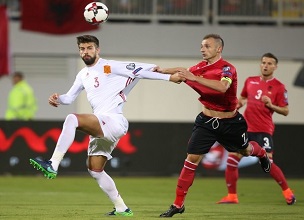 ---
Is there a defender in his career that has spent as much time in the attacking third as Pique? Sure, playing for Spain and Barcelona does allow you a fair bit of freedom as a player, but he certainly could have been a striker if he had made a few choices slightly differently. A face for the Tiempo silo for quite some time, Pique's new boots will look great with almost every Barcelona option (especially the third kit)…his Spain kits? Not so much. Pique will definitely end his career as one of the most decorated players in the modern game, but we'll always remember the simple fact that his wife's hips don't lie. I wonder if there's any ego involved in that marriage…
Mizuno Morelia Neo
Kieran Agard (MK Dons)

---
We used to choose MK Dons as one of our favorite teams to manage on FIFA because they were sponsored by Marshall amplifiers (and we've always fancied ourselves as a bit of a rock n' roll enthusiast). This time, our fascination is driven by the Mizuno majesty that Agard has donned during his fixture. Always a favorite for anyone that wanders into the RunBird, Mizuno has built their brand through creating lifelong fans of their boots. With the Neo, Mizuno has given their melt-on-your-foot leather a speed boot build to let it appeal to modern day players (or, older players seeking a boot with modern day sensibilities), one of the always dependable soleplates, and the quality that always comes from something that Mizuno puts out. We'll be snagging a dozen after our Blockbuster stock picks back up…any day now…
Unless you're a Stoke fan or you've recently made a bet on Wayne Rooney being top-scorer in the Prem this season, you're definitely ready for some club soccer to return. Luckily, we have FIFA17 to fill the cold and lonely nights without Mourinho or Guardiola to keep us company. With the weather cooling down, keep looking for everything on a European pitch to continue to heat up. What spots did we miss this week? Which spots did we find that were actually worth spotting? Will Toni Kroos ever actually wear anything other than 11Pro? Will Costa ever wear anything besides the X 15.1 SL? These are the questions that keep us up at night…leave your questions in the comments below.