WELCOME BACK!!! No matter where you are, you're either breathing a sigh of relief from World Cup qualifiers, still holding your head down in anguish, or holding out that slim bit of hope that your ticket to Russia can still be punched. We got to see the newest Nike and adidas releases really spreading onto major pitches instead of just popping up here and there, and we are starting to hold our breath for what brands have prepared for this upcoming summer. So, as I polish off some more Sunday night caffeine, finish another episode of How I Met Your Mother, and wade through a billion images to try and find one that isn't blurry or too small for us to zoom in on, I hope you guys enjoy the spotting! LET'S MAKE SOME MAGIC!!!
Robert Lewandowski (Poland)

---
Lewandowski has ensured that every footy fan that hopes to sound semi-educated on the sport can pick Poland as one of their dark horses once the World Cup rolls back around. Still one of the biggest faces for the HyperVenom silo, it is surprising for us to see anybody opting for the dynamic fit collar version of the Phantom III. We expect Lewy to continue to be the star for Poland, and we'll be anxious to see which European squads are forced to watch them next summer instead of making it to the tournament themselves.
Dele Alli (England)

---
Alli has been watching as his club teammate puts in the goals to send England to the big dance next summer. However, adidas has definitely made sure that the PureControl and Alli are synonymous with each other. The orange that adidas has used for their newest pack absolutely jumps out at you, assaults your eyes, and somehow wins you over. To go from the subtle nature of the Ocean Storm pack, to where the three stripes is now…we can definitely expect some loud colors once we hit Russia.
Christian Pulisic (USMNT)

---
While the entirety of the USMNT fan base was celebrating the 4-0 victory over Panama, the main consensus was that Pulisic might finally be the first U.S. "golden boy" to actually live up to his potential. Sure, he has plenty of time to falter and join the long list of previous U.S. players with tons of potential, but the early signs are that Pulisic might be heralding in a new era of player for the USMNT. Considering where we've gotten choosing the same players over and over, it is a rather freeing concept.
Lindsay Horan (Portland Thorns)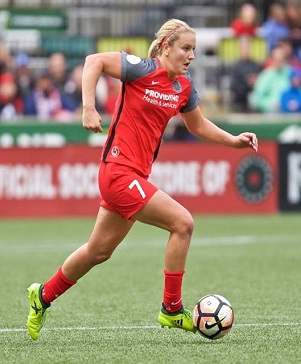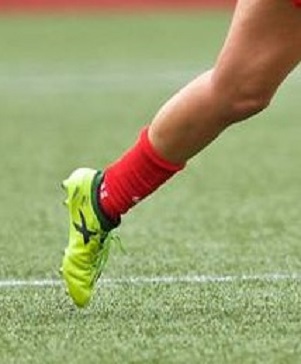 ---
The NWSL playoffs kicked off with a bang in the form of the Portland Thorns sending the Orlando Pride packing. Horan has been a key cog in everything Portland has accomplished this season, and it looks like they will be going up against the newcomers North Carolina Courage for the championship. It will be the story of a team with loads of experience and championship pedigree going up against a team that has defied all odds for the entirety of the season.
Cristiano Ronaldo (Portugal)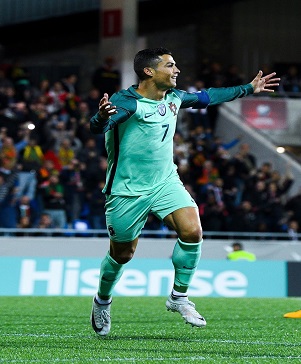 ---
The newest chapter in Ronaldo's Nike story is one of the most visually striking boots that we've seen in some time. Having seen the boot up close, it is definitely a boot that you can't appreciate unless you are holding it in your hands. The colors of FlyKnit that Nike has woven into the boot gives it an impressive look up close, but it kinda all fades to a plain white boot with odd shadows once you get farther and farther away. Would we still take a dozen? Of course…but we'd love for this thing to be as dynamic from 100 yards as it is from half a foot.
Adidas Gloro 15.1
Brandon O'Neill (Sydney FC)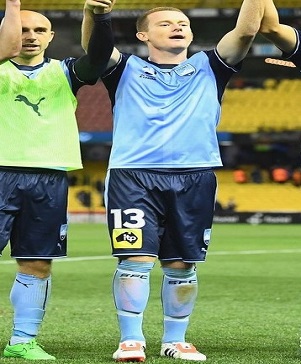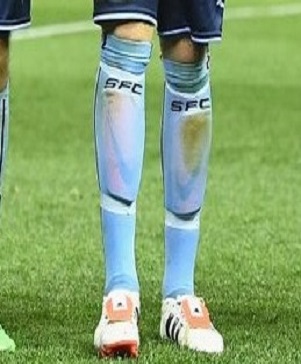 ---
This champagne adidas Gloro is definitely a boot that went rather unheralded after the champagne pack was launched. Considering it was launched beside a Pred re-release, it's not too surprising. However, it doesn't stop these from being on our Christmas wishlist…and we wonder if we'll really see a lot more of these making the rounds. The Gloro 15.1 was definitely one of the most underrated boots of the new adidas revolution, and the introduction of the new Copa has ensured that it might go down as a rather forgotten piece of adidas history.
New Balance Visaro 2.0 Limited Edition
Joe Ledley (Whales)

---
We can't put our finger on what New Balance has been doing with their recent limited edition releases. It looks like they've technically released two versions of the Furon 3, but claimed that one is actually the updated Visaro 2.0. Both boots seem to have the forefoot material from the Furon 3, but the heel does see a bit of differentiation. We hope that we'll get to see what both boots have on offer in the near future, and we hope that NB continues their upward climb that we saw with their most recent Furon. (Also, check out those sweet custom Mercurials in the background…)
Leigh Griffiths (Scotland)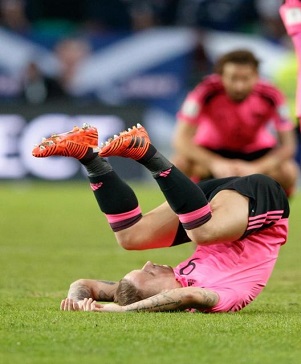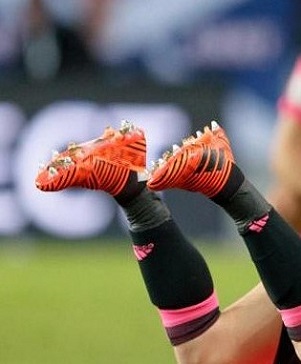 ---
Man…Scotland…what can you say…massive disappointment to not find their way into the upcoming World Cup. It's a feeling that will be trickling through dozens of camps over the next few weeks as the final qualifying fixtures are played. This picture almost perfectly encapsulates the emotion of missing out on, at least for some of these players, a once in a lifetime opportunity. Here's hoping that Scotland comes back stronger from this and finds their way into contention for Qatar 2022.
Stephen Hauschka (Buffalo Bills)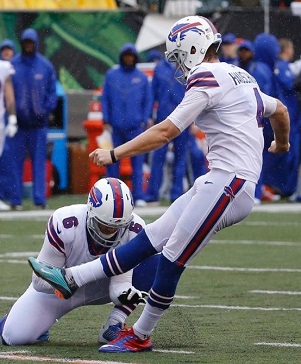 ---
If you haven't figured it out, NFL and college kickers have some fantastic kicks going on. They tend to stick with their boots for even longer than most professional soccer players because of how important every tiny moment is to their careers. We've actually started to see that the Vapor VI has a serious following among NFL and college kickers. Perhaps it was the lace cover that drew most players in (I was never a big fan), but we've seen several of these over the last several weeks. What's the best boot spot you've seen at an NFL or college football game?
So ends another valiant entry into the boot spotting archives. We hope that we've taken your mind off of your Monday blues and that we hit a few high notes along the way. It's always tough to suffer through an international break, but at least these fixtures felt like they had some impact on the footy world. Keep an eye out for the NWSL championship, the last few World Cup qualifiers, and some extra fixtures around the edges. If none of that works, go back and work on your FIFA defense…it's more likely that you're garbage than a multi-million dollar franchise messed up…just sayin'…