Holy boot spotting, Batman! The things that have happened since we last spoke/read/typed…like Monday…and Tuesday…and trying to decide whether to trick-or-treat on Saturday…or Sunday…or Tuesday.
So much! The footy was certainly flowing this week as we had the MLS playoffs going strong, league cups starting across Europe, and Manchester City continuing to look like they might finally lose a game sometime around 2019.
So take a sip of whatever beverage fits the time of day you're reading this, check to see if there's any candy left over from the weekend, and dive straight on in!
Nike T90 Laser IV
Wayne Rooney (Everton)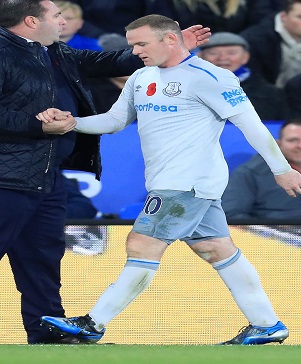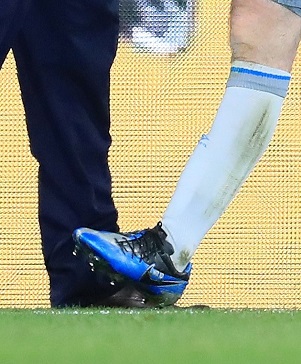 ---
Wayne Rooney has essentially turned himself into a walking timeline of Nike T90 boots. Although he hasn't gone all the way back to the beginning, he has now progressed from the T90 II to the T90 IV. We're a bit sad he skipped some of the great colorways from the Laser III, but the Laser IV was an intriguing boot. We weren't fans of the first few colorways and the kanga-lite that was used, but it all turned a corner about halfway through the laser IV's lifetime. Rooney's pair comes before that change, but we still applaud the player rocking some of his classic favorites…no matter what the reason.
adidas ACE 16.1
Federico Higuain (Columbus Crew)

---
The MLS playoffs are in full swing, and we've had some serious drama during the first two rounds. Perhaps the biggest moment came when the ultimate underdog Columbus Crew was able to pull off an upset against Atlanta United. Higuain has been a long serving player to the Crew and the MLS, so it would be an incredible situation to see the player and his club make their way to the final. The blacked out ACE 16.1 is an incredible look for the boot, and it's another player that seems fairly keen to avoid seeing what the current adidas line-up has on show.
Eden Hazard (Chelsea)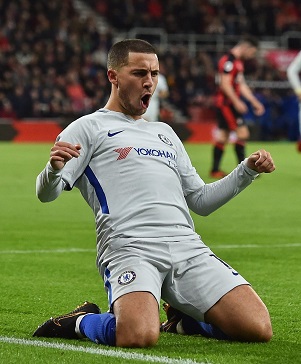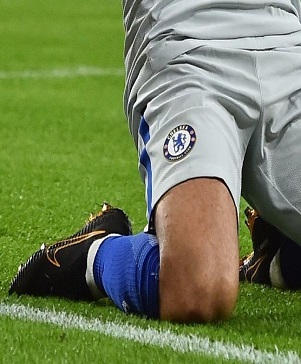 ---
While this isn't a new spot (and I know we're very Swoosh heavy this week), it shows how different Nike handles their limited edition boots. Most brands typically only allow a limited edition boot one run out (especially Puma), but Nike seems to allow players to rock their boots for quite a while. We can't blame Hazard in the least as the FlyKnit Ultra is one of the best boots we've gotten to test in quite some time. In fact, with blackout boot photos from training popping up, it seems like the next few Mercurial boots from Nike will have quite a bit in common with the FlyKnit Ultra.
Pele Sports Trinity 3E
Jordy Buijs (Sydney FC)

---
First, I need to ask forgiveness for all the Sydney FC spots that are forthcoming (there's three of them!). Second, is Pele Sports possibly the weirdest story in the world of soccer equipment? A brand that seemed to be growing into success, a leak of future boots on the newest version of FIFA, and an expanding list of players wearing their boots. Then, suddenly, the brand Pele Sports almost dropped off the face of the earth. seeing players still using the Trinity makes me wonder whether they stashed some extra pairs or if there's some secret way of getting more Pele Sports boots. Your guess is as good as mine…
Cristiano Ronaldo (Real Madrid)
---
This isn't the best way to celebrate being declared "The Best," player in the world. It will be impressive to see if the La Liga struggle for the title is over this early into the season. Surely ten games into the season is far too early to be making a call, but it's definitely going to be a race where Madrid is playing catch-up up until the last second. I do have to say that just making slight changes to an already established boot doesn't quite feel like the attention that these players usually see from the brand after winning this award…perhaps it's because Nike didn't want to cut the life of their extremely new CR7 boot cut short just to honor his moment.
Gini Wijnaldum (Liverpool)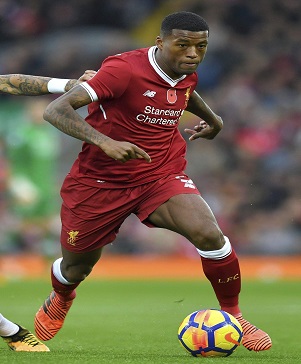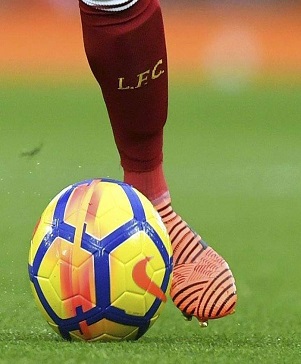 ---
Remember a few months ago when Wijnaldum was bouncing back and forth between various adidas blackouts and boots? Well, we've sat and watched for a bit (because it seemed a bit weird at first), but the Dutch midfielder has seemingly landed on the Nemeziz 17+. A boot that isn't used too often by midfielders, it is a bit odd to see Wijnaldum wearing the exact same boot as Firmino in the Liverpool line-up. Wijnaldum might end up being the most underrated signing of the last few years when we look back at this era of Liverpool.
Diego Demme (Leipzig)

---
Sorry for the slightly blurry photos, but Demme seems to have made an interesting move with his boots. This wouldn't be trying to take a ton of attention from Nike as the Swoosh is still crazy visible…we doubt it's about a big boot contract as it's still a great looking Nike boot. We wonder if it's just a simple case of Demme wanting his boots to be a little bit different or if there's some other weird thing going on here. No matter what it is, we like the look…wonder if Nike has ever considered releasing colorways with slight tweaks available for the general public without having to use NikeID.
Mario Mandzukic (Juventus)

---
Mario Mandzukic might be the most forgotten striker that is currently involved in a fairly frequent on-pitch role for one of the biggest clubs in Europe. Lest we forget his incredible goal in last year's CL Final…but a host of other players stealing the limelight means that Mandzukic isn't even within the top five most popular players on his own team sheet. It's odd seeing that Mandzukic has switched back to the original Venom colorway. The Croatian striker had moved beyond the launch colorway almost half a year ago! What in the world could have caused a switch back now?
Matt Bryant (Atlanta Falcons)

---
So, we've made it our plan to try and stumble onto as many spots as we possibly can from the NFL/college kicker ranks that are worth sharing. You should know that it's not typically the kickers and punters that get their pictures taken during a game…so it's tough to find great shots, but we've hunted them down. Bryant has made the odd decision to choose the oft-maligned HyperVenom II despite being a Tiempo Legend guy for years! Considering the difference between these boots, we absolutely cannot believe the switch Bryant has made.
Emma Rolston & Amy Harrison (Sydney FC)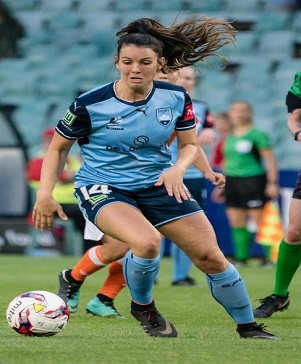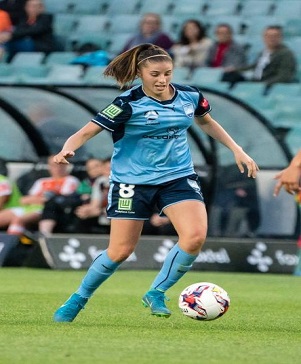 ---
These ladies must really be fans of Neymar as they both decided to rock some Neymar specific boots. The Neymar and Jordan collaboration was a boot that really fired up the imagination. We thought Jordan might become a constant player in the boot world, but we hoped that their future ventures wouldn't be quite as stiff as their fist outing. As for Amy Harrison's boot, it's a gorgeous colorway mixed with the modern technology of the SuperFly V. We weren't a huge fan of the coating used on the boot, but we'll forgive these two fans for choosing Neymar's signature models.
That does it for this week's spotting! We apologize for dipping pretty heavily into the Nike pool, but we'll even things out in the next spotting or so. Thanks again for dropping by to enjoy some spots and let me know which Netflix series I can have constantly running in the background while I make the next few boot spottings.