Manchester is blue. Diego Costa is a master of the dark arts. Koscielny is the most unlucky/lucky birthday boy ever. Liverpool's main stand is grand. Tottenham stoked their fire to four goals. Watford proved that a team can still sting from a 2-0 deficit. This weekend provided a little bit of everything as we continue to be reminded why the summer, no matter how beautiful or sunny, just isn't perfect until we make our way into August. Like a legend returning to the pitch, we return with another dose of top notch Boot Spotting. Let's get it on!
Puma EvoPower 1.3
Mario Balotelli (Nice)

---
Are we seeing the resurgence of Super Mario? Perhaps merely a blip (and fantastic ammunition to silence Jamie Carragher), but Balotelli put two goals into the back of the net on his debut. That means he could go another few months without scoring and still be almost as prolific in front of goal as he was at Liverpool! It feels unlikely that Puma will continue to use Mario as a key man for the evoPower range, and even less likely that we'll see another Balotelli-specific boot get launched. Still, it speaks volumes about the quality of the Puma evoPower that Mario stuck with it through all his issues…we're big fans, and hope they continue to boost Super Mario back to his best.
Adidas World Cup
Alessandro Gazzi (Palermo)

---
In a match filled with a blackout Magista and other great spots (those ref Diadora boots in Serie A are fantastic), the boot to take the cake was Gazzi taking us back in time with the adidas World Cup (not to be confused with the FG-set up of the Copa Mundial). We were secretly hoping that it was the Copa SL, but we're fairly certain that these are the old school gem. The boot that will never die, and a boot that has the largest following for any player that's spent more than 15 years in the sport. If the World Cup can still be successful with a competitor within its own brand, it seems to be here to stay.
Georgini Wijnaldum (Liverpool)

---
Get a big money move to a different club? Check. Crack the starting line-up at that club? Check. Get a major boot deal? Not yet. With a move that is Boot Spotting 101 for "please offer me a contract," Wijnaldum wants to take advantage of his newfound level of focus and attention to spin himself a boot deal. After wearing a white/blue leather X 15.1 for the last few months, it looks like the midfielder has blacked out his boots and made sure that his laces still stand out (oddly enough, it looked like Kevin Stewart might be wearing the same set-up…coincidence?). Will adidas pick up the check or will we see the man sporting something new in the coming weeks.
SO MUCH ADIDAS X 16
Germany U17 Squad

---
This is obviously what happens to major countries that are sponsored by major companies and are composed of kids that are too young to have major boot contracts. Look at all those pairs of the adidas X 16! We can't decide whether we are big fans of this or whether we kinda hate the originality (imagine the locker room when the keeper is lacing up the only different boots in the bunch). It's probably an indescribable feeling being 16 years old and being handed several pairs of adidas boots for free…if only we had not fallen so in love with our Nintendo 64…this could have been us!
Nike Magista Opus (Whiteout)
Fraser Forster (Southampton)

---
While Mr. Forster has been whiting out the Swoosh on his boots for a while, it seems like he might be close to a move to the American boots offered from Under Armour. What proof do we have? Well, his club is sponsored by UA, he switched gloves from Sells to UA gloves this week, and this would be a great signing for any brand considering it's a super safe bet to see Forster between the sticks of a major club within the next few years. Where do you think Forster could end up? And, what boots do you think he will be wearing?
Cristiano Ronaldo (Real Madrid)

---
He's back. He's scoring. He's ridiculous. The Nike Elite Pack still might be one of our favorite releases that we've seen from the Swoosh in years, and there was no doubt that Ronaldo would make the top 11. We're still not sold on telling the rest of your contracted athletes that they aren't considered one of your 11 best, but we still want to hide about a dozen of every boot in the Elite Pack away for rainy days. Is it weird to say that we can't really imagine a world right now where Madrid's #7 is NOT scoring? Perhaps that'll be a sign of the apocalypse…
Umbro Velocita II
Michail Antonio (West Ham United)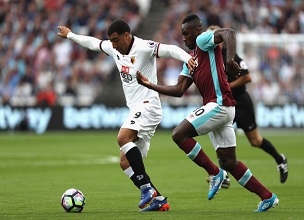 ---
While the blue adidas X 16's in the picture might go down as the worst kept secret in footy gear ever (ok, a close second to Neymar's "Hyper"Vapor), Umbro is building a dynamite line-up that is going under everybody's radar. We aren't ready to roll out reviews, but we've had some fantastic initial outings in the Velocita II and Accuro X. Antonio might have found out why most folks call 2-0 the worst lead in the sport, but his boots looked a treat. When will he update to the newest Velocita? The double diamond isn't messing around, and we're quickly finding ourselves further and further in their corner.
Landon Donovan (LA Galaxy)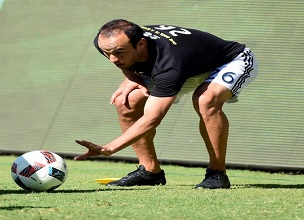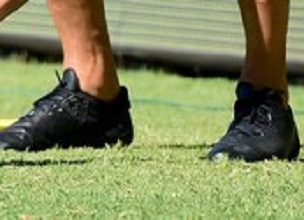 ---
The first of two legends to end our Boot Spotting, Donovan used to be one of the biggest stars in the CTR360 silo. His return seems to be marked with a return in the Nike Tiempo VI, but the blackout does have us wondering…could Donovan be plied away from the Swoosh? It would be tough to see the new number 26 wearing something different, but we're just happy to see the man back out on the pitch. What a story it would be to see Landy-cakes dancing around with another title for his favorite club. Plus, the number of jokes that will be made about Stevie G finally winning a league title…well, it would certainly get interesting.
Nike Tiempo VI (Custom)
Francesco Totti (Roma)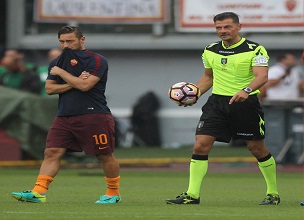 ---
It's not a surprise, and it's nothing new for Totti and his Nike boots. Still, we feel like if this option crept onto Nike ID…the world would go ID crazy for months! In fact, you know there's somebody out there that wants to put a tongue on their new Magista. Totti is and always will be a legend to this game, and his continuing scoring record is nearing a spot that might be untouched for years (at least until Messi gets to that age). I guess that Nike just isn't a fan of money…that has to be it…right?
FIFA 17 is on the horizon, a great weekend of footy is in the rear view, and slight wafts of fall weather have started seeping through this ridiculous summer heat. We aren't going to jinx it, but stuff is going pretty stinkin' well! Which of our spots were your favorite for the weekend? Also, did you find anything that we happened to miss? Let us know in the comments what we missed, what we did right, and how unfair it is that Ronaldo can miss so much time and still walk back out while still accomplishing Ronaldo-esque things.