The soccer world has gone goal crazy! United's smashing them in, City might crack double digits, Madrid and Barcelona are doing their thing, and Chelsea/Arsenal couldn't get in on the fun! It was a wild weekend of footy, and there was even some incredible Champions League action during the midweek! In fact, if I didn't root for Liverpool, it's very likely that even the reds would have found success! Still, some great boots were on display, we hunted them down, and now we bring them to you in another star studded edition of The Instep's Boot Spotting!
Nike Mercurial Vapor XI
Lukaku (Manchester United)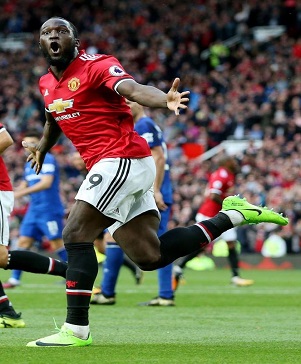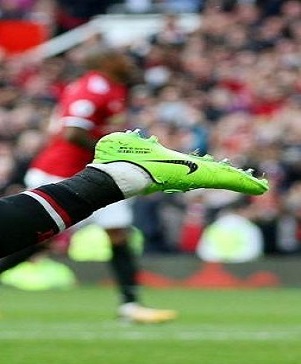 ---
Three weeks in a row! Lukaku is hunting himself some spotting history (Messi and Ronaldo have had three spottings in a row), and he sealed the deal by somehow deciding to head way back down the Vapor XI timeline. Despite scoring with the boots, the big Belgian decided the newest Vapor XI wasn't his boot choice when he went up against Everton and Wayne Rooney. If Lukaku wants to hunt down his fourth week within the Instep spotting, he's going to have to take a serious left turn…it'll take more than a shift back into last week's boots to get our attention. Whaddya got Romelu?
New Balance Visaro LE
Aaron Ramsey (Arsenal)

---
Yeah…I've complained about brands not letting their star players spend enough time in their signature boots…but Ramsey is entering into a rather weird space with his signature Visaro. With how many new colorways they've launched, along with the special edition Visaro that just dropped, you'd think that Ramsey's feet would be one of the biggest billboards that NB could get. While his result against Chelsea would have not been what he would have wanted, Arsenal keeping a clean sheet is a big step…the goals, especially with that roster, will come.
Adidas X 17.1
Luis Suarez (Barcelona)

---
Luis Suarez has taken a bit of a confusing turn with his adidas X relationship. He spent his time with the X 16.1 instead of the 16+, but he started the update to the X 17 with time spent inside the PureSpeed 17+. However, it looks like the Uruguayan has now switched into the 17.1. Considering how much more plush the 17+ is over the 17.1, it's surprising that there are so many high profile stars that opt for a boot that isn't as lucrative for adidas and hasn't been as impressive. Perhaps the 17.1 we see Bale and Suarez using sits closer to the 17+ than we'll ever know…
Nike HyperVenom Phantom
Kevin Volland (Bayer Leverkusen)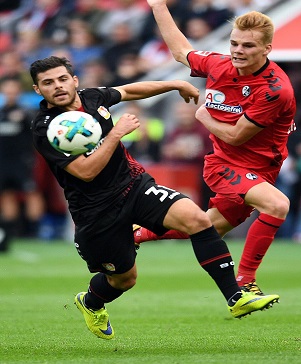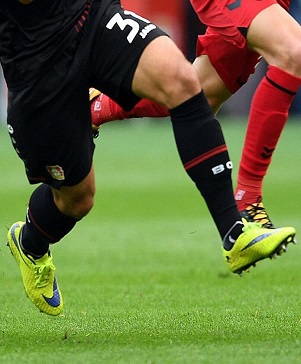 ---
The original HyperVenom Phantom is a boot that some fans will forever have a massive connection with. I'm a huge fan, and the return to the old upper is what makes me actually see the second HyperVenom as a positive rather than a failure. However, the worst thing about the first Phantom was an exceedingly obvious issue with durability. It's no secret that most fans had to keep few extra pairs stashed away if they wanted to keep enjoying the Phantom…I wonder if Volland has a small closet full or if these boots have survived this long…
Puma ONE 17.1
Sergio Aguero (Manchester City)

---
First, let's all acknowledge the ridiculous scoring run that City and Aguero are on…will we look back years from now and see that City's wisest transfer decision has been to simply hold on to the Argentine for this long? Outside of the possibility that City's timeline is permanently attached to Aguero's ascent, let's talk about how the Puma ONE absolutely does not look like it should suit a player like Aguero. A leather boot complete with comfort, touch, and innovation is good for anybody…but it just doesn't look like a strong and quick striker would fit with this boot's style. What are your thoughts?
Adidas Predator Mania Relaunch
Kalvin Philips (Leeds United)

---
Dear Adidas,
When you make these boots so super limited and expensive, you make me so incredibly sad and upset. Collectors slap half a dozen of these on a shelf, bots stick a dozen pairs up on eBay, and players that really want to experience boots like this either again or for the first time miss out. Could we have one Predator re-release that is in normal quantities? You don't have to use classic colors…you don't have to even overuse Beckham and Zidane memories to drive us to make a purchase…I'd settle for even a re-do in that eye-searing green slime color you used to use on everything. Please adidas…just one…
Nike Mercurial Vapor V
Blair Walsh (Seattle Seahawks)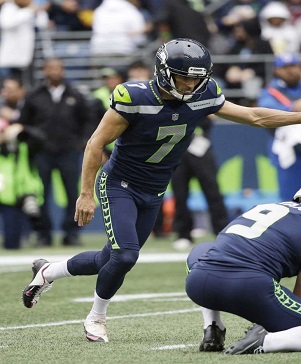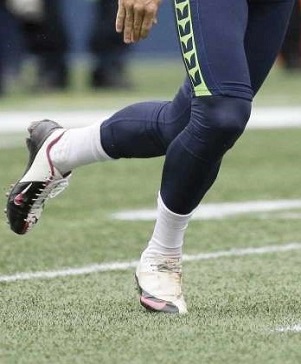 ---
So, if anybody loves odd connections, last week we showcased some sweet kicks on the kicker from the University of Georgia…and, this week, we're showcasing some sweet kicks on a kicker that USED to go to the University of Georgia. Blair Walsh reached way back to a Mercurial Vapor colorway that is still much beloved and sought after…even with the ridiculous lace cover (did you ever try to tighten up one of these?). We're hoping to keep hunting down kickers rocking some great footy footwear over the course of the season, but these first two have really set the bar (much like the one they both kick over…get it?…oh, that's terrible…).
Under Armour Spotlight 3.0
Ashley Sanchez (UCLA)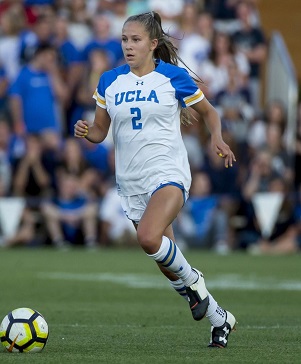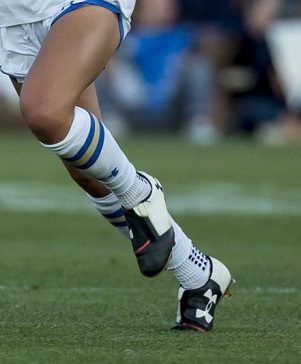 ---
While we might not have seen the UA Spotlight as the next great boot from Under Armour (just check out Hunter's review…he nails it), that doesn't mean that some folks haven't found a home in the newest UA toy. Sanchez has at least chosen a gorgeous colorway for her new boots…we can't imagine how massively the green/black would have clashed with the iconic UCLA colors. For those that think Sanchez truly hunted down the Spotlight from all the options on the market, it is worth mentioning that Under Armour does sponsor UCLA athletics…so…you be the judge.
Adidas Nemeziz 17+ Unreleased
Alex Hunter (LA Galaxy)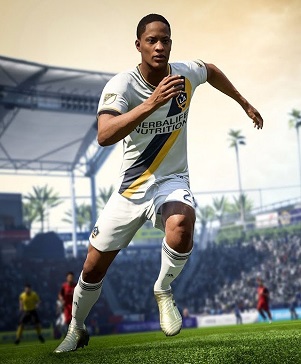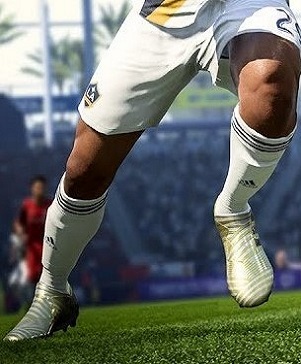 ---
It's so close! FIFA 18 is about to ruin friendships, romantic relationships, student GPA's, and so much more! Which, sadly, we are all just fine to sit back and watch as it slowly wrecks our lives…because it's FIFA TIME!!! Until that beautiful moment when we all make GameStop employees wonder why we had to reserve this game a year ago, we'll discuss Alex Hunter showcasing some boots that don't exist (at least, not yet). The boots we've seen in the previews for the game look incredible…and we would love to see EA Sports make it where certain boots change some attributes slightly…that always made it a bit more fun to switch what boots you are wearing. Good thing I'm not ridiculous enough to switch the boots on my VP to whatever boots I'm testing…that would be totally ridiculous……..
We hope that you all enjoyed this week's spotting and that you are able to sneak through this Monday a little bit easier with some great spots at your side. Let us know which spots you loved, which spots you hated, and how many of them you've seen creep up on other sites over the next few hours/days/weeks. Also, does anybody else switch up their FIFA created player's boots based on what they're wearing on real pitches? Not that I do that…cuz I totally don't…