WE'RE SO CLOSE TO FIFA17!!! But, until we shut out the world with our footy game of choice, there's still plenty for the world to take in from the world's premier European fixtures. Whether you decided to watch Pogba and Zlatan stumble at Watford, Henderson curl home a worldie, De Bruyne continue to dominate, Stoke continue to capitulate, or Everton jump to second…and that's just what happened in England! Soccer is BACK and it is giving us everything that we've missed over the summer. So, we find our favorite moments and see what was the footwear looked like…welcome to the bootspotting. Let's get it!
New Balance Furon 2.0 Apex
Kevin Mirallas (Everton) and Alvaro Negredo (Middlesborough)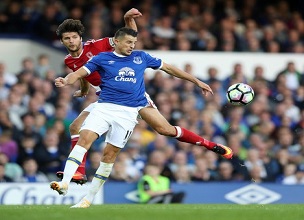 ---
Could New Balance have possibly planned it out so that their limited edition Furon boot would be featured in a head-to-head match-up? While Mirallas will emerge the happier of the two NB men, both players showcased a very good looking boot. In fact, it's a boot that still holds a lot of mystery for us here at Instep HQ. Does it have the same knit-style upper of the standard Furon? The pictures we've seen appear to show a slightly different upper…and that has intrigued us to no end! Either way, Mirallas will be hoping to become a star for NB and Negredo will be hoping to avoid having any memory that he once suited up for the mighty Manchester City…and now plays for Middlesborough…
Zaha (Crystal Palace)

---
While Crystal Palace and Zaha will be wheeling away from this weekend's fixture with a load of confidence and all three points, the big story is quickly becoming the capitulation of Stoke City. While it's not like we're seeing a mainstay of the top four tumble, Stoke took a chance at becoming a team that competes for a Europa League spot…and it has not worked out. There appears to be 10 men on the pitch watching, and Joe Allen running around like a crazed person on a mission that none of his teammates were informed about. No matter what, it's interesting to see that Zaha's Nike Mercurial SuperFly seems to show that Nike doesn't seem to have plans to carry their "Anti-Clog" tech over to their FG boots (even for professionals). We're slightly disappointed on that front…seems like it would make FG boots much more versatile…
Adidas ACE PURECONTROL
Paul Pogba (Manchester United)

---
It's a bit early to be bailing on one of the most talented young players in world football, but we'll worry about that discussion a bit later. For now, we simply want to focus on Pogba shifting back into his black/gold 16+ and ditching the Viper Pack after only one fixture. Would there have been a better player to don the Space Craft Pack? No. The other thing we want to point out is to look at how much stretch and flex Pogba has on the front of the collar of his boots. There's no way his are standard issue, and our PURECONTROL boots never allowed for that much stretch around the collar. Perhaps a thinner material with a bit more stretch…not cool adidas…not cool…
Lotto Zhero Gravity VIII 200
Federico Barba (Empoli FC)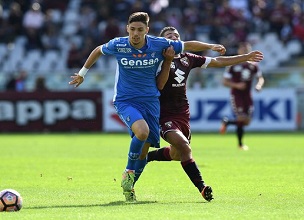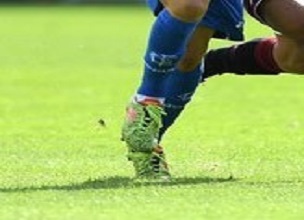 ---
Once a laceless wonder (until you put them on…that synthetic was terrible), the newer Zhero Gravity boots involve laces and an incredibly intricate spider web design across the whole upper. In recent years, we've seen Diadora and Lotto seem to almost retreat further into the depths of Italy, but we'd love for them to branch out a bit. Barba might be one of the last bastions of Lotto on the biggest stages, and the colorway certainly will allow him to stand out on the pitch. We wonder why Lotto made the switch to laces and still continued to use the same name for the silo…bit of an odd choice.
Nike Air Zoom Total 90 II
DFB Over 40 Cup

---
So, we traveled into Germany for a women's tournament last week that had some amazing boots, and this week we find an over 40 Men's cup going on. Once again, the boots on show were amazing, and this happened to be our pick of the bunch. If Nike learned anything from the adidas Predator remake (and, if they just happen to like money), it would be an easy move to recreate some of the classic T90 line…we'd be first in line. We love the boots, but this picture hits a little close to home…why? Well…we think we look like the guy in the middle when we play, but we're fairly certain we look more like the guy on the left..
Puma evoSpeed 1.5 (Custom)
Falcao (AS Monaco)

---
It's always an amazing thought process when we see a professional player…someone that makes money by the bucketful and that has people on call 24/7 to take care of things for them…unable to actually blackout a pair of boots properly. Do they actually run down to the local store and buy a sharpie and do this themselves? Because that's how most of their boots end up looking after only a few moments on the pitch. Puma is still getting focus for Falcao, and, if I was on the big cat and saw how easily it was to tell these were still my boots, I wouldn't be rushing to resign the striker.
Adidas ACE 16.1 PrimeKnit (Custom)
Dayo Morena (Tijuana FC)

---
Any follower of Bootspotting lore will know Tijuana's rules for their players and their boots. The one rule? It has to be red. Our guess is that underneath all that red lies the launch ACE 16.1 PrimeKnit. Once again, can't these players find somebody to properly color their boots? How hard can it be?!? The fade from red to green is definitely not a color that we anticipate a company using (unless they plan on a Christmas special release), but these aren't nearly as terrible as they could have been. What are your thoughts on the Tijuana rule? Should more clubs do that? Are we right about this being the PrimeKnit?
Puma evoPower 1.3
Dante (Nice)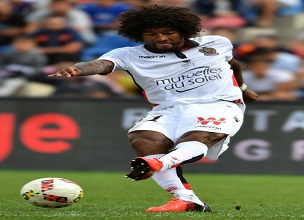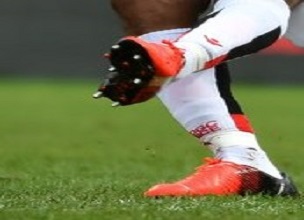 ---
Do you guys remember Dante? That's right, Bayern Munich big-time afro Dante. Well, although the evoPower is a quality boot that needs to be highlighted, we really just wanted to point out that Dante is still plying his trade in a top league in Europe. A player that seemed like a key cog in Brazil and Munich's future plans, we'd almost forgotten about him. Would we have ever guessed that Boateng would be the star defender and Dante would get shifted out? No, we didn't either…
Danny Ward (Rotherham United)

---
You want to stumble on players that wear what they want and snag some awesome spots? Just drop down a league or two from Europe's premier leagues…it always gets good. Danny Ward was key in Rotherham not getting relegated last season, and his current choice of boots was one of our favorite releases for the original 15.1 boots. The chrome and neon green on these boots definitely show some use, but we still think these boots are showstoppers. Would you have the fortitude to rock the Eskolaite? Props to you…
Jon Nolan (Chesterfield)

---
Apparently, Jon Nolan didn't care for the memo from Nike saying that only their best 11 players could sport the elite pack. We're right there with him. The Elite Pack might be one of the best looking sets of boots that Nike has given us in a long time, and we'd choose these over the current SF or Venom options in a heartbeat. Nolan's choice for the Hypervenom Phinish isn't too odd, considering this is now just an updated form of the original Phantom. If you'll excuse us, we're just going to stare at these boots for a while…
That does it for this week's boot spotting, and we think we sufficiently covered the bases. A little bit of this and a little bit of that, all to hopefully get you through to next week and another edition of Bootspotting. Did you see any spots that we missed (we're only human)? What caught your eye over the weekend? Bash us or love us in the comments, and we'll get right back to you.