How do you make us not get angry at international footy? Well, there's really no sure-fire way. A long Labor Day weekend does help ease the pain, and some fantastic spots may provide the best salve we can muster. We've got two unknown boots in the list, some classics, and an absolute ton of fun. While we sit on the sideline waiting for all the clubs to get back to work, let's use this time to relax and reflect…AND EAT SOME HOT DOGS!!!
Puma EvoSpeed 1.5
Adam Lallana (England)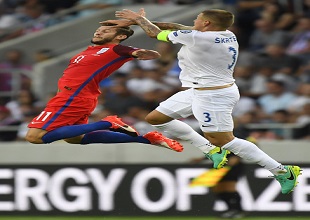 ---
Adam Lallana might not seem old to fans of the BPL as we've only been enjoying his skills for, what feels like, only a few years. However, the Liverpool man is actually the oldest non-Milner player factoring into Liverpool's attack. The reds will be hoping that Lallana's freshly opened international account will inspire him to bring some extra firepower to the Liverpool front-line (perhaps Skrtel knew this and let him get a confidence boost). For us, we're just pumped for Big Sam…we've never truly wanted a manager to be successful this badly before.
EVERYTHING WE EVER WANTED
Legends Game (Arsenal vs AC Milan)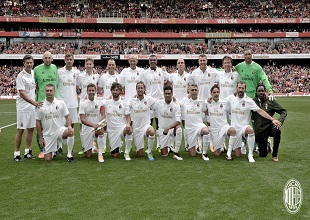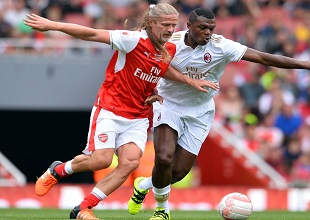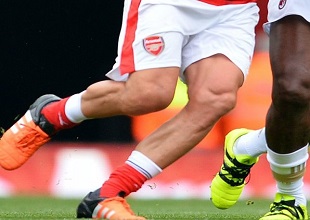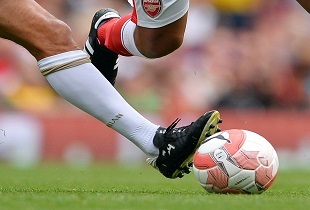 ---
Whenever the stars align and the legends of yesteryear hit the pitch, everything becomes right in the world. Leather luxury, classic boots, and custom creations…it's all part and parcel of Legends games. So, when Arsenal and AC Milan hit the field, our mouths were watering before the whistle even blew. Leather ACE 15.1 vs 16.1 in one image, a boot that has everyone here at SP HQ totally stumped, and enough boots to fill any size mantle. Can we get fixtures like this every day? Seriously…every single day?
Old School Adidas
DFB Women's Over 35 Cup

---
Who knew that a simple trip to an over-25 tournament in Germany would provide so many amazing spots? The first perusal of pics threw those gorgeous red AdiPure at us, but a second round meant catching an eyeful of those drop-dead, show-stopping Predator X. One of the most sought after leather creations in the boot world along with one of the most iconic colorways of all-time. It always surprises me that adidas doesn't feel the need to make buckets of money nearly constantly by releasing all their boots in that Predator colorway…I'd buy them…all of them. Wouldn't you?
Unknown
Wu Lei (China)

---
Ok folks, we need some help here. These boots have us totally stumped. We've looked for pictures that show better angles, and we've come up dry. The only thing we've been able to suss out is the blue laces, but everything else has us throwing our hands in the air. Could you please identify these so that we don't feel quite so incompetent? Or, if it's actually really simple, just pretend like it stumped you too…could you do that?
Nike CTR360 Maestri III
Huang Bown (China)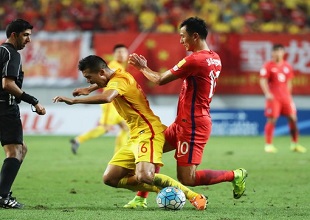 ---
This might have been the first contest between Asian internationals where Mizuno was in the EXTREME minority. In fact, of the 22 players on the pitch, a lone pair of Wave Ignitus stood for the runbird. Instead, a Nike dominated pitch with some drips of adidas were gracing the pitch. The pick of the bunch was this CTR III that was hidden among all the new toys. We still have a pair hidden away for nostalgia (and teary eyed nights in the dark), but the kanga-lite for this boot was the best thing we'd ever known when they came out. (Did you know that the new Magista Opus is Kanga-Lite? Did ya?)
George Francomb (AFC)

---
Heading down to the lower leagues of England is always a recipe for a decent boot spot. This week, while everyone was sifting through internationals and Legends match, there was still some club football going on. Francomb isn't a one hit wonder with his adiPower as the player has been sporting his slime beauties for months, and we couldn't be more jealous. The adiPower has become a must-have items for all boot fans and it's nearly impossible to find one that isn't priced in the range of "kidney-selling." Could somebody just send us a few pairs out? Please? We can be best buds…?
Who is in charge of scheduling international football? Do we really need to be getting ready for Russia 2018 at this point? Wouldn't it be easier to have small mini tournaments in the "off" summers that cover most of the qualifying? Still, we aren't complaining when there's footy on the tv, hot dogs on the grill, and some cool liquid to beat the heat. We hope that your Labor Day weekend was just as relaxing as ours, but we wouldn't be opposed to three day weekends becoming a bit more frequent. Did you see any amazing spots over the weekend? Let us know in the comments!