I'M BACK!!! Sorry for missing last week folks! The magical world of Disney called, and I gladly obliged. Now that I'm back, it's time to dive straight back in to the spots! We had a great weekend of footy (for everyone that isn't a Liverpool fan) and now we're back on the spotting train! We hit the major leagues and even dip straight down into college football (both kinds!), and everything was coming up aces! Sit back, relax, and enjoy a hearty round of boot spotting…on us!
Nike Mercurial Vapor XI
Lukaku (Manchester United)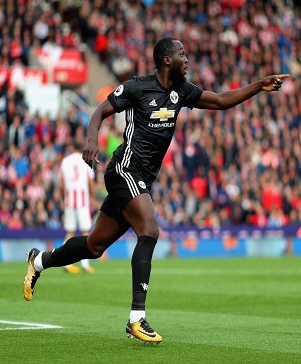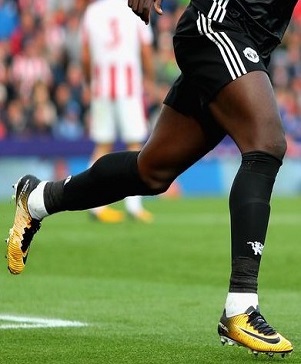 ---
How do you get in the spotting two times in a row? Simple…switch up your boots, bag a goal, and play for a team that's relatively high profile. Lukaku certainly fits the bill for all three of those things, and his boot choices truly have us scratching our heads. He's flirted with adidas, he rocked the HyperVenom II last week, and has slipped into the Vapor XI as his newest venture. He has used mid-cut collars, and he certainly isn't afraid of jumping from brand to brand. If he keeps this up, he might set some sort of spotting record. Is the Belgian finally going to give us a super-high profile player that just wears what they want? We'd be down with that…
Adidas Nemeziz MESSI 17.1 (Custom)
Messi (Barcelona)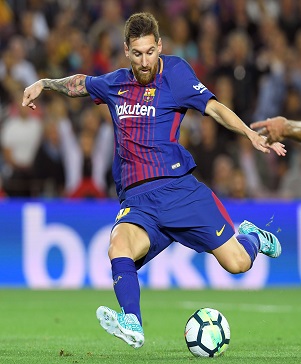 ---
Just like Lukaku, Messi gets a chance at a second straight appearance here at Instep HQ. We mentioned how Messi hadn't yet opted for the signature colorway adidas had created for him, and he looks like the three stripes got the memo. However, despite finally enjoying his signature model and colorway, the Argentine magician is still wearing a fairly heavily modified version of the boot. A close-up does make it appear that there is AgilityKnit in the forefoot, but there's definitely a tongue on this boot (the standard Nemeziz is a one-piece construction = no tongue). At some point, can't brands get their biggest assets to actually wear the boots that we have access to…?
Puma One 17.1
Gianluigi Donnarumma (AC Milan)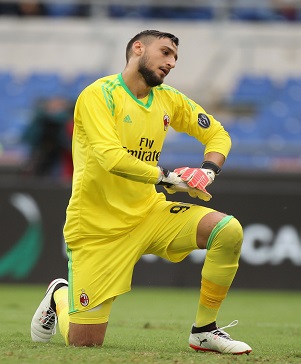 ---
It has to only be a matter of time before Donnarumma becomes a major face for Puma. He plays for an Italian team that sports Puma brand kits, and there's no young keeper that is respected the way that the Milan shot stopper currently is. We bet that his 17.1 has the kangaroo leather of the ONE Lux, but it's made to look like the standard 17.1. We'll have a post coming out later this week talking about all the different Puma ONE models that are on the market, but this boot is definitely flying under the radar here in late 2017.
Nike Mercurial Vapor VI
Rodrigo Blankenship (Georgia Bulldogs)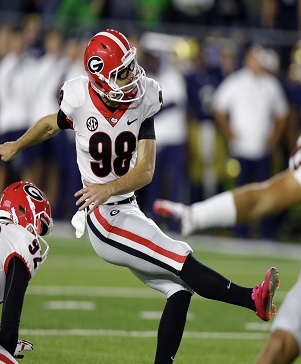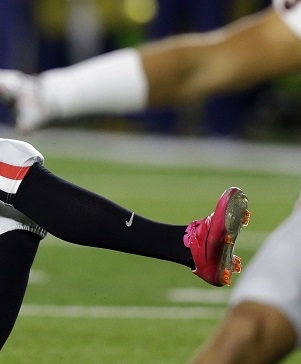 ---
While the world has been focused on their version of football, we've gotten some American football kicking off for the last two weeks. As a footy fanatic, I know that Hunter and I gravitate towards whatever the kicker happens to be wearing. Luckily, deep within the SEC, we found UGA's Blankenship sporting an amazing pair of old school boots. The Vapor VI still lived under the shadow of the old SuperFly that everyone claimed they loved (possibly the most overrated/most uncomfortable boot ever), but the lace cover and colorways are classics…we'd love to see a few reproductions of these boots.
Adidas X 17.1
Gabriel Jesus (Manchester City)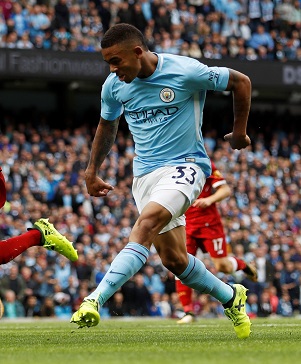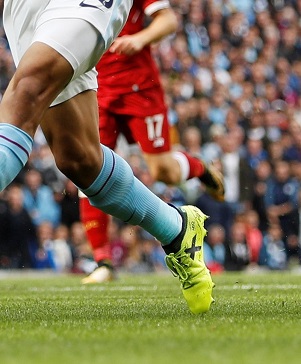 ---
Let's quickly cover the City/Liverpool game. First, that Mane thing? Red card…if it was your keeper, you'd feel the same way. Second, City can totally celebrate their attacking prowess and feel like the 5-0 scoreline shows their ability to challenge the top teams in the league. Third, Liverpool can make excuses and shirk some of the 5-0 loss into the past, but five goals shows the defensive frailties that still exist. Jesus somehow feels like the most underrated cog in a seriously upgraded City machine…it's a bit scary.
New Balance Visaro II Unknown
Yohan Cabaye (Crystal Palace)

---
Cabaye must have had crazy odd feelings during his match. He once played for Newcastle…then went to PSG…then to Crystal palace…only to end up losing to Newcastle United…weird, right? Outside of his past affiliations, Cabaye is enjoying a Visaro that we've never seen before. It isn't cut like a Furon, but the colorway isn't like a Visaro we've seen up to this point. Maybe New Balance has something on the books that will explain what Cabaye is wearing. We'd also love to know why Cabaye's Visaro looks totally smooth…a little help NB?
Nike HyperVenom Phantom/Nike Mercurial Vapor IX/Nike Mercurial Vapor Neymar
Neymar/Mbappe/Cavani (PSG)

---
So, I totally understand that Cavani isn't in this picture, but we can't decide whether Nike or PSG is happier with their new triple threat attack. Nike now has the claim to PSG's kits and three of the biggest stars on the front line of any starting 11…the American brand has to be seeing some serious $$$ floating above Paris every time the starting whistle blows. I do think that Nike would love for any of these players to enjoy the dynamic fit collar, but they probably won't be too upset. Totally ignoring how dangerous these three players will be and if PSG's Champions League dreams can come true, it's an incredible brand situation for the Parisian giants. Could the Swoosh have planned it any better?
Nike HyperVenom Phantom III
Cam Lindley (University of North Carolina)

---
College soccer has finally gotten underway and the trip to the College Cup in December has officially begun. Any fan of college footy knows that the ACC has to be the most dominant force in the sport (just look at MLS rosters and where they went to college), so Lindley scoring a game winner for North Carolina deserves some props. Not to mention that Lindley is enjoying the best Nike boot available (perhaps tied with the new Tiempo Legend)…perhaps this will be a name that we hear at the MLS SuperDraft in the next few years. We've now delved into college soccer for our last spotting over the last two weeks…perhaps we can keep that streak alive for a little while!
We hope that you enjoyed this quick spin around the spotting block and that we get to see you guys again next week. Stay tuned into the Instep this week as we break down the three different versions of the Puma ONE, see what the leather NB Furon has on offer, and might even sneak some more sweet sweet boot action in before the week is over and it's time to go spotting again! Let us know what spots we nailed, what spots we missed, what sites seem to have incredibly similar spots show up only a few short hours after ours appear, and why Under Armour put a zipper on a soccer boot?