The Instep is here with our very first boot spotting article! While games may be few and far between during the off-season, the Confederations Cup will have to be adequate sustenance until the season starts up in another 2 and a half months time. But until then, the Instep will bring you the best boot switches from all four corners of the globe. Check out the boot spots that caught our eye this week…
Lionel Messi (Argentina) – adidas F50 adiZero TRX Messi (Custom)
It has been a week of massive highs and lows for Argentina's little wizard. Just days after being on the receiving end of tax evasion claims back in Spain, Messi also surpassed Maradonna's international goal scoring record with a hat-trick against a hapless Guatemala outfit. It is fitting that Messi did it all while wearing his own signature adiZero (which are of course customised with a leather upper, preferential treatment that has only been granted to the man himself).  However, it is interesting to note that Messi has not switched to the recently released Infared/Running White/Black colourway that many international stars have been showing off for the past week. We are not quite sure how long Messi was supposed to wear his signature adiZero for, but we will keep you guys informed if Messi switches his boots over the coming weeks.
Mario Balotelli (Italy) – Nike CTR360 Maestri III
There are one or two interesting situations that are worth keeping an eye on before the 2013/14 football season commences, and the footwear of Mr Balotelli is one that is definitely worth watching. The striker is seemingly in a bit of a conundrum when it comes to what boots he will be wearing. He wore the Nike HyperVenom Phantom for the first half of Italy's game against the Czech Republic before wearing his usual CTR360 Maestri IIIs for the second half. Balotelli has been wearing both boots in training for the Italians, but he wore the CTR360 Maestri III for the whole of Italy's game against Mexico. Considering that Balotelli did score the match winner in the game, he might be sticking around in the Maestri for a little longer.
Gaston Ramirez (Uruguay) – Nike HyperVenom Phantom
Whenever a new boot gets released, we always see a few stars switch silos in favour for the new release. Gaston Ramirez is the first star we have seen pull out of a different silo in favour for the new Nike HyperVenom. The Southampton forward has traded in his Nike Mercurial Vapor IXs in favour for the new HyperVenom. Ramirez is pretty close to the sort of player that Nike are trying to market their HyperVenom to (an attacking midfielder is close enough to a striker!), and we expect to see a lot of forwards and attack-minded players to be wearing the HyperVenom come the start of the new season.
Keisuke Honda (Japan) – Mizuno Wave Ignitus III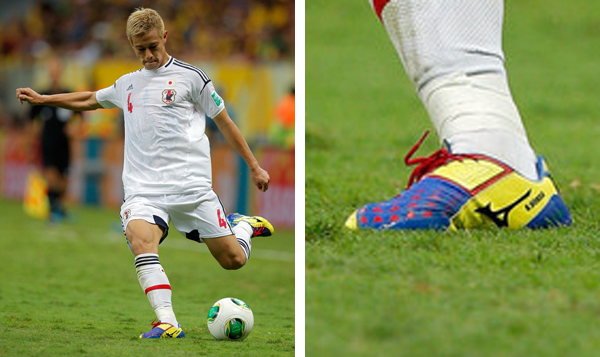 There is no denying the brightness of the Mizuno Wave Ignitus III on the football pitch, which might explain why Keisuke Honda has been spotted in the bold Bolt/Black/Blue/Red Wave Ignitus III colourway for the Confederations Cup. Honda actually debuted the Wave Ignitus III in the alternative Silver/Black/Autumn Glory colourway whilst he was playing for CSKA Moscow a few weeks ago, but Mizuno have handed the Japanese star the much more intense colourway this week. Perhaps it is because the bolt colourway is much more recognisable than the silver colourway, and exposure is definitely something Mizuno would want to consider whilst Honda is playing in the Confederations Cup.
Javier Hernandez (Mexico) – Nike Tiempo Legend IV
It is not very often that we see Chicharito change his boots, but we have picked up a pattern to the Mexican's footwear. It seems Hernandez has a strong preference for white football boots as he switched between the White/Court Green/Metallic Silver and White/Black/Total Crimson Tiempo Legend IV models this season. But he has switched into the very summer-inspired Light Bone/Black/Volt colourway for the Confederations Cup, and he scored a penalty in the debut game for his boots.
Shunsuke Nakamura (Rest of the J-League) – adidas F50 adiZero TRX
There are always ex-footballers playing in charity football games here and there, and it is always interesting to take a peek at what boots they wear. While Ballack and Zidane caused a stir in wearing adidas Nitrocharge 1.0s during charity matches in the past few weeks, Shunsuke Nakamura has stuck by the F50 range that served him during his career in Europe. The ex-Celtic midfielder brought out the new Infared/White/Black F50 adiZero colourway during a recent charity game in Japan where he made an appearance for the 'Rest of the J-League' side. Considering that Nakamura was wearing the adidas F50 Tunit the last time he was playing in Europe for Espanyol, it is fair to say that the F50 range has come a long way since then!
Abby Wambach (USWNT) – Nike Mercurial Vapor IX
While nearly all of the professionals wearing Nike Mercurial Vapor IXs settle for either the FG or SG-Pro stud configurations, it is very rare to see a player opting for the AG version of the boot. Abby Wambach is one of very few professionals who go around wearing a boot with AG studs. There is a massive difference between the AG stud configuration and the normal FG one, with the AG stud configuration featuring 21 studs that are much shorter and wider than your average FG stud. Considering that there are quite a few professional games being played on artificial grounds in America, it does make you think as to why very few players are choosing AG boots like Wambach has.