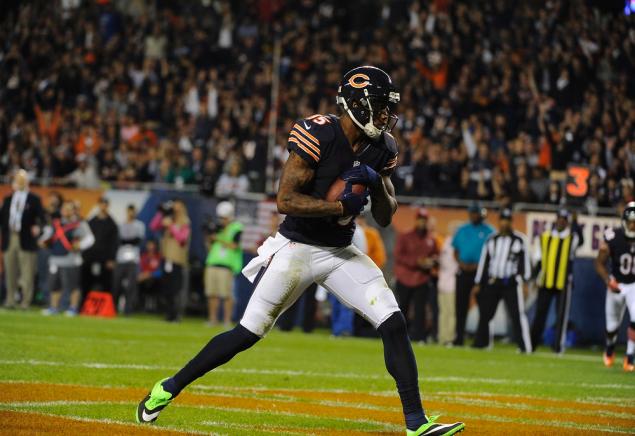 Although we always find our subject material drawn to the gear used within the beautiful game, we have been drawn outside the confines of the pitch and onto the football field for this great story.  For those of you that know nothing of American football, Brandon Marshall is an absolutely amazing professional football player that currently plays for the Chicago Bears.  At 6 ft 4 in, Marshall dominates with impressive speed and the ability to catch anything that gets thrown his direction.  However, during Marshall's recent game against the New York Giants, Marhsall decided to pay homage to Mental Illness Awareness week.
While wearing a certain color to represent a cause is nothing new, especially if you have seen the pink gear that always appears during October (Breast Cancer Awareness month), the NFL is notoriously hard on players wearing non-sanctioned colors or cleats.  Still, Marshall tried to find a green pair of cleats to raise awareness about Mental Illness, and Marshall decided that the perfect boot to do that with is the Nike HyperVenom Phatal in the Flash Lime colorways.  Although soccer cleats can constantly be found on kickers and punters in the NFL, it is extremely rare for a player that will be battling for most of the game to wear a soccer boot…making this spot even more impressive.
Despite being fined $10,000, Marshall did a great thing by bringing attention to a great cause and by making me squint at my TV all night on Thursday trying to make sure that Marshall was wearing the HyperVenom.  If more football players gave soccer cleats a chance, we here at the Instep wonder if they would become popular with some of the players.  Soccer cleats are still lighter than football cleats by a fair bit, but football players will definitely be concerned with the protection aspect and that may prevent this from actually becoming popular.  Plus, getting hit with a $10,000 fine every single time you wear a special pair of shoes is not every player's first choice.  Kudos Brandon Marshall…how about wearing those HyperVenoms all year?