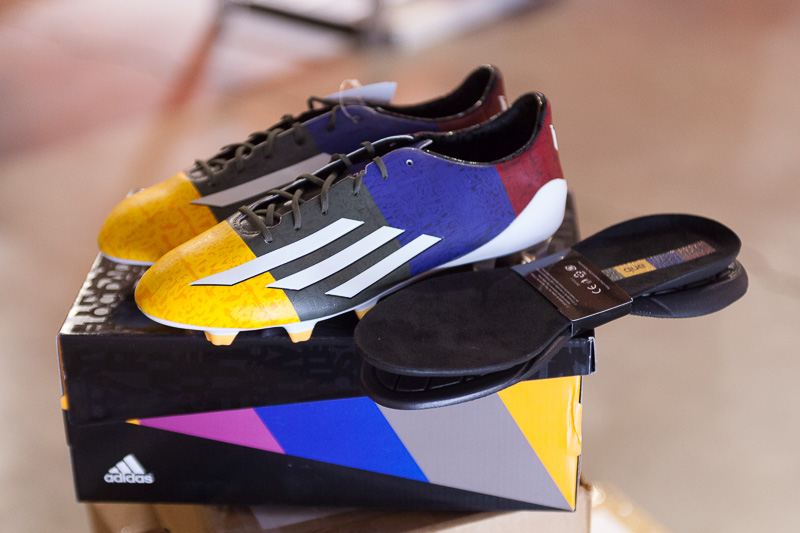 In just a couple days, Barcelona will begin their quest for a 5th Champions League title. When they take the field, their star will have a brand new boot to show off – the adidas Champions League Messi F50 adiZero. This release seems to have combined some of the aspects of past Messi F50s with his club team. You'll see the Solar Gold of the last release on the toe, the similar multi-color aesthetic of their February F50, and the Barcelona colors on the midfoot/heel. This is Lionel's Champions League boot, so adidas decided to drop the classic Barca dark blue and red on the back half. On the heel, you will see Messi's "M" logo in white, stamping these cleats with his own style, just as Ronaldo does with his Nike Mercurial "CR7" releases.
You may be wondering about the color between the Solar Gold toe and the Barca blue. Apparently that's Earth Green, which represents… well, actually I don't know. Maybe they just needed a fourth color. Anyway, just like the last F50s, the "mas que un botin" (more than a boot) motto appears on the footbed. To match the Solar Gold on the front, the cleat tips have also been painted gold to add a little flavor to the mostly white soleplate. Nothing about the tech on this lightweight boot has changed, as this is just a color-up.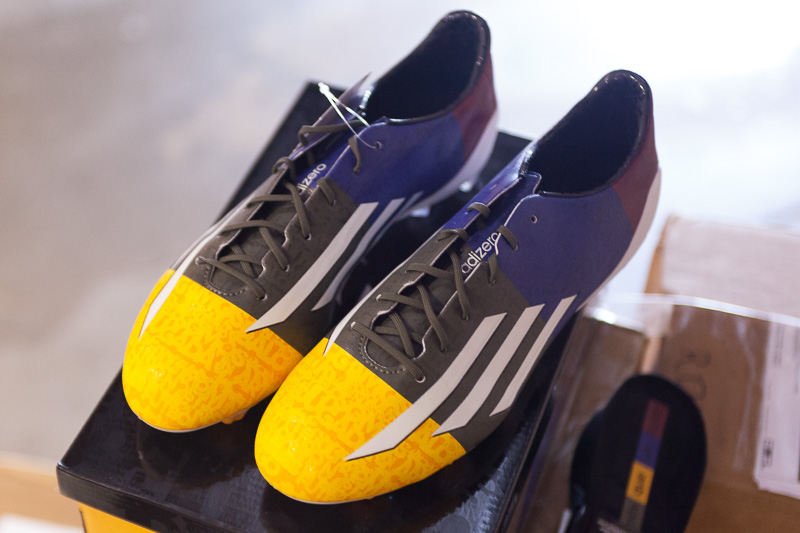 Allowing some continuity, the four color blocks appear on the box as well. This helps make this release feel like the special Champions League version it is. Still, it's an interesting release from the Three Stripes because of the unique design. To keep it from looking too plain, they kept the "word jumble" upper from the Solar Gold release, which reflects a glossy appearance in the light. This design may prove to be divisive, as this F50 is simply just four color sections instead of the classic two-color design or even a blended look like adidas has done in the past. Let us know what you think, love or hate, about it below.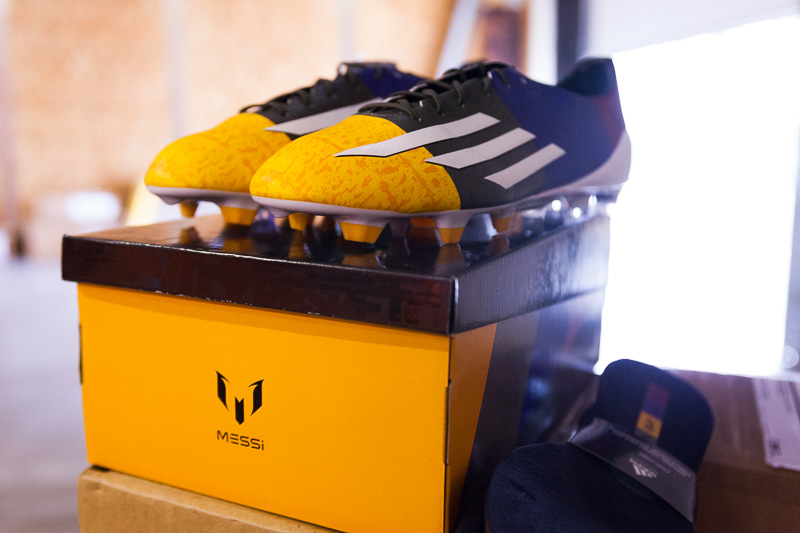 Barcelona's Champions League group this season includes PSG and Ajax, and on Wednesday make sure you tune in for their first Champs League match against APOEL FC. Wikipedia tells me that long acronym is a football team from Cyprus who actually made the quarterfinals of the 2011-12 Champions League. The more you know.