The Nike Mercurial Vapor is one of the most historic boots in the history of soccer. Since it's release in 2002, Nike has continually outdone itself by adding more and more features that are, bar none, the best. Just before the World Cup in 2002, a special chrome/lime variation of the Vapors were introduced to the world and worn exclusively by Ronaldo of Brazil. There were only 4,600 total pairs made for the public to wear.  While wearing these boots for the first time, Ronaldo put these in the spotlight. He won the Golden Boot with a total of 8 goals, including 2 in the final against Germany.
The latest edition of the Mercurial Vapor 02M's features the same chrome and lime colors that were prevalent in the 2002 edition. The top of the boot is mainly chrome with a black Nike Swoosh. The color update might say that it is just simply Metallic Silver but boy, is that an understatement. You'll have to wear sunglasses while looking at these things. To complement the chrome, "NIKE" is written in bright lime along with a lime inner.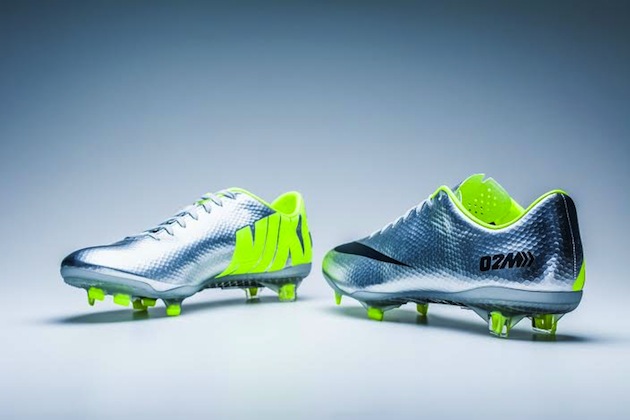 If I were to have you close your eyes and put a feather in one hand and this boot in another, I bet you can't tell the difference! The Teijin upper on this boot is nice and stretchy, including thousands of dimples. Compared to other shoes, these are made for a footballer looking for mainly speed and quickness. As well, Nike has created an ACC (All Conditions Control) upper so no matter the weather you will be able to control the ball like it's on a string. I think the stud configuration of these cleats give just enough grip and traction while keeping these boots lightweight.  They seem pretty sturdy to me, plus I've never had any problems with a Nike shoe wearing out too quickly.
These shoes are $225.00 retail, only $202.49 at SoccerPro.com, but we're not telling you where to buy your cleats (cough, cough). In my opinion, Nike is by far the greatest soccer shoe company in the world today. The Vapor is the most renowned shoe on the market today. With the World Cup in Brazil approaching, these Ronaldo-inspired cleats couldn't come out at a better time.