Nike Mercurial Superfly 7 Elite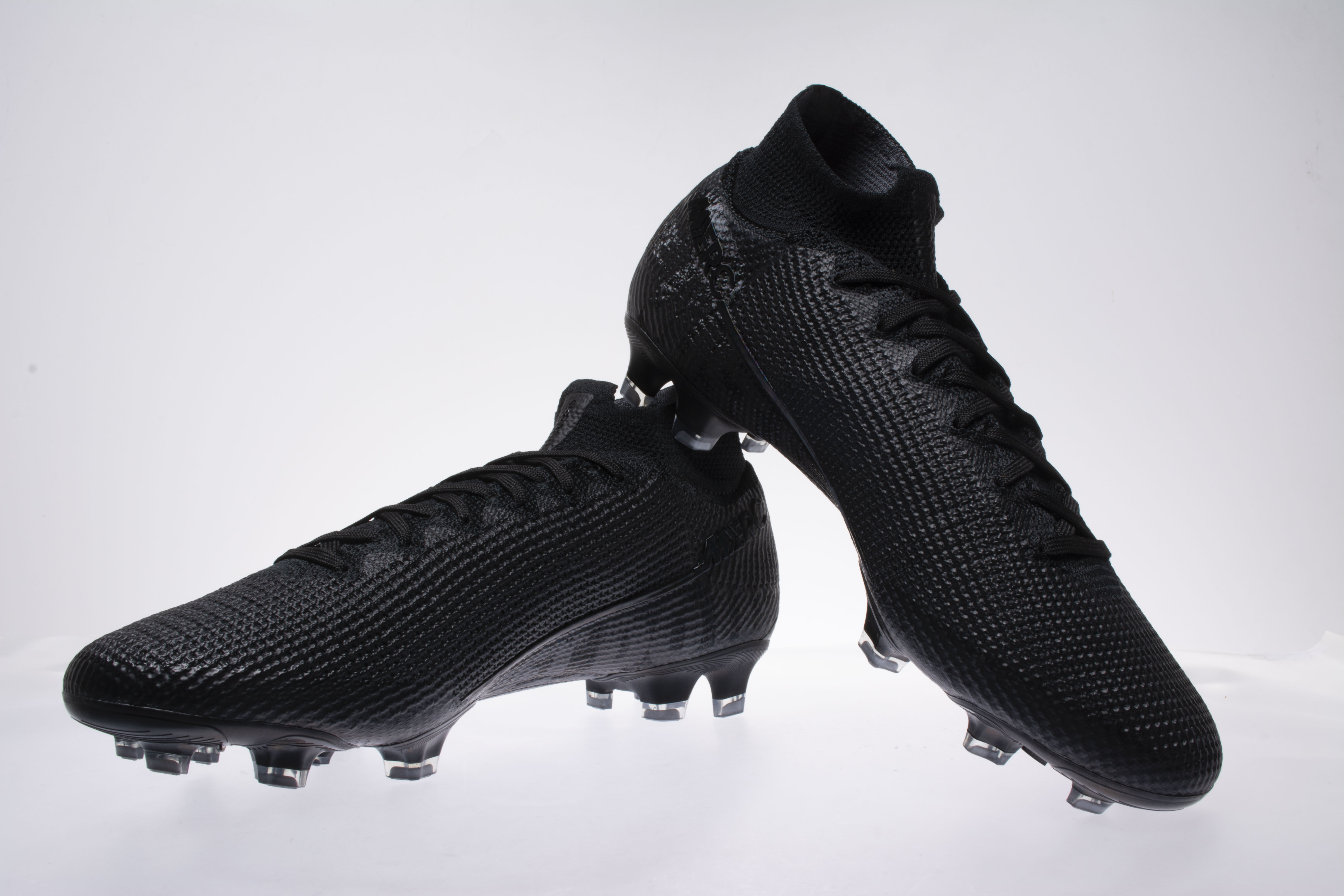 In the wild, there are several species of animals that demonstrate their dominance over other creatures, or simply other sources of competition within their own species, with wild displays. A lion is synonymous with its massive mane, giving it a constant connection to being king of the jungle. Other animals display impressive plumage, bright colors, or even just bulk themselves up to appear more intimidating. In soccer footwear, the outstanding Nike Mercurial SuperFly has always been the showiest of creatures.
From inception to date, each iteration has been awash with tech, colorways, and a look that screams for the crowds to stop and stare. A boot that, even when it wasn't the most comfortable, best performer, or even one of the best boots on the market, could capture imaginations and send boot fans scrambling to empty their wallets. From carbon fibre, to FlyWire, to FlyKnit, to the newest SuperFly VII, there's never been a single moment where this boot's lifespan would invoke the word "shy."
However, after we raved about the newest Vapor and with the market covered with viable options for your upcoming season, is the SuperFly VII able to still hold sway over the masses? Or, has the emperor truly lost his clothes?
THE LOOK
The short: sleek with a collar.
The long: early images and even our first few moments with this boot had us thinking that Nike had done one really ramped up copy+paste job with the release of the newest SuperFly. The FlyKnit pattern might look different up close, but that could be mostly cosmetic. The collar looked identical to what we had seen on the SuperFly VI, so we weren't quite sure whether we really had a new boot on our hands, outside of a new name, of course.
We have already seen several colorways, and there's been everything possibly available for every type of fan. A blackout colorway for purists and anyone that wants their incredibly slim-lined boots to appear bulky from far away (what type of magic makes every blackout boot look this way from distance?). Not your style? How about a blue/white combo that will appeal to anyone wanting their SuperFly to stand out. A collector? Try a limited edition orange/white/black combo for anyone wanting the SF on their display shelf instead of the field. Buy your boot based on the sponsored player? We have even been graced with a Cristiano Ronaldo signature colorway.
The one thing that really has seen a change with this boot is the wealth of Nike related callouts that sit on most of the bottom half of the upper. Everything from "Nike Football" written in different languages, to motivational phrases, to the iconic "Just Do It." This boot cannot deny its creator. Don't care for all that? The blackout still has all the same design, but nobody can spot it without taking a dangerously close look at your new wheels.
THE TOUCH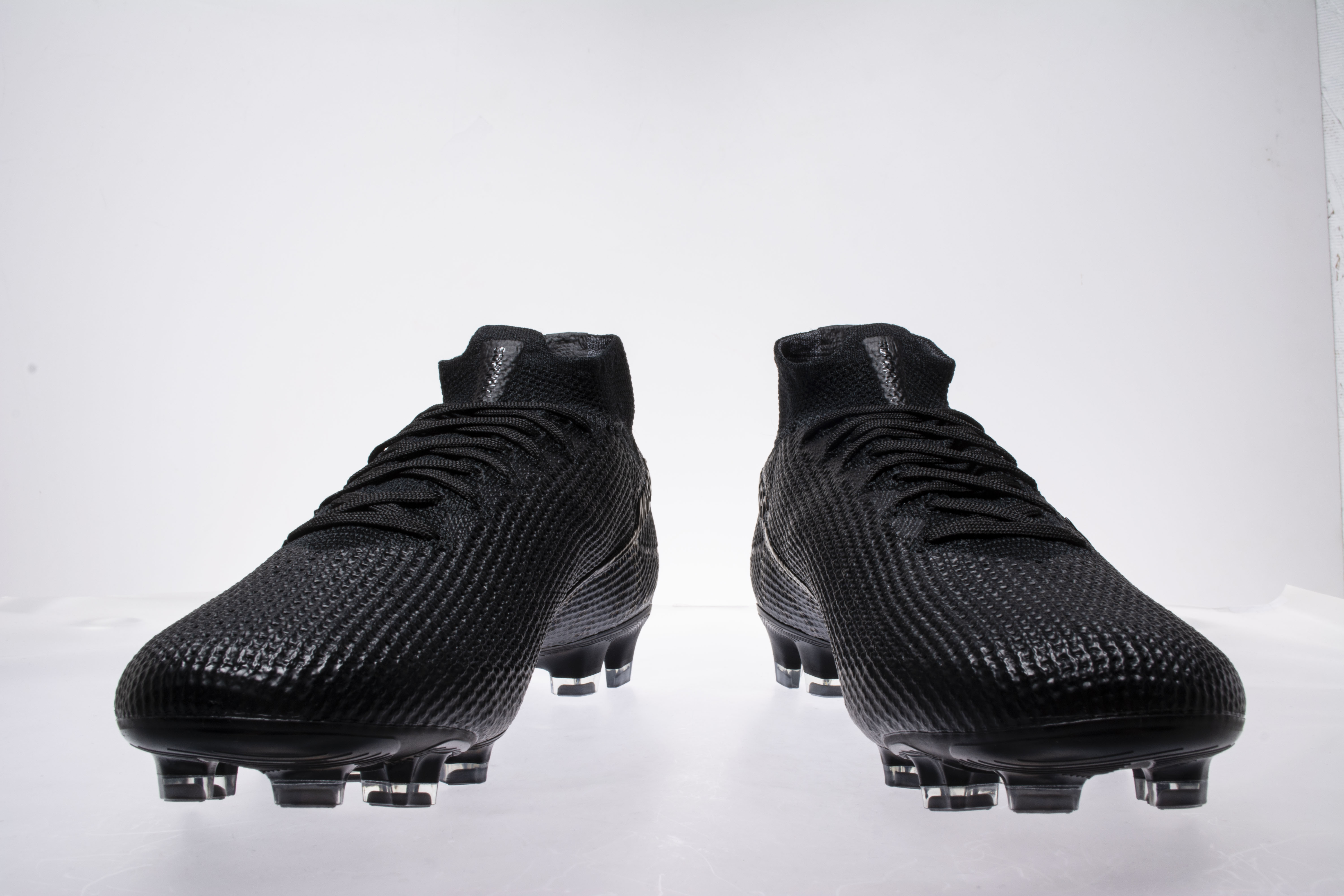 There are few boots whose play style is almost synonymous with the boot. With the SuperFly, there's no hiding in the background or feeling doubt when faced with a 1v1 situation. If you've wandered into the waters of Nike's biggest headliner, then you're hitting the pitch with an identity that you're there to be respected, to be victorious, and to dominate. It's practically a lifestyle.
If you stumbled on our Vapor 13 review, then you shouldn't be very surprised by how much we enjoyed our time with the newest SuperFly. Your first run-out in your new boots showcases a boot that feels much thinner on your feet than it looked in your hand. This all comes from Nike combining different knits into the primary layer of material in the boot so that it stays thin while providing: comfort, structure, responsiveness, and a super crisp feel on the ball. Where past SuperFly boots also had a bit of a plastic-esque coating on the upper that always kept the boot slightly removed from being the elusive "barefoot," the VII has only a thin layer (super thin) of NikeSkin on top of the knit. In today's market, the SuperFly showcases one of the closest touches you can get on the ball, and it will drive all the players hunting that "barefoot" sensation absolutely crazy.
When you start dribbling, the SuperFly practically demands you to bring out all your tricks and flicks to the party. By keeping you so close to the ball, it tempts you to try and take on the entire opposing team. Everything you attempt feels incredibly clean. It's a feel on the ball that always sets player imaginations alight with the dream of pulling off that trick you just saw on a YouTube compilation. We know CR7 being housed in the SuperFly is a big chunk of just Nike marketing, but it's tough to imagine a boot that isn't more perfectly suited to Ronaldo's particular brand of brash moves.
When it comes time to either silence the opposing keeper or pick out your teammate's run from a distance with the perfect through ball, the SuperFly offers one of the most uniform feels across the entirety of the upper. With the only change in padding as you get close to the heel (and that padding's just there for comfort), a strike with the outside of the boot feels the same as using your instep, your laces, the edge of the toe box, need we go on?
If you're looking for a boot to add a boost to your shot, some curl to your free-kick, or just some real padding for bringing the ball out of the air or maybe just love the bulk of boots gone by, the newest SF is not for you. This bad boy tries to get you as close to the action as possible without sacrificing quality. It's a tough combination for brands to find, but it's always a show-stopper when any boot manages to juggle it properly. Shooting is going to feel like the ball absolutely pings off the boot, mainly because there's nothing to mitigate the blast you're putting through the back of the ball. Passing is incredibly clean, and you're going to be able to know that it's all going to be down to your skill when finding a pass or trying to control one, this boot isn't going to hamper anything you're trying to do.
Our time spent testing during the collared uprising (see what we did there) means we don't really struggle with slipping collared boots on, and there isn't as much a learning curve for new members to the club.
For anybody that hasn't taken the collared plunge yet, let's take a closer look at what the SuperFly's collar has on offer. The material is uniform with what you have running through the area where the tongue would typically sit. It's quite soft and is easy to stretch and move with your hands in order to get your foot in the boot. Don't expect this to be an ankle brace or do anything to keep your ankles safe from a nasty sprain, but know that it is a unique sensation. The best we've ever been able to describe it is to tell players that it makes everything from right above your ankle down to your toe feel like one unit. It's a feeling that some players fall madly in love with, but there are some that do not enjoy the build. Us? We enjoy it, but it's not a requirement for us to love a boot.
The soleplate for the SuperFly was something we already enjoyed on the last version, and Nike has actually improved that build while keeping everything nearly identical cosmetically. A bit of added flex in the forefoot helps make you feel like your initial push to begin a sprint is really responsive. The studs make sure you're not going to be slipping and sliding anywhere, and we'd put this set-up against anything else that's out there, you might have an argument for soleplates that can match up, but there's not much out there that can beat it.
THE FEEL
The Nike Superfly silo has not always been accompanied by comfort. In fact, the first three generations are rather infamous for how difficult a break-in process would be for your newest purchase. You even hear many boot nerds talk about how owning a Nike SuperFly was more of a statement on your style of play and your confidence instead of a choice made in order to snag the best performing boot. However, since Nike's introduction of FlyKnit to the iconic silo, we have never had too many flashbacks to the blister-filled days of the early models (I still have nightmares about breaking in the SuperFly III…gives me the chills just thinking about it). Still, FlyKnit wasn't perfect as Nike's choice of coating or soleplate seemed to always keep the boot from ever entering the realm of being one of the most comfortable choices on the market.
As we said when we reviewed the Vapor, this boot has easily shirked the demons that plagued early SuperFly releases in terms of comfort. If you enjoy the high-cut collar of the SuperFly, then there isn't going to be any aspect of these new boots that won't have you sailing easily within your smooth ride. By using what Nike has dubbed High Tenacity Yarn (HTY), the American boot giant has been able to give a great fit out of the box without having to add their Quadfit system. This keeps the boot from being too thick, and is why we raved so much about its performance. The HTY joins with all the FlyKnit to make sure that you feel secure, snug, and comfortable as soon as you've slipped your feet into the SF. It feels like this type of build allows us to get as close as you may ever find yourself to the fit that professional players get to enjoy.
If you're looking for that top-notch touch we described earlier and this elite level of comfort, we're not quite sure what else we can do for you. Nike's given any and all fans of the collared era a boot that seems to check every box.
Turning the boot over, you might quickly dismiss the soleplate as unchanged. However, Nike has made a few slight addendums to try and continue moving forward with this design. Aerowtrac tech in the forefoot brings a feel that makes the boot feel more responsive without being stiff enough to cause any foot pain or issues. Nike is still trying to sell us on the split sole, but we know that some players are not quite fans. We've never had any durability issues or extreme hot spots, so we've always been on board with the change that we saw with the last SF/Vapor. We will say that this is one of the more aggressive stud patterns you'll see, and trying to sneak them on anything but firm ground pitches would be a mistake.
BANG FOR YOUR BUCK
This is one of the main areas where the SuperFly gets dicey and starts to fall well behind the Vapor version. With a retail price at $275, you're paying a premium for merely two inches of FlyKnit that creates a collar. Now, as we've mentioned, there are always going to be players that have decided that they love the way the collar makes a boot feel, but it's really tough for us to see this addition as much more than cosmetic. It's always tough to justify spending 200+ dollars on a new pair of boots, but adding on extra while the Vapor sits at a lower price point is a tough sell. However, if you're not too worried about the top dollar pricing, these boots are well worth the investment.
WHO'S WEARING IT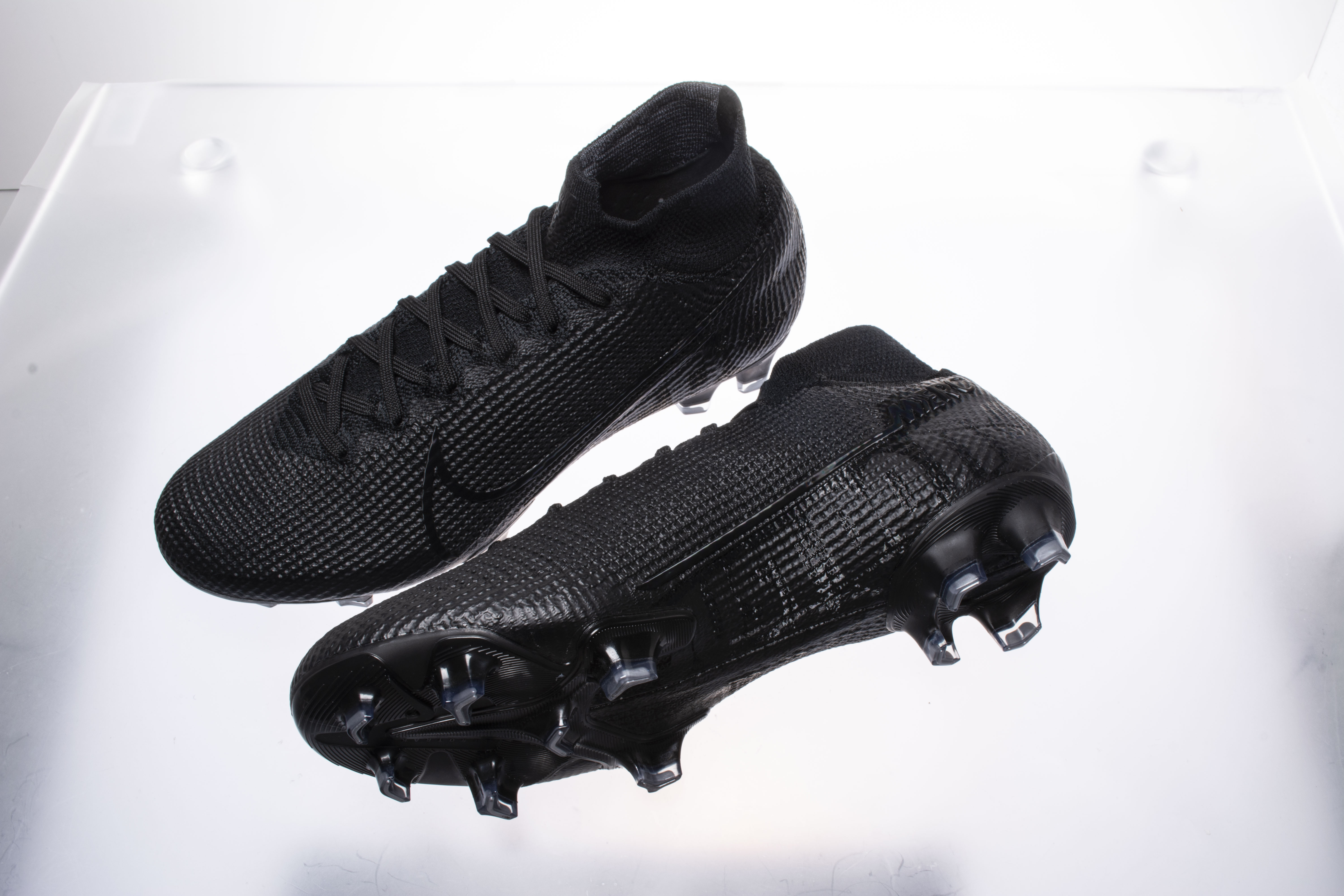 The hardest part about identifying SuperFly athletes is how tough it can be to quickly tell who is wearing a Vapor or SuperFly without decent post-match photos. In fact, when a boot matches the player's socks, it almost becomes impossible. However, the usual suspects will definitely be representing the SuperFly throughout the next season, with players like Carli Lloyd, Mbappe, and, as always, CR7.
FINAL VERDICT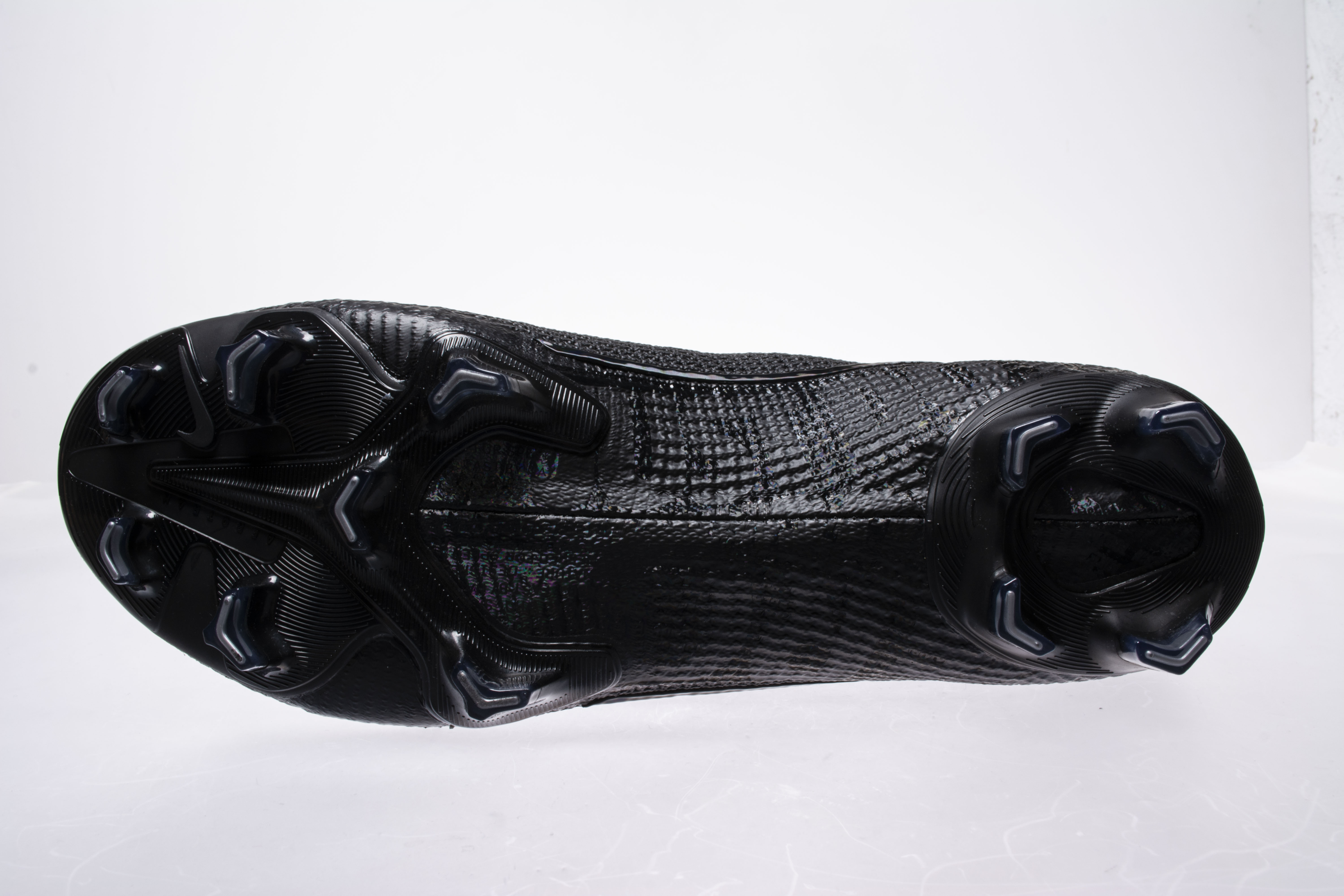 Perhaps one of the toughest verdicts we've ever had to hand down for a phenomenal boot. At the end of the day, with the extra $ you'll need to shell out to land this version, coupled with how little the heightened collar actually seems to add to the performance of the boot, and we can't possibly rate this higher than the Vapor. However, when you set the SuperFly on its own without competition from the tier that, technically, resides below it, it's an option that sits right near the top of the current market. If you've been hunting an incredibly close feel for the ball and you're still addicted to the collared craze, then this is easily the best SuperFly yet. Can you justify it over the Vapor? Then, you're going to love it…period.