NB Furon v5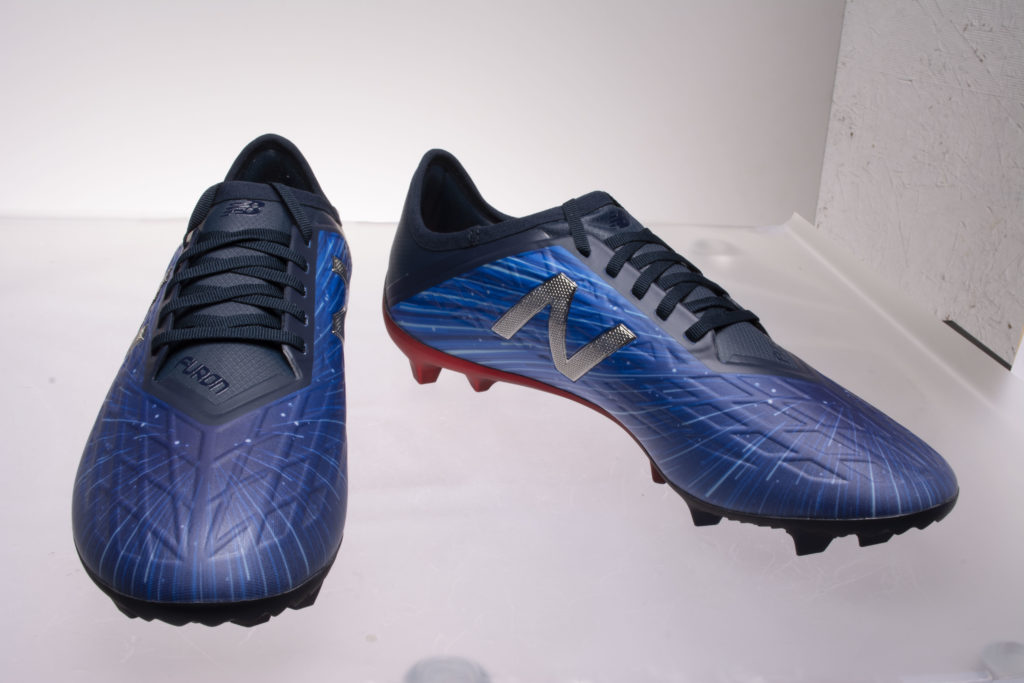 This generation of soccer gear is going to be remembered by gear nerds as the age of the "other" brands. While the behemoths of Nike, adidas, and Puma aren't seeming to slow down, over the last two years, we've been falling in love with boots outside the big three at an alarming rate. From Under Armour to Umbro, there have been impressive releases that simply aren't getting the love that they deserve on the world stage. Perhaps the best example of a brand outside the most noticeable brands that's consistently spitting out winners is New Balance. After a shaky start with the first few iterations of Visaro and NB Furon, New Balance has really hit their stride with the new Furon and Tekela. We've brought in both boots for testing, and it's the 5th version of the Furon that steps up first here on The Instep.
We won't spend the paragraphs we could waste about how rough the first Furon was (it was one of the worst boots we've ever reviewed), but each iteration of the Furon has seen continued progress from New Balance as they craft one of the most aggressive boots available on the market today. While the changes from the fourth Furon to the newest version aren't massive, it's still a continued step towards NB having a dynamite 1-2 punch to try and steal a corner of the market for themselves. Let's take a look under the microscope at this boot and see if New Balance continues to barrel towards success or if they've tossed a wrench in their success.
THE LOOK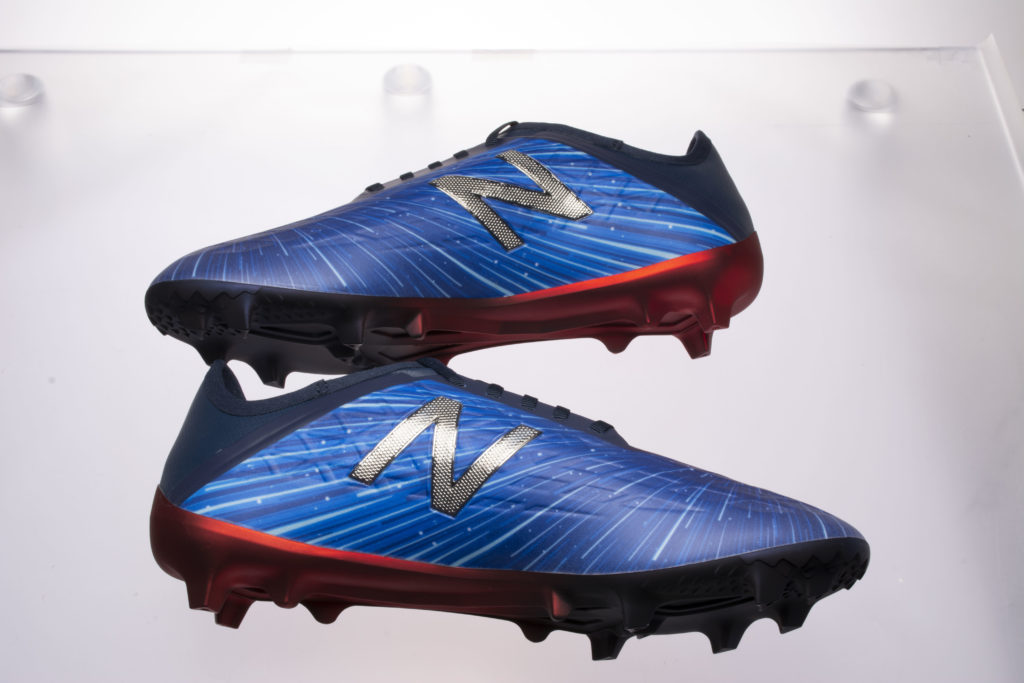 The New Balance pantheon has always struggled for a signature look that has fans able to spot certain models being used during big matches that get televised. Luckily, for New Balance, Sadio Mane has had a season to remember rocking the New Balance Furon and has brought some attention to the streamlined wonder emblazoned with a massive "N" on the sides of the boot. These boots are still a few well crafted marketing campaigns away from people being able to notice these boots from a distance, but the Furon is starting to hone in on a fairly signature look.
What is that look? Streamlined speed.
The boot is low to the ground, has a very low cut collar (there isn't a tongue), and has a slight raised design on the upper that blends together to simply showcase a boot that looks ready to zip across the field at super speed. Even the way the New Balance "N" logo leans towards the front of the boot, it all seems to preach towards a boot that even looks fast. With New Balance saturating us with several different colorways for this boot recently, there's a look out there for anyone. We're massive fans of the Light Shift pack looks, especially the soleplate that fades from red to black, but there's going to be no shortage of fantastic options with the Furon 5.
THE TOUCH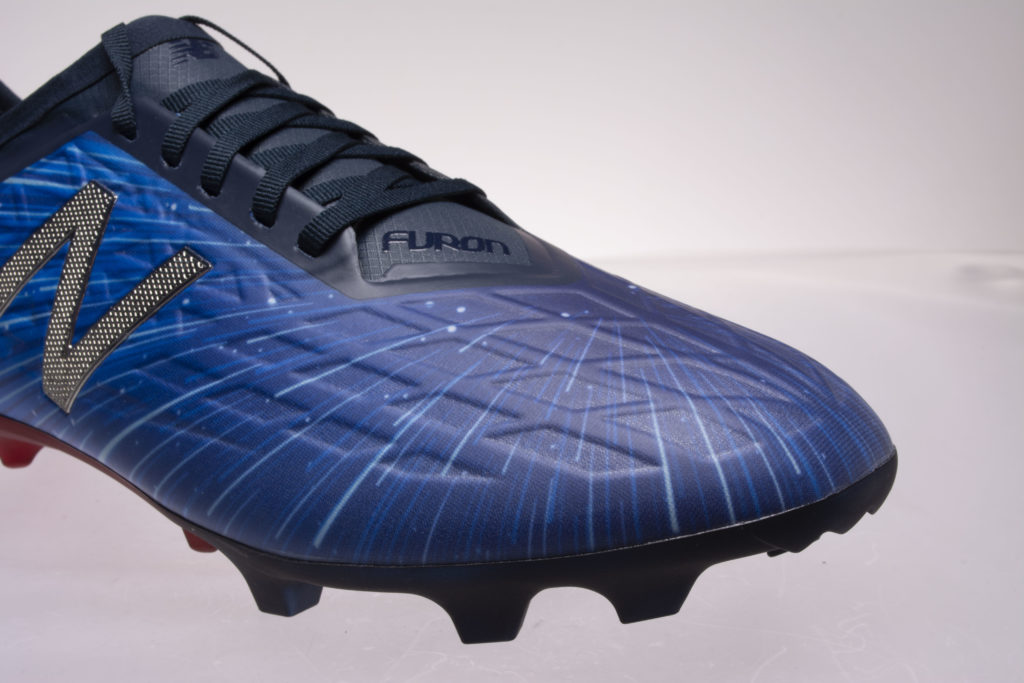 While other brands seem to be trying to traverse down unproven territory and see if they can find the next big thing, New Balance is busy in the lab trying to craft perfect versions of boot types that we all know and love. The Furon, after the disaster of the original, has been well on its way to finding itself as a great option for those that feel the market has left the speed boot styled silo behind. New Balance has taken the lessons of the past that has shown that speed boots aren't necessarily crafted in the lightest possible package, but by giving a boot with a super thin and clean touch on the ball. Let's see if the Furon 5 is able to provide that type of feel without regressing from what New Balance has done with the Furon.
The first thing that you notice with the Furon 5 is that the upper sits super close to your foot. The material that makes up the Hydroskin upper is quite thin and sits low, but the four-way stretch that New Balance has placed in the area where a tongue would be is what enables it to sit tight to your foot and feel like you've slipped into a glove. The low-cut collar also contributes to this sensation that is almost like creating a suction seal for your foot. It makes the boot have a top-tier 1-to-1 feel and feels like your foot is locked in. When you get on the ball, you're reminded of some of the earlier versions of the adizero or Vapor in terms of how close this upper lets you feel on the ball.
When you finally get tired of being a massive ball hog (which, with these boots, I get it), passing and shooting are extremely uniform with this boot and the thin nature makes everything feel super crisp. There's not much between you and everything you do (in terms of the upper), so controlling the ball or trying to zip a pass to a teammate feels clean and ultra responsive. Bringing a ball out of the air or trying to smash a shot will be completely down to your technique and feel on the ball as there's not much to find between you and the ball at any point. This is the type of feel that we used to long for when the every brand was trying to give us the lightest boot possible, so players that found themselves in heaven during that time period should quickly find a home in the Furon 5.
If you're going to be bringing in the Furon 5, although it should be obvious with everything we've described so far, be aware that you will feel every stud if you're unlucky enough to get stopped on during a game. If you're looking for something that can shield you as you get stuck in on various tackles, the Furon 5 would not be my first recommendation.
The soleplate is one of the most aggressive on the market. We can quickly say that these should not end up anywhere near artificial grass surfaces because the forefoot has sharp triangles and the heel is almost a two-stud set-up. On firm ground surfaces, these bad boys dig in and give some of the best push-off that you can get. The forefoot digs in and helps you stay on your toes while the heel never gets stuck in and all blends together for something that looks like it would be terrifying, but somehow works a treat. It's not a new set-up for New Balance, but we aren't complaining. The one downfall of studs that dig-in so quickly and easily is that playing on a field that is overly muddy means that you are going to be dragging quite a bit of the field with you as you play. The soleplate is also fairly stiff.
THE FEEL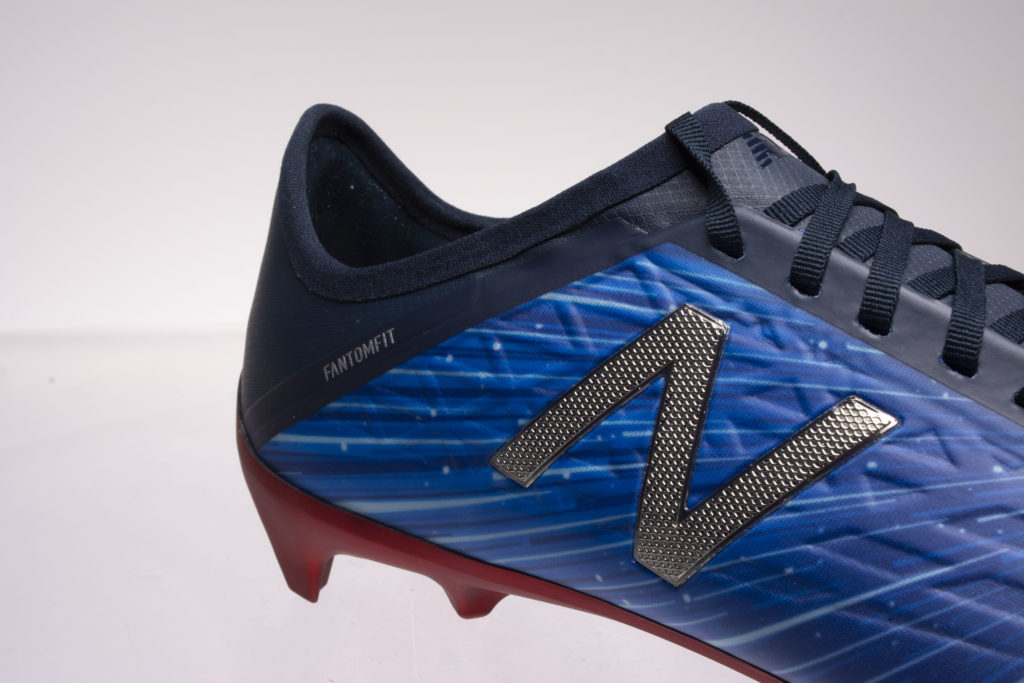 While the New Balance Furon 5 can work its way to being one of the more comfortable boots in your bag, be careful taking these boots out for a spin on the first day they arrive at your doorstep. The New Balance Furon has always been built to keep you super locked in and with an extremely responsive soleplate. Those two combine to make for a situation that could bring about some hot spots and painful moments unless you ease these boots into their rigors slowly. Much like all other brands, New Balance as made the soleplate quite stiff in order to aid in that responsiveness, which also will be something you'll want to soften up slowly. If you do that, you'll find that the boot begins to form around your foot to keep you locked in and ready to stay low and on your toes. The comfort, because of the thin nature of the upper that starts to form to your foot, is top notch, and the heel does have a synthetic leather that (after break-in) feels great on your heel.
The FantomFit, Ortholite insole, and Hyrdroskin upper start to blend well together and you quickly forget about the break-in period with these boots. If you want an upper that you can squeeze under your fingers and have it feel super supple, you need to spend some time with the Furon 5 after it is broken in.
This boot is not meant for wide footed players, simply because the collar has very little stretch for anyone with bigger feet. Luckily, New Balance usually offers a wide footed option, so there might be a home for everyone with the newest New Balance toy. We would say, if you're able to squeeze inside, that these boots do fit true to size and should be great for you in terms of sizing.
WHO'S WEARING IT?
The biggest name with this boot, along with a signature model to boot, is obviously Liverpool's Sadio Mane. Playing on the left side of Liverpool's attacking trio, Mane has been absolutely on fire this year and his Furon boots were at the forefront as he's scored many memorable goals. It wouldn't surprise us to start seeing more of NB's boots flying around professional fields as their boots continue to improve and steal headlines.
BANG FOR YOUR BUCK
While boots tend to be working their way towards a price point for most boots that sits near $250, all of the top offerings from New Balance (even the limited edition versions) sit right around the $200 level. It's always a stretch to say that any boot is worth something that's going to be such a massive hit to your wallet, but if you're hunting for an incredible speed boot, the Furon 5 is ready and waiting to be a great choice for you.
FINAL VERDICT
It's almost becoming a broken record for us in these Soccer Boot Reviews to say that each successive New Balance boot is the best boot the brand has created. The Furon 5 continues moving forward, is a super boot for anybody that feels that the market has departed from the thin style speed boots that lets the ball feel right up against your feet. New Balance has brought a winner to market and the only fear that we have is something that we see with so many great boots that don't have a Swoosh, three stripes, or big cat on the side…will it be given a chance? We can say, with certainty, that if someone is able to take a swim in the Furon waters that they would not be left disappointed. Is it time for you to give New Balance a chance? Definitely.