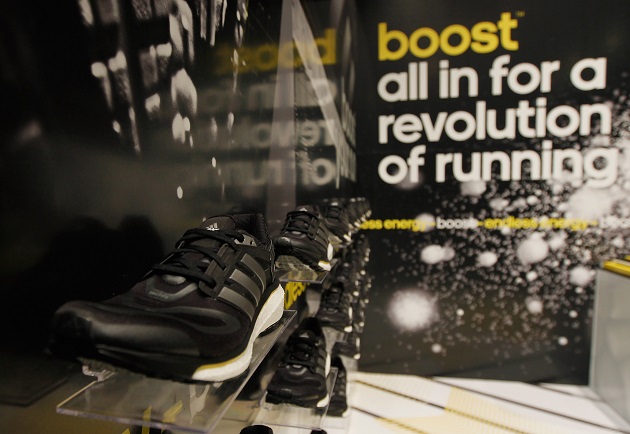 To innovate, the rules have to be broken. Rule: You can't make shoes that are both soft and highly responsive. If it's soft, like a pillow, it can't also be bouncy, like rubber. There is an inherent contradiction there. Well, adidas has shattered that rule. Case in point: adidas Boost running shoes.
Released in February 2013, the adidas Boost story goes back much further than that. In fact, you have to rewind to when adidas wasn't even involved. In 2009, BASF (that's Badische Anilin- und Soda-Fabrik. I know, very German) scientist Frank Prissok approached coworker Martin Vallo with a revolutionary breakthrough during a coffee break.
Prissok had discovered a way to expand TPU (Thermoplastic Polyurethane). Why is this so important? Well, TPU is used in many things you use every day: parts of your car, sporting goods, power tools, and medical devices all may contain TPU. The case on your iPhone is probably made from it. BASF is the largest chemical company in the world and even they couldn't find a way to expand TPU before Prissok's innovation. What he did was increase its volume while still making it lighter, thus allowing it to be soft and responsive at the same time, defying the contradiction. Vallo describes Prissok's process:
"The standard presentation of TPU is in the form of fine granules. [Prissok] exposed these granules to pressure and heat. It increases the volume tenfold and you get oval-shaped foam balls with tiny bubbles of gas trapped inside. It's a bit like popping corn in the microwave. The air compartments make the material extremely elastic. Nobody had ever managed to foam TPU that way before."
They called their expanded TPU foam Infinergy. This is the crux of what would become Boost technology.
Armed with Infinergy, Vallo took the idea to BASF's fellow German company and 25-year partner, adidas. They were intrigued, of course, but in its current form, Infinergy wasn't fit for running shoes. Vallo said the issue was getting what worked in the lab to function on a large scale production line. By the end of 2010, BASF and Adidas both knew what they had was gold, and after a couple years of testing and refining, adidas Boost was born.
Roughly 2,500 tiny oval, elastic bubbles of air make up a typical Boost midsole. These capsules store and unleash energy in an ultra-efficient way, "boosting" the runner throughout his or her step. It may look like tightly-packed Styrofoam, but it certainly doesn't act like it. Instead of flattening like Styrofoam does when you step on it, Boost foam springs back to life, returning that energy back to your foot.
Another key advantage is Boost's performance in extreme weather conditions. Tests have shown (Disclaimer: adidas' own tests, but still) Boost foam is three times more temperature-resistant than standard EVA foam. So, whether in oppressive heat or bone-chilling cold, you shouldn't have to worry about your Boost kicks holding up.
Adidas has defined Boost as "a revolutionary cushioning technology which provides the highest energy return in the running industry"; and they've marketed it as "endless energy". This language may be slightly hyperbolic (everything ends eventually, right?), but the hype is legit. After getting to test a pair (review coming later), it really is the kind of bouncy cushion they describe.
What's next for adidas Boost? They moved the technology to their basketball shoes in July of this year, in a fusion of two of their industry-bar-raising features, the Crazylight Boost. With such a breakthrough on their hands, adidas will continue to push Boost throughout their products. It's amazing that a coffee break conversation in Germany about foaming a plastic material can lead to this kind of rule-breaking and footwear innovation.