Coming into this year, we knew it was going to be a special one in the boot world, didn't we? It was a World Cup year, it just had to be. Well, 2014 didn't disappoint. We saw new technology on soccer shoes (Flyknit, AdapLite), entirely new boots (looking at you, evoPower and Magista), and interesting colorways (Battle Pack, Shine Through). Our staff at The Instep just couldn't let the year end without pausing to take a look back at the Year in Boots with our 2nd annual "Boot-ies". In this edition, we'll hand out some (intangible, meaningless) awards to our top 3 boots for Best Colorway.
Honorable Mentions
Andrew McCole: adidas Predator Remakes
Look, this has nothing to do with the performance of the boot when it finally hits your feet or the fact that adidas should have made these all general releases…this is solely to do with the fact that these remakes looked amazing. It makes us wish that brands would do remakes and re-releases more often.
Nike 2010 Vapor IX Commemorative Edition
Anyone that has been a reader on The Instep for any amount of time will know that no boot pack holds a spot in my heart quite like the 2010 Nike Elite series that they made for the World Cup. While my hunt continues for the Tiempo from that collection, the Vapor IX Fast-Forward that commemorated the 2010 series instantly won me over!
Hunter York: Nike Magista Obra – Volt
2014 saw the launch of a new control boot from Nike and the launch colorway did not disappoint. The Volt yellow base made this boot stand out on the pitch at the World Cup and the Flyknit material on the Obra made boot lovers fall in love.  Needless to say, the launch colorway for the Magista is one of my favorite colorways of the year but it did not quite crack my top 3.
Drew Wendt: Puma King II – Majolica Blue
Two things I'm a sucker for: blackout shoes (we'll get to those) and interesting blue colorways. The Puma King isn't what it once was – I don't know of any professionals that sport it – but this King II colorway made me stop and appreciate it anew. Color names are part of the fun; this one is called Majolica Blue. According to Merriam-Webster, "majolica" is a tin-glazed earthenware produced in Italy beginning in the 14th century. What does this have to do with soccer boots? Great question. Still, it somehow makes me love this colorway even more.
Jordon English: The white and gold Nike Mercurial Vapor IX CR7 and the Vapor IX remake of the '10 World Cup SF II were two boots that could have snatched my third spot below, but only just lost out to the Shine Through Pack in the last minute. Both were very clever releases by Nike, and especially in the case of the '10 Vapor that truly brought back some happy memories seeing those boots brought back to the modern day. The just-released K-Leather Predator Instinct is another absolute beauty, giving us a blast from the past with the revival of the most traditional of uppers. On the same note, the tradition of the Black/Red Predator Instinct makes it, for my money, the best (normal) Predator Instinct release of the year.
Third Place
McCole: Umbro UX-1 – Blackout
While Nike came close with the Stealth Pack and the CR7 Gala, adidas taking a shot with the Copa and Instinct, and even Puma coming close with an evoPower and evoSpeed colorway, Umbro put out the (hands down) best blackout of the year in the UX-1 Blackout. A mouthwatering package dropped onto Umbro's biggest surprise of 2014 makes for a boot that boot-lovers fall asleep dreaming about.
York: adidas F50 adiZero – Battle Pack
Another boot that launched in accordance with the World Cup, the F50 Battle Pack was part of the adidas World Cup pack. Players like top goal scorer James Rodriguez wore the boots during the competition. Although the boots did not stick out as well on TV as adidas would have liked, these boots are still a top colorway in my mind and one that I always enjoy seeing from time to time.
Wendt: Nike Stealth Pack
Right after the World Cup ended, the big brands weren't just going to sit on their hands. In a reversal of their flashy World Cup boots, Nike relaunched their Stealth Pack in July. We finally got to see what the new Magista and Mercurial lines looked like in a blackout. In a word: gorgeous. The Mercurial Superfly, with its Hyper Punch accent, and the Magista Obra, with its own Volt touch, were the standouts. However, the underrated piece was the Tiempo Legend V, which made blackout leather fans weak in the knees. It looked old-school, but then you caught a glimpse of that Volt interior and you realized they had a little modern spark after all.
English: Nike Shine Through Pack
It is strange. I found it rather easy to work out my top two best colourways of the year, but finding the boot to round up the article was tough. There were many boots that could have made this spot, but I have given in to the just-released Nike Shine Through Pack. For years adidas have been making the fans happy with an annual blackout and whiteout release of their boots, and while Nike have made the blackout Stealth Pack a year fixture for June/July, a stripped-back whiteout is something never done by Nike. The Shine Through Pack is the closest we have seen to a whiteout from Nike, but there are the pops of colour from the soleplate and Nike logo that makes it unlike your run-of-the-mill whiteout release. Then there is the stark contrast against the black white of the upper and the black Dynamic Fit Collar on the Magista and Superfly that shows Nike have put thought into how they crafted the boots that make up the pack. Sure, it may have started as a whiteout on the drawing board, but the Shine Pack is the whiteout releases with a difference that makes this a gorgeous release from Nike.
Second Place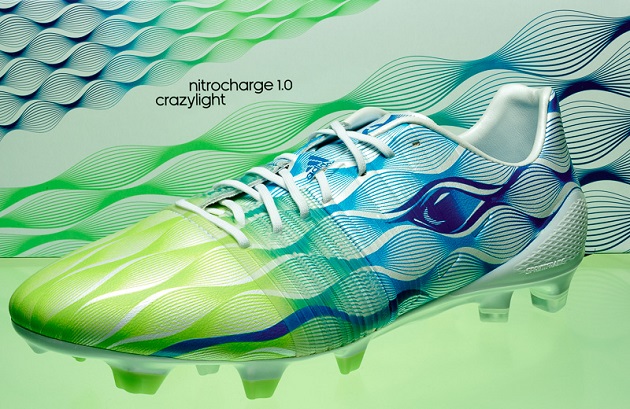 McCole: adidas Nitrocharge 1.0 CrazyLight
While the rest of the Crazylight collection ventured a little too close to the "AHHHH, MY EYES!!!!" side of odd, the Nitro CL hit a perfect blend of colors and design to make it an amazingly appealing boot to look at. Yet another boot that did not get as much press as it probably deserved, the Nitro CL may be the best boot that adidas made in 2014 (no joke). With it being gorgeous AND a top performer, keep an eye out for our review of this bad boy in the coming weeks.
York: Nike Hypervenom Phantom – Neymar
Nike launched a signature colorway for Neymar in the 2014 World Cup knockout stages that featured an entirely gold upper. The story behind these boots goes all the way back to Neymar as a child. Long story short, Neymar used to spray paint his boots gold and thus Nike gave him a gold boot that looked like it had been spray-painted. I personally love this colorway because it is unique and was only worn in one and a half matches before Neymar's horrible injury. Nonetheless, I love wearing these boots and it is still my favorite colorway of the Hypervenom, although the new Shine Through pack Hypervenom is a great looking boot as well.
Wendt: adidas Nitrocharge 1.0 Crazylight
Sorry to copy your 2nd place choice, Andrew, but I'd have to agree. However, the Nitrocharge Crazylight wasn't love at first sight for me. Its subtle touches steadily grew on me the more I took it in. With its yellow-green to dark blue color transition, including some kind of Loch Ness sea monster-vibe throughout, this boot really is stunning in person.
English: adidas Predator 94, Accelerator and Mania Instinct Pack
So you guys know what I am like, I am forever a sucker for anything retro. While there is certainly an argument for adidas overloading the boot community with their 20 Predator releases in the 2nd half of 2014, the throwback to what could be nailed down as the 3 most iconic Predator releases of all time was a true genius stroke. We always complain that boots are not made like they used to be, adidas bringing in some boots of a bygone era remade for 2014 stands out in a year where we seemed to have a new boot launch every week. While many have complained that making it a limited edition release restricted many from getting their hands on one of the most-wanted boots of the year, it just made the boot feel that even more special to marvel at. Picking my favorite release of the pack is certainly tough, but I think the Accelerator just (and I mean just) about wins it over the Mania.
First Place
McCole: Mizuno "Brazil" Pack
While adidas went odd and Nike went bright, Mizuno actually allowed the host country to be their inspiration for a gorgeous set of boots during the World Cup. With the Morelia Neo sporting a more obvious homage in the blue/yellow colorway, the Wave Ignitus III still honored Brazilian heritage by embracing colors of a butterfly that is native to Brazil. With the boots never getting as much air time as they deserve, it comes as no surprise that (despite having both boots) I still can't get enough of these colors.
York: Nike Mercurial CR7 Superfly – Gala Edition
Finally, my favorite colorway of 2014 is the glimmering CR7 Superfly. The boot that is somehow both a stealth boot and one that will make you stick out on any pitch. The glimmering effect Nike added to the upper of the Superfly is another nice addition. The glimmer effect does fade, but it will always still shine even a little bit. A great signature colorway for Cristiano Ronaldo that really embodies him on and off the pitch.
Wendt: Nike Mercurial – Hyper Punch
Before the World Cup, the Superfly made its triumphant return in its fourth iteration. For such a monumental release, Nike chose a bright and punchy colorway called Hyper Punch to do so. There's a reason for this: it's beautiful. Sure, people were excited about the Flyknit and the Dynamic Fit Collar, but they wouldn't be much without Nike's marketing minds dressing them up in a brand new vivid red with black and Volt accents. The updated Mercurial Vapor X looked even sleeker in this color scheme. On Brazil's fields last summer, let's just say you knew exactly who had style out there.
English: Puma evoSPEED 1.3 X-Ray
Yes, I know it is arguably the most bizarre boot launched this year, yes the idea is almost Frankenstein-like within itself, but I fell in love with the craziness of the X-Ray evoSPEED instantly. It pushes the boundary for what we thought is acceptable football boot is, and it is so well executed by Puma when you really look at the painstaking level of detail they went into, right down to the muscle, bones, veins and…ummmm…I can't name the rest, I'm an accountant, we don't do science-y things. While I am here applauding a Puma limited edition release, I would like to take the opportunity to give Puma recognition for their limited edition releases in general. I believe that no one does a limited edition boot release like Puma, and whether it be the lavish 24-carat gold Puma King Lux or capturing the world's attention with the Puma evoPOWER Stampa, the wackiness of Puma's imagination is truly a joy to watch.
The Instep "Boot-ies": Boot of the Year
The Instep "Boot-ies": Indoor Edition