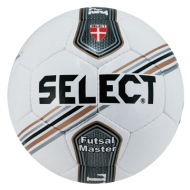 Unlike some items in our gear bag, the amount of soccer balls that you have at your disposal seems to never be enough. Whether in possession of one, two, six, or twenty-three soccer balls, there will always be some type of situation that arises where more soccer balls are needed. Because of that, we truly enjoy getting to test a wide variety of these products and seeing which brands have the most to offer from any price-point. This week, we were lucky enough to receive a Futsal Master and Numero 10 ball from our friends over at Select Soccer.
The Futsal Master is one of Select's more affordable options for anyone that plays in a situation where a futsal ball is required. The look is clean and the casing of the ball, while it feels stiff, seems like it built to handle the abuse that a Futsal ball has to stand up to. For me, the biggest attribute that will make a futsal ball appeal to me will be how long the ball can last before it starts leaking air and needed some duct tape additions.
Where the Futsal Master is one of Select's affordable options for the futsal player in your life, the Numero 10 is one of the most affordable soccer balls available that is NFHS approved. For testing, we received the yellow/red Numero 10 and I really love the look. As a self-labeled hi-vis NUT, this ball checks all the "looks" boxes for me and I cannot wait to get it into testing. Despite it feeling a bit stiff out of the box (much like the Master), the quality of the material on the ball has me thinking that it will soften up a bit with use. It is also impressive to see a brand maintain the old-school style and look with a modern-day soccer product, and I applaud Select for holding true while so many other brands seem hell-bent on creating the oddest looking ball possible.
Keep an eye out for the full review on both of these fantastic products and always give Select a look whenever you are looking for any equipment replacement. Their history is fantastic and the quality they give to all of their products is undeniable. If you ever get tired of ridiculous colors or designs on one of the most important pieces of equipment, Select definitely has some proper options for you.